World media writes about Armenian mine terrorism against Azerbaijan
20 September, 2023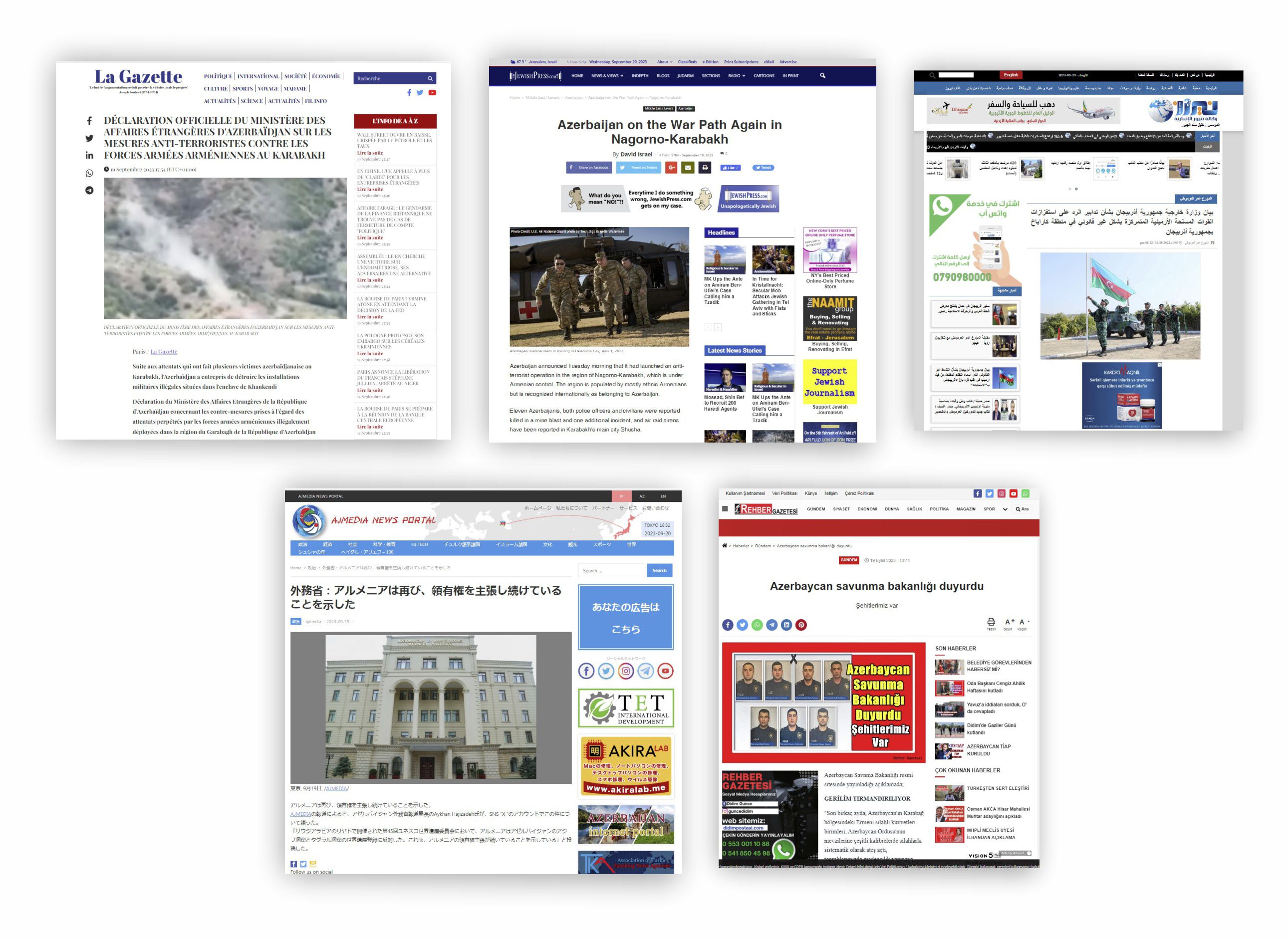 The world media has drawn attention to the deaths of Azerbaijani police officers and civilians in the past few days as a result of the continuation of Armenian mine terrorism in the territories of Azerbaijan.
"Jewish Press" of Israel, "La Gazette" of France, "Didim Postası" of Turkey, "Nayrouz.com" of Jordan, "ajmedia.jp" of Japan, newspapers and portals of Georgia made public a statement by the Azerbaijani Foreign Ministry regarding the death of Azerbaijani police officers on the Akhmadbayli-Fuzuli-Shusha Road section passing through the territory of the Khojavand region, who were blown up by an anti-tank mine planted by an illegal Armenian armed formation.
It was reported that official Baku stated that mines laid by Armenian sabotage groups in the territory of Azerbaijan caused the death of six Azerbaijanis - four policemen and two civilians. It was emphasized that the law enforcement agencies of Azerbaijan called the incident a terrorist act and initiated criminal proceedings under several articles of the Criminal Code including the article of terrorism.
It was also reported that in order to disarm and withdraw units of the Armenian armed forces from Karabakh economic region, neutralize their military infrastructure, secure the safety of the civilian population, including civilian workers and military personnel participating in restoration and construction work carried out in the territory, and restore the constitutional order of the Republic of Azerbaijan, on September 19 the Azerbaijani army launched local anti-terrorist measures in Karabakh region temporarily controlled by Russian peacekeepers. 
https://www.jewishpress.com/news/middle-east/azerbaijan/azerbaijan-on-the-war-path-again-in-nagorno-karabakh/2023/09/19/
بيان وزارة خارجية جمهورية أذربيجان بشأن تدابير الرد على استفزازات القوات المسلحة الأرمينية المتمركزة بشكل غير قانوني في منطقة كاراباخ بجمهورية أذربيجان :: وكالة نيروز الاخبارية nayrouz.com
https://ajmedia.jp/%e5%a4%96%e5%8b%99%e7%9c%81%ef%bc%9a%e3%82%a2%e3%83%ab%e3%83%a1%e3%83%8b%e3%82%a2%e3%81%af%e5%86%8d%e3%81%b3%e3%80%81%e9%a0%98%e6%9c%89%e6%a8%a9%e3%82%92%e4%b8%bb%e5%bc%b5%e3%81%97%e7%b6%9a%e3%81%91/
https://www.didimpostasi.com/azerbaycan-savunma-bakanligi-duyurdu/23289/?fbclid=IwAR1uxxohBsEB9mUXgMDoxLuHtTN4SIU1pMxrxadCkEuIOWs8q4HIzzvfZPs
https://www.lagazetteaz.fr/news/international/13432.html