Stanford University, a home to 17 Nobel laureates, hosted a conference dedicated to Khojaly Genocide
20 February, 2023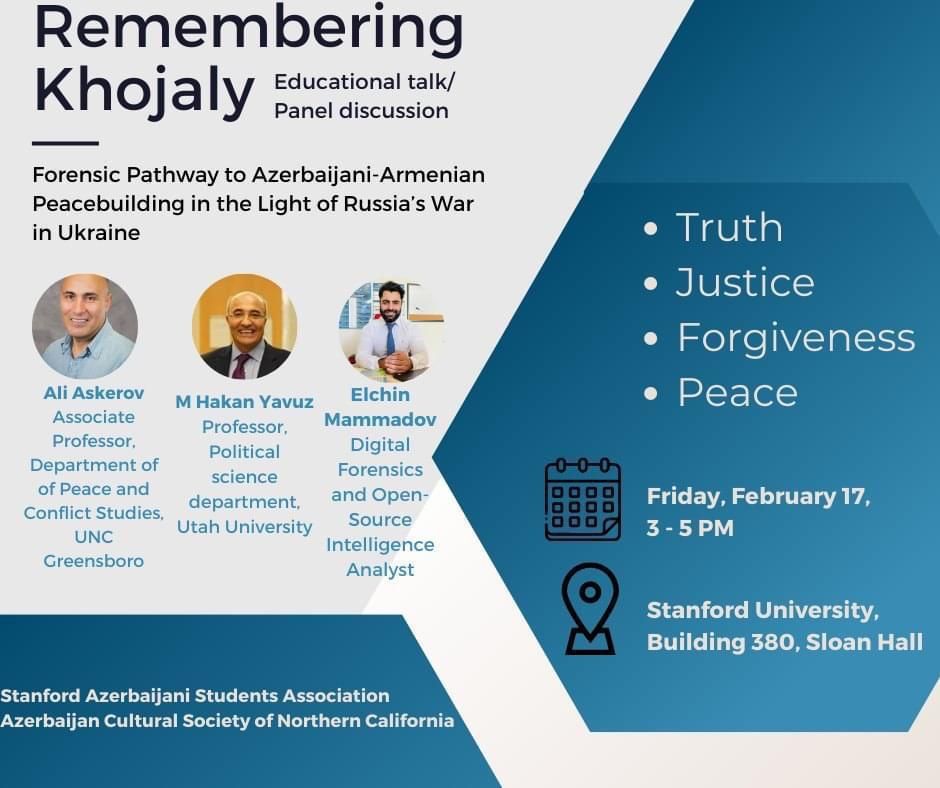 Stanford University, heart of Northern California's dynamic "Silicon Valley," hosted a scientific-practical conference on the occasion of 31st anniversary of Khojaly Genocide.
Students, teachers, and professors of Stanford and Berkeley Universities participated in the "Remembering Khojaly" conference organized by the Stanford Azerbaijani Students Association and the Northern California Azerbaijani Cultural Society.  The conference aimed to raise awareness about the Khojaly genocide, to deliver accurate information about Karabakh and the current situation in the region, to prevent Armenian disinformation, and to draw attention to the process of peace and normalization in the region.
Azerbaijani professor of North Carolina University Ali Asgerov, a professor of Utah University Hakan Yavuz, and digital forensics and open source intelligence analyst Elchin Mammadov made a speech and gave detailed information to the multinational audience of the university.
The students, community members, as well as representatives of the diaspora took part in the open discussions. The conference participants called the international community to hold the perpetrators of Khojaly Genocide responsible. In addition, attention was drawn to the ongoing action on the Lachin-Khankendi road.
The Armenians tried to disrupt the work of scientific-practical conference which highlighted the real situation and historical realities in the region. The participants of the event pointed out that the conference was based on the facts and no distorted information was voiced.
It was told that the conference moderated by the head of the Azerbaijan Culture Society of Northern California, Aynur Agayeva would make a positive contribution to the establishment of healthy dialogue among the communities.
Stanford University's being a host of the scientific-practical conference dedicated to the 31st anniversary of Khojaly Genocide is of great importance, as the University ranks on TOP-5 according to "Academic Ranking of World Universities", "QS World University Rankings", "Times Higher Education World University Rankings".