Tashkent hosted the meeting of the Azerbaijani community
24 May, 2023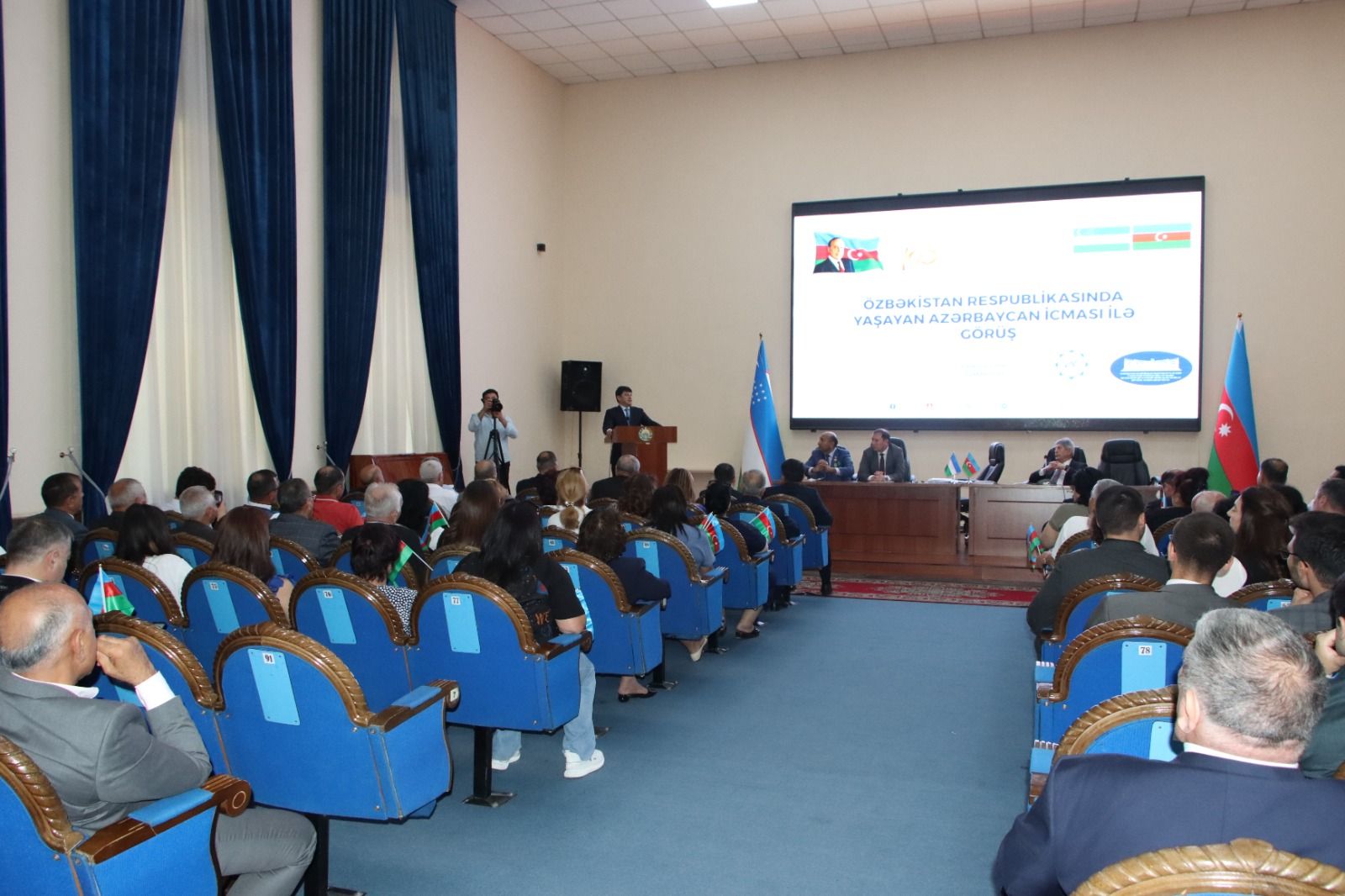 Fuad Muradov, chairman of the State Committee, within his visit to Uzbekistan, met the members of the Azerbaijani community.
Huseyn Guliyev, Ambassador Extraordinary and Plenipotentiary of the Republic of Azerbaijan to the Republic of Uzbekistan, Zafarbek Akhmedov Deputy Chairman Committee on Interethnic Relations and Friendly Relations with Foreign Countries of Uzbekistan, Samir Abbasov, Director of the Azerbaijani Cultural Center named after Heydar Aliyev in Uzbekistan, representatives of the Azerbaijani community living in Tashkent, Bukhara, Samarkand and other cities attended the meeting held as a part of "Heydar Aliyev Year".
The participants honored the dear memory of our martyrs who died for the territorial integrity of our country with a minute of silence. Then, documentary film dedicated to Heydar Aliyev "Winners live forever" was demonstrated.
Welcoming the participants of the meeting, Fuad Muradov spoke about the invaluable and incomparable services of Heydar Aliyev, the founder of modern Azerbaijan. Fuad Muradov, the committee chairman, has already mentioned the events held within the framework of the "Year of Heydar Aliyev" all over the world.
The Azerbaijanis were informed about several topics such as the diaspora building policy carried out according to the recommendations of President Ilham Aliyev, the attention and care towards our compatriots living abroad, the multifaceted activities of the Committee and 20 Azerbaijani Houses, 15 Coordination Councils operating abroad, "Karabagh", "Nizami Ganjavi" and other Azerbaijani weekend schools  and the Fourth Summer Camp of the Diaspora Youth be held in Nakhchivan. The integration of the Azerbaijani community members into the local society was positively assessed.
Active members of Azerbaijani diaspora- Mobil Mammadov, chairman of the National Cultural Center of the Republic of Azerbaijan, Ilham Abdullayev residing from Tashkent, Shahin Rzayev, Hazrat Ali, Mehriban Rahimova, Adilagha Mirzayev from Samarkand, Kamran Babayev from Bukhara and others delivered speeches. The speakers have told that Heydar Aliyev's services will not be forgotten. It has been emphasized that Azerbaijan-Uzbekistan relations are at an all-time high. "The Uzbek government encourages comprehensive development of our compatriots"-told our compatriots. They also voiced their opinions and proposals regarding the strengthening of diaspora activities. The meeting ended with a broad exchange of ideas.