Warsaw hosted a concert dedicated to the Year of Shusha and Victory Day
8 November, 2022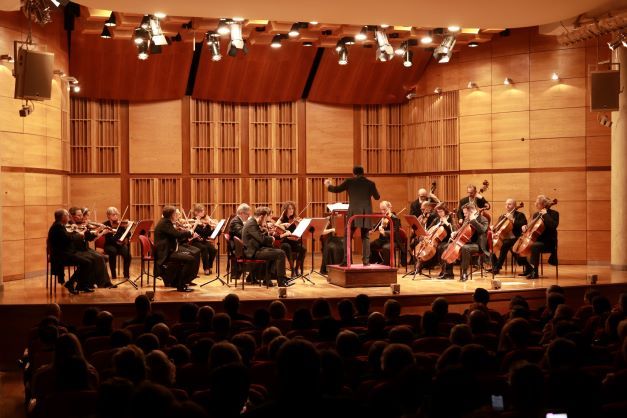 A concert dedicated to the "Year of Shusha" and November 8 – Victory Day was held in Warsaw, capital of Poland. The Embassy of Azerbaijan in Poland, Fund for Support to Azerbaijani Diaspora and National Philharmonic of Poland organized the concert.
Chairman of the State Committee on Work with Diaspora Fuad Muradov, extraordinary and plenipotentiary ambassador of Azerbaijan in Poland Nargiz Gurbanova, employees of the Turkish embassy and political figures of Poland, members of Azerbaijani, Turkish and Jews diasporas and representatives of the local communities attended the concert.
Delivering speech at the concert, Ambassador Nargiz Gurbanova told: "In terms of music, Shusha is to Azerbaijan, what Vienna is to Austria and Naples to Italy. Shusha, coined as "temple of Azerbaijani music" and the "conservatory of Caucuses". Shusha has given dozens of talented musicians to the world".
The ambassador has also mentioned that the Victory of Azerbaijan represents a triumph of international law and justice.
"The works of famous Azerbaijani and Polish composers to be performed at the concert will contribute to the strengthening of cultural relations between the two countries"-told Chairman of the State Committee on Work with Diaspora Fuad Muradov. The chairman added: "Shusha has historically been one of the most important centers of historical, cultural, socio-political life of Azerbaijan and 2022 was proclaimed a "Year of Shusha" by the decree of President Ilham Aliyev". Underlining that this year marks 550th anniversary of historical relations and 30th anniversary of diplomatic relations between Azerbaijan and Poland, the chairman brought into attention of the guests that the Azerbaijanis and Poles have historically contributed to the cultures of each other.
The concert program held with the participation of the "Symphony Warsaw" orchestra under the direction of maestro Ayyub Guliyev included works by the Azerbaijani and Polish composers. The concert was met with thunderous applause from the audience.
An exhibition reflecting Glorious Victory of Azerbaijan was organized at the entrance of concert hall. A presentation of CD prepared by the Polish recording company "Orphee Classics" was held within the concert.