French guests visited Shusha city
23 May, 2023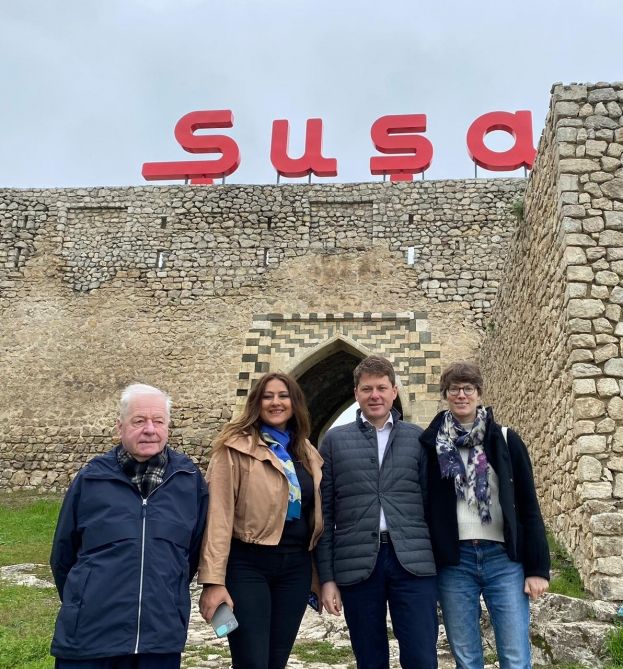 Lou Beaumier, the mayor of the commune of Gurgy-le-Château of France, and Michel Auden, editor-in-chief of the "Dancer" magazine, visited Shusha city, the cultural capital of our country. Association of Friends of Azerbaijan in France organized the visit.
Firstly, the guests visited shot statues of Khurshudbanu Natavan, Uzeyir Hajibeyov and Bulbul, prominent representatives of Azerbaijani culture in the central park. An employee of the State Reserve gave information about our cultural capital and the shot statues. They were told that during the occupation, the Armenian invaders took these monuments to Armenia to melt them down. But, these monuments were taken out of Armenia at the initiative of National leader Heydar Aliyev and brought to Azerbaijan, and kept in the courtyard of the Art Museum in Baku.
After the liberation of Shusha from the occupation, it was returned to its former place by the order of President Ilham Aliyev.
Then the guests visited Khurshudbanu Natavan's house, Khan gizi spring, Uzeyir Hajibeyov's statue, Shusha castle walls and Ganja gate, Bulbul's house-museum and Yukhari Govhar Agha mosque.
They left the city of Shusha with a rich impression.
It should be noted that Mirvari Fataliyeva, head of the Paris Azerbaijan House, general secretary of the Association of Friends of Azerbaijan accompanied the guests.