Diaspora activists protested Armenian eco-terrorism in front of the UN Office in Vienna
9 January, 2023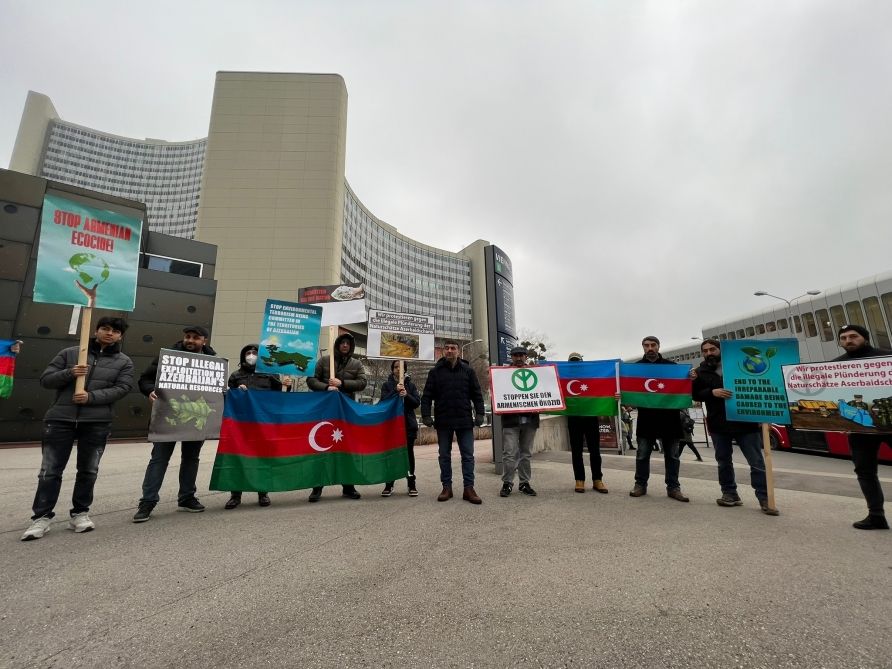 A picket was held in front of UN Office in Vienne over Armenia's eco-terror in Karabakh. Azerbaijan Academician Union activists and the Austrian-Azerbaijani Association of Culture and Entrepreneurs (AZER-DER) co-organized the picket. The diaspora activists protested the illegal exploitation of Azerbaijan's mineral resources by Armenians in Karabakh, which is under the temporary control of Russian peacekeepers.
"We protest against the plunder of Azerbaijan's natural resources!", "End ecocide by Armenia!", "Stop ecological terror on the territory of Azerbaijan!" chants brought together protestors - Azerbaijani volunteers, civil society representatives, and environmental activists. 
They stated that Azerbaijanis abroad would not remain silent about Armenia and Armenian separatists' exploitation of the country's surface and underground resources. They claimed that the eco-terror committed in the Karabakh economic region ought to become a global issue.
Locals were informed that Armenians destroyed about 60,000 hectares of forests during the nearly 30-year-long occupation. "The world community should vote for the right voice of Azerbaijan, which is making serious efforts to eliminate the consequences of the war in Karabakh and is carrying out large-scale construction works, and should call for practical steps to be taken to end the environmental terrorism of Armenians" - told the protestors.