Europe's influential media platform wrote about "Middle Corridor"
8 December, 2022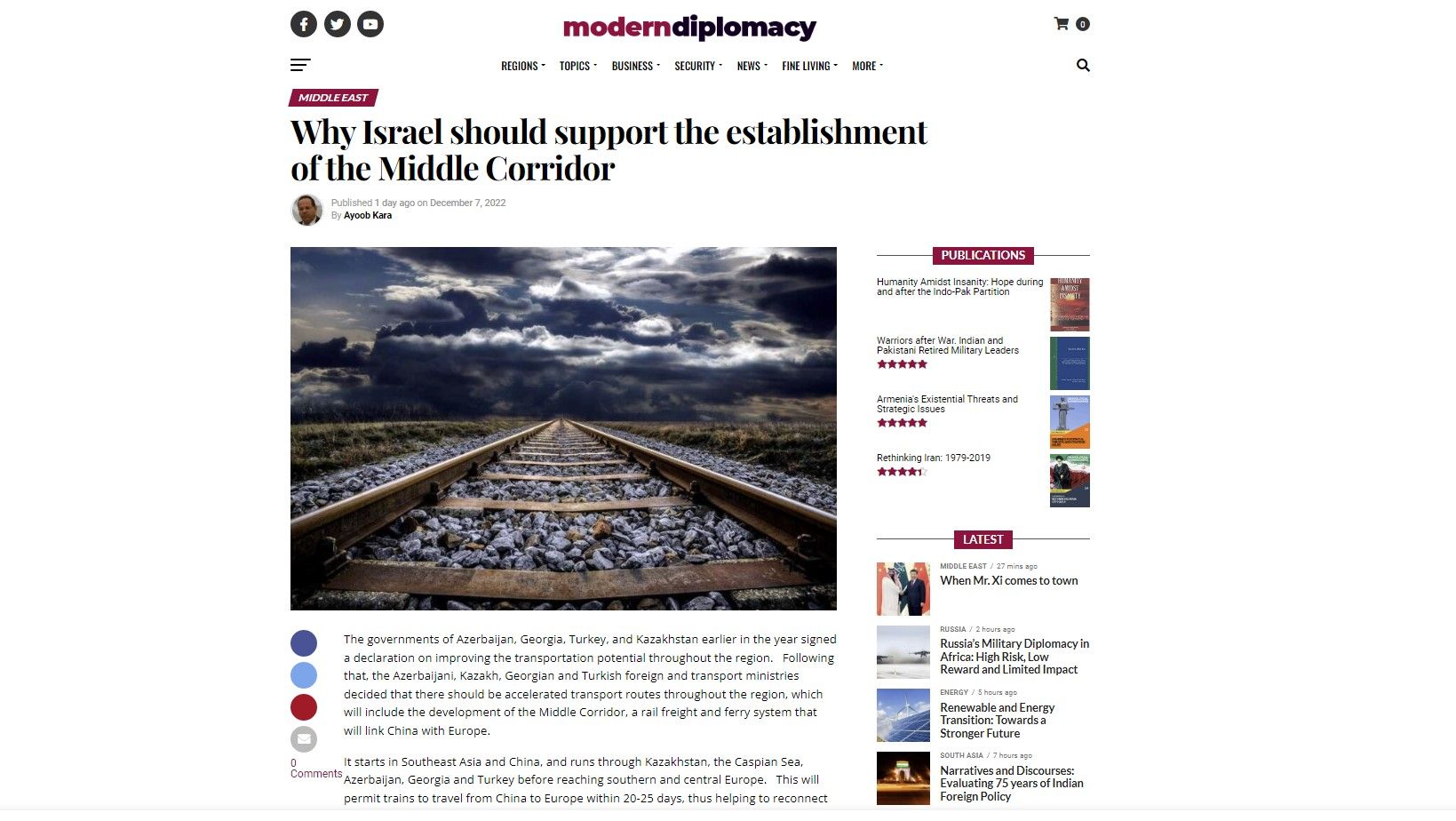 Influential "Modern Diplomacy" platform published an article entitled "Why Israel should support the establishment of the Middle Corridor?". The author of the article is Ayoob Kara, the former Israeli minister of Satellite Communications and Cyber, the president of Economic Peace Center, a well-known politician and political scientist, who stands for Azerbaijan in the Israel and international media.
The article states: "The governments of Azerbaijan, Georgia, Turkey, and Kazakhstan earlier in the year signed a declaration on improving the transportation potential throughout the region. Following that, the Azerbaijani, Kazakh, Georgian, Turkish foreign, and transport ministries decided that there should be accelerated transport routes throughout the region, which will include the development of the Middle Corridor, a rail freight and ferry system that will link China with Europe".
The author adds: "Israel should support the establishment of the Middle Corridor, as it will help to strengthen the Abraham Accords. Thus, if this Middle Corridor is built, we Israelis can try to connect onto it as well, as it will help to counter the mullahs in Tehran by creating a stronger connection between the Turkic republics, Israel and the Arab world. We can connect to it via Turkey by ferry, and then from there, have another set of trains going from Israel to Jordan and Saudi Arabia and from there, to the United Arab Emirates. In our times, this is within the realm of the possible".
The article highlights: "We can have a train traveling from Europe to Turkey and from there, ships can go to Haifa and from Haifa to Jordan, Saudi Arabia and from there, to the Gulf States, and they can go back in the opposite direction. After that, a Saudi Arabian agreement with Israel can start with a new train, like what existed in the Ottoman times with the Hijaz Railway. The people of Hijaz want to make it happen again. This is in the plan of the Abraham Accords Agreement and it will happen in the future".     
Click the link below to feel the full article:
https://moderndiplomacy.eu/2022/12/07/why-israel-should-support-the-establishment-of-the-middle-corridor/