The US media outlet wrote about the West Azerbaijani refugees
13 March, 2023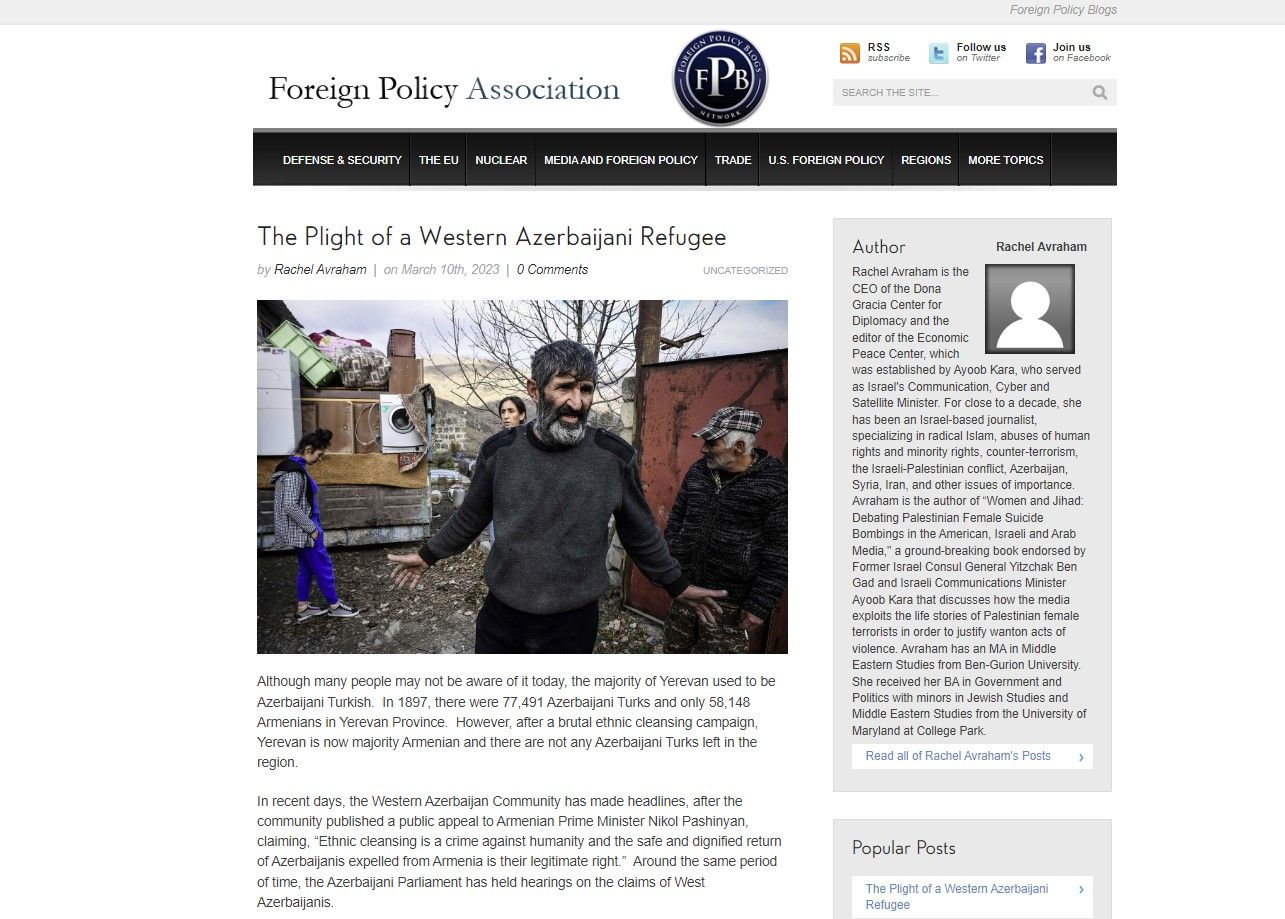 An article entitled "The Plight of a Western Azerbaijani Refugee" was published on the news site of the Foreign Policy Association, headquartered in New York, USA.
The article by Rachel Abraham, head of Dona Gracia Center for Diplomacy says that the majority of Yerevan's population used to be Azerbaijani Turkish. In 1897, there were 77,491 Azerbaijani Turks and only 58,148 Armenians in Yerevan Province. However, after a brutal ethnic cleansing campaign, Yerevan is now majority Armenian and there are not any Azerbaijani Turks left in the region.
In recent days, the Western Azerbaijan Community has made headlines, after the community published a public appeal to Armenian Prime Minister Nikol Pashinyan, claiming, "Ethnic cleansing is a crime against humanity and the safe and dignified return of Azerbaijanis expelled from Armenia is their legitimate right."  Around the same period of time, the Azerbaijani Parliament has held hearings on the claims of West Azerbaijanis.
Following these developments, Bakhtiyar Nabiyev, the chairman of the Yasamal Regional Branch of the New Azerbaijan Party, who is also a refugee from Western Azerbaijan, decided to share his story with Western audiences: "I was born in Halavar village of Kirovakan city in 1978.The events started in February of 1988 when I was 10 years old. I was studying in 4th grade at school. The Armenians had already surrounded us, and there was only one entrance to the city of Kirovakan."
The article brought into attention that Armenians conducted ethnic cleansing policy even in 1905-1906.
Click the link below to read the article
https://foreignpolicyblogs.com/2023/03/10/the-plight-of-a-western-azerbaijani-refugee/