Jean Claude Van Damme's son: "After his visit to Azerbaijan, my father told me to marry a woman from this country in future"
7 September, 2022
"Our parents met online, approved our marriage and Kris sent me a ring by post"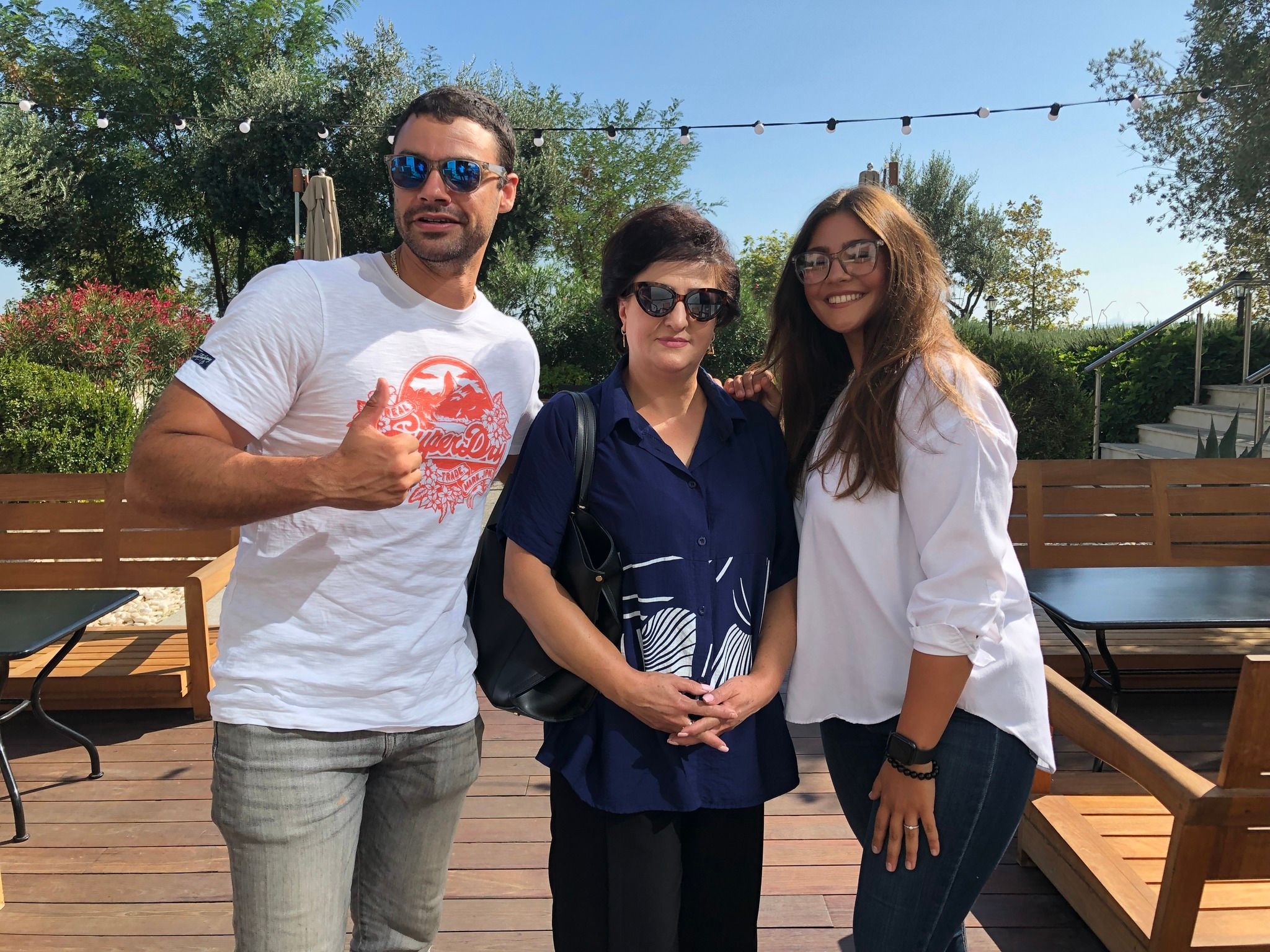 Vasila Vahidgizi's exclusive interview with Kristopher Van Damme (Kristopher Van Varenberg), son of the famous actor Jean-Claude Van Damme and his Azerbaijani wife Suada Hajizadeh
-         Thank you for giving me this opportunity. We were pleased to hear about your intention to contact the State Committee on Work with Diaspora. It is a great pleasure to see Kristopher in Baku.
Suada:
-Thank you for taking the time to meet us.
-        What is your story? How did it start?
Kristopher : 
-         My father visited Azerbaijan in the early 2000's. Despite his short stay in Azerbaijan, he loved this country very much. While being in Baku, my father had an opportunity to get acquainted with Suada's father. When my father returned to Los Angeles, he asked me to come to his office. I went. He told that he had been to an amazing and futuristic country called Azerbaijan. He told that this country had very beautiful people and rich culture. Then he added that you should marry a girl from Azerbaijan in future. I had a girlfriend at that time; I did not take his words seriously. Years later, we got acquainted with Suada on "Instagram". When I found out that she was from Azerbaijan, I immediately remembered my father's advice. We chatted on Instagram during 4 years and became close friends. As time went by, we fell in love with each other.
-         My father has gone live very often on Facebook and other social media. Once, on the eve of New Year, my father sees Suada's name on the screen during Live broadcast with one hundred thousand followers.…He reads it aloud: Suada Hajizade… But he couldn't even imagine at the time that Suada was the daughter of his acquaintance from Azerbaijan. He congratulates Suada's New Year… Suada still has that video screen.
Suada:
-         That is true; I still have that video screen. I have never deleted it.
Kristopher :
-         When she talked me about that video screen, I thought that she was joking.  It is another case showing that our destiny wanted us to meet. Some years later, our families decided to meet in Istanbul, Turkey.
-         Why in Istanbul, not in Baku?
Kristopher :
-         Because of Pandemic, it was impossible for my parents to come to Azerbaijan, of course, for her family to fly to Belgium. I have already asked her hand in marriage. How to say, we have dated online for several years. However, our fist physical meeting took place in Istanbul. Three days later, we got married at the Consulate General of Azerbaijan in Istanbul. Istanbul is a very beautiful city. Nevertheless, I wanted to come and see Baku. Because my father told me so much about Baku. Six years later, I was a guest at Suada's apartment.  Everything seemed so familiar to me at her apartment; I saw every corner during video calls. That is how our love story started. It is unbelievable. It is our destiny. God's will. I think you all believe in God.
-         Suada, have you thought that your story would end in marriage?
Suada:
-         To tell the truth, I loved him as a friend. But I have never expected to see him in real life, let alone marriage. I did not know who his father was. He has never spoken about his father. He used to hide his surname and posted either his own photos or photos of his bikes, or artworks on his Instagram page. Several years later, when we passed to a new stage and  started to call each other, he asked me if I knew his father. Of course, I did not know. I thought why I should know his father. Then he told to ask my father about Jean-Claude Van Damme. I devoted my whole life to education and music. I even did not watch TV. Sometimes I practiced piano for 10-12 hours a day.  One day,I asked about Jean Claude Van Damme. It turned out that my father was watching his movie at that time and showed  Jean Claude Van Damme on TV. I was astonished and did not understand what was going around. I thought that either Kristopher was lying or my father was joking. I told my father about my foreigner friend who was claiming that his father was Jean Claude Van Damme.  Father advised me it would be better to cut off all contact with "fake friends". My parents wanted to protect me.
-         How did you convince your parents to agree your marriage with a foreigner?
Suada:       
-         We already had close relations and one day Kris himself talked to my parents on FaceTime and declared about his intention of marriage.
-         He asked your parents' permission online, didn't he?
Suada:
-         Yes, that is true. We even did not know each other well. Due to the pandemic restrictions, flights were grounded across the world. We lost contact for some period. Nevertheless, in the summer of 2020, we started to communicate again. Then he declared his love.
-         Love on social platform... Weren't you afraid of meeting someone different in reality?
Suada:
-         He had more than million followers and official Instagram account. I knew that he was real.
-         I mean his character…
Suada:
- Over the passing years, he talked only about music and art. He acted respectfully towards my family, my country and me. It was surprising that a foreigner knew about Azerbaijan and its culture. His father had been to Azerbaijan and generated considerable interest in Kris. I used to send him pictures and videos about Azerbaijan and showed samples of the Azerbaijani cuisine. He was interested in everything about our country.
Kristopher :
-         I believed in magic of this relationship. When I saw the name of Azerbaijan on Suada's Instagram page, I remembered my father's words and thought: "Are there beautiful girls in the country, which my father praised too much?" And so our adventure began. Let me mention one point about Suada. Her eyes and gaze give me confidence, and this confidence is increasing day by day. Suada can feel my soul.
-         Suada, you come from a humble Azerbaijani family, but Kristopher was raised in a family of celebrity.  How to say, you are from different worlds…
Suada:
-         I do not think that we are from different worlds.  I think that harmony of souls is much more important than profession. We even have soulmate chains with our initials. When he sent me the ring, I sent him that chain.. By the way, "S" and "K" letters were engraved on those rings. All members of Kris's family showed his\her love towards me and welcomed me into their family. I never thought that we were from different worlds. Since the first day, both his father and mother came in contact with me. I have contact with his brother and sister as well. I felt myself a piece of their family immediately. They are very humble and friendly people. Even her mother asked me not to hesitate to call her "MOM". Kris shares the same feelings.  
-         Where do you reside now and what are your future plans regarding the place of residence?
Suada:
-         Now I am in Baku and waiting for my US visa procedures to start. Most likely I will be in the US this winter. We meet in Belgium with Kris. His father side is from Belgium. I got acquainted with his grandparents. I stayed here for 3 months and met his grandparents every day. They also treat elders with respect, as we do, and try to spend much time with them. When I flew to Baku, they even shed a few tears. I was impressed too. They accepted me as their granddaughter. We went out for a walk every day and they told me about the cuisine and culture of Belgium.
- If it is not a secret, what did they give you as a wedding gift?
Suada:
-         Their wedding traditions differs from ours. Of course, Kris's grandparents gave us a wedding gift. I think it would be better not to speak about details.  
-         Do they remind you about grandkids very often?
Suada:
-         Almost every day they remind us about grandkids. First of all, I have to obtain my US visa. I should move to the US and find a good job. I want to work. I have bachelor's degree from Baku Music Academy. I get a presidential scholarship. This is a great achievement as a musician. I took part in competitions held in seven countries of the world. My parents pay special attention to this issue. Maybe, I will get a master's degree in the United States. Kris offers me to work in the film industry. I am a musician; I can work in cinema. In addition, I would like to organize music festivals and competitions. Kris has an interesting attitude towards culture. We can just listen to music for 2-3 hours without talking. We usually discuss art together. Once, I saw a grand piano at the airport, and I started to play "The thought" by Vagif Mustafazadeh. He liked it very much. Every time when I play the piano, he definitely makes a video record. He says that he is so proud of me.
-Kristopher, what line of work are you in for now?
Kristopher :
I hope we will have bright aspirations together in the future. She is a pianist, an excellent pianist. She has a strong sense of music, she can feel the stage. Last year I have trained her behind the camera. I wanted her to be able to capture emotions during video shoots in a way that people could feel those emotions. She is very talented and tries to do her best about everything. That is why I love her so much. Suada is my social media manager as well. She manages my page "krisvandamoffical". Nowadays, we are waiting for "blue badge". It is a great platform for both of us. Some people work much and earn well enough but they cannot become masters. I do not want to be like them. I am a selective person. I train every day, I shroud be in a good shape.
- What did you major in?
Kristopher :
-         I graduated from High School. I have master's degree in animation. My parents were ready to do their best for me, but I chose animation, because I loved it most of all. My business skills come from my grandpa. After leaving secondary school, he started his business and created good circumstances for my aunt and father. As regards filming, I can say that I got practical education from my father.
-         Your father is a world famous actor, what can you say about your mother?
Kristopher :
-         My father is a good actor, my mother is a good actress. My mother is a master painter as well. She was a bodybuilding champion long years ago. Generally, she is very talented woman but very few people know that.
-         Kristopher, how did your parents meet?
Kristopher :
-         My father saw my mother's photo in a sport magazine at the end of the 70s. He lived in Belgium at that time. My father told his friends that no matter what happens, I would marry this girl and become a famous actor. No one believed him. Years later, they met during film shooting in Mexico. Of course, my mother could not hide her surprise when she saw such a talented athlete.  They have photo  from first meeting. My father believed in the energy of his dream. On her way back to New York, my mother thought only about my father. My mother was famous before my father. She had to end her career as my sister and I were born. Unfortunately, for a some period of time, my mother and father got separated. In 1999, when Suada was born, they got married again. They are very good friends.
-         You are Jean Claude Van Damme's son. Do you see yourself differently than others because of this reason?
-         Kristopher :
-         No, it is actually the opposite. I am far from "Hollywood game". If you play "Hollywood game", you should wear your mask and pretend. You should lie. I have spiritual value based on Karate, I do not lie. I had mistakes, I lied as a kid but I have learned from my mistakes and never repeated them again. My father always tells that it is better to play honestly than to play a role. I do not want to regret in my later phase of life. For me, family is in the first place. Then comes my health. Filming industry is not as much as important. I always tell her too. When she will move to the US, she will witness herself how is the system working. It is uncultured mentality.  I mean film industry.
-         What do friendship mean for you? Do you have many friends?
Kristopher :
-         A friend is someone who understands you, and supports you. In Hollywood, you do not have real friends. Nevertheless, I have friends, good friends. Maybe 4 or 5 good friends. I can really trust to 2 or 3 of them. I have a friend who can jump the gun for me. I can call him "Bro". My family members are my best friends. Friendship is an important issue. I think, friendship is more appreciated in a country like Azerbaijan, than in the US.  I think, serious friendship in the US exist in the military system.  Because, they overcome many difficulties together. Generally, my recommendation to young people of Azerbaijan is to be selective while making foreign friends. When I decided to marry Suada, I told to my friends about my decision. Because they know me well, they know my previous relationships. I have a very good friend. His name is Scott. We are working on many projects together. He knows my lowest and highest points. He told me that Suada and I were made for each other.  
Suada:
-         "Mama G" yesterday wrote me a message, "I can see glimpse of glitter in Kristopher's eye when he is next to you. So happy for you, I love you".
-         Kristopher, have you interested in film industry of Azerbaijan or in Azerbaijani art?
Kristopher :
-         Of course, I do not have much information about film industry of Azerbaijan, but I would like to have. I would like to make a movie in Azerbaijan.  My wife is from Azerbaijan and I need to contribute to this country somehow. I think I will contribute to the film industry. I would love to know artists, directors, producers closer, and be a part of Azerbaijani cinema culture.
-         If you have to live here one day...
Kristopher:
-         I would live here part time. Her family is here. That is important for me. I built my life in Los Angeles, where my bikes, my studio, my house, everything that I gained during 35 years. I have lived in every corner of the world. I have lived in Hong Kong, Vancouver, also in Belgium, Germany, Spain, and Switzerland and in other European countries. I lived in Asian countries too. I love Japan; my second house would be Japan. I would like to visit Australia and New Zealand.
-         So, how many kids do you want to have in future?
Kristopher :
-         Three – two boy and a girl.
-         Would you like to give Azerbaijani name to one of them?
Suada:
-         I think that I probably will give Azerbaijani name to my kids in future. I even have not told Kris about it. He will hear now. However, these names should be easily pronounced and written.
Kristopher :
-         Another one may be American, Belgium or Puerto Ricco name.
-         Does Jean Claude Van Damme plan to come to Azerbaijan again?
Kristopher : 
-         Now my father is very busy. But he will certainly visit Azerbaijan as soon as possible. He loves Azerbaijan and Azerbaijanis very much. As my father considers himself "Man of the Universe", he strives to get acquainted with all cultures. Along with people, he loves nature, animals, and takes care of ecology. He loves to travel. His daughter in law is from Azerbaijan, that is why, Azerbaijan is at the top of the list of countries he will travel .  
 Suada:
-         My father is also looking forward his visit.
-         There are many rumors going around you on social networks. Does it bother you?
Kristopher :
-         I am used to such attacks. Nevertheless, Suada thinks a little bit different. Everyone has his/her own opinion, own reasons, own stories. This is normal. These comments cannot affect our love. Our attitude towards each other is much more important. I am thankful that God has blessed me with such a beautiful woman. I do not worry about these people; they will become used to us.
Suada: 
-         People do not know us closely, but they comment on our relationship. They say that as if we got acquainted on Tiktok. However, Chris hates Tiktok at all. There were sayings that they would divorce in two months.  We promised to prove that our love is real.  Some people think that I married Kris because he comes from celebrity family. I even did not know this fact in the beginning. Some people claimed that our marriage was fake, I married for money, not for love. These thoughts bothered me a lot.
On what matters does your spouse restrict you?
Suada:
He just does not want me to be out after dark. He is a little bit jealous; nevertheless, he believes in me and trusts me. Both his grandmother and his mother always say that he holds your hand tightly and do not pay attention to what others say. He behaves like an Azerbaijani man. I do not have restrictions. I trust him.