A number of official meetings were held in Uzbekistan regarding cooperation in the field of diaspora
26 May, 2023
Chairman of the State Committee on Work with Diaspora, Fuad Muradov held meetings with a number of state officials within his visit to Uzbekistan.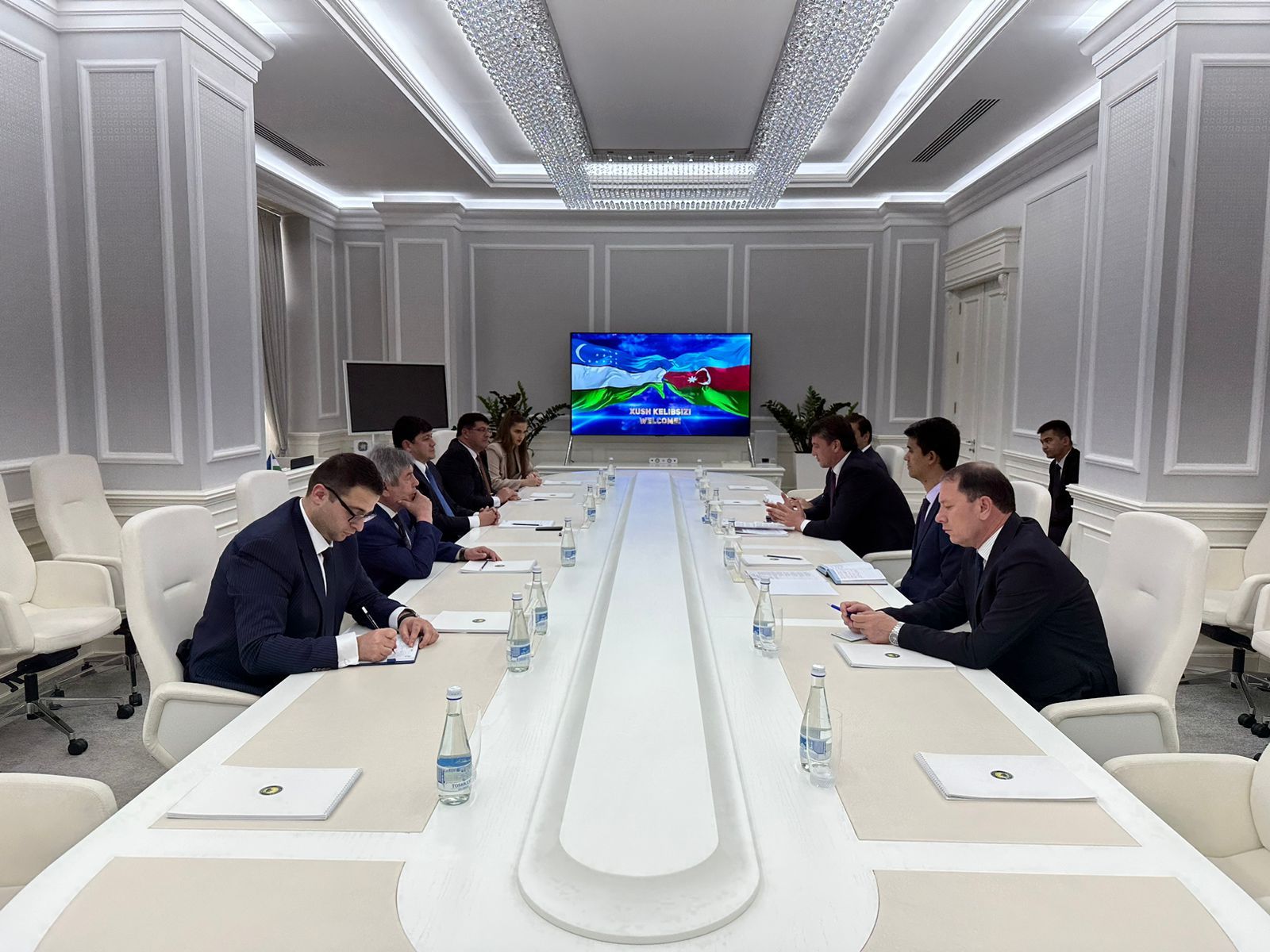 The Committee chairman met with Rustambek Gurbanov, chairman of the Committee on Interethnic Relations and Friendly Relations with Foreign Countries under the Ministry of Culture and Tourism of Uzbekistan. Fuad Muradov thanked his colleague for the invitation to Uzbekistan, successful cooperation and good conditions created for the Azerbaijani community.
The parties debated over holding chain of events in Uzbekistan in accordance with memorandum of understanding signed at the International Baku-Shusha Forum of the Heads of State Institutions in Charge of Diaspora held in 2022, as well as on the occasion of the 100 years of anniversary of the birth of Heydar Aliyev.
At the end of the meeting, Committee chairman Fuad Muradov presented Rustambek Gurbanov the medal "For Services in Diaspora Activity" on behalf of the Republic of Azerbaijan for his role in the development of friendly relations between the two countries, successful cooperation in the field of diaspora, attention and support geared towards the Azerbaijani community in Uzbekistan.
Then, the Committee chairman met with Sadik Safayev, Deputy Chairman of the Senate of the Supreme Assembly (Oliy Majlis).  
Committee chairman also met with Shavkat Umurzakov, Mayor of Tashkent city. The city mayor expressed his satisfaction with the Committee Chairman's visit to Tashkent.  Shavkat Umurzakov has recalled that Baku and Tashkent are twinning cities and there is  a square, a centre and a park in Tashkent named after Heydar Aliyev.
Fuad Muradov, in his turn, expressed his gratitude to Shavkat Umurzakov and gave information about the chain of events organized by the Azerbaijani diaspora in Uzbekistan and other countries held within the framework of the "Year of Heydar Aliyev" by the Committee.
Then, Chairman of the committee met with Ozodbek Akhmedovich Nazarbekov, People's Artist  and Minister of Culture and Tourism of the Republic of Uzbekistan. The minister welcomed the Committee chairman and expressed his satisfaction with their next meeting in Tashkent. Noting that the presidents of Azerbaijan and Uzbekistan, Ilham Aliyev and Shavkat Mirziyoyev, pay special attention to the cultural heritage of the nations, the minister, in his turn, underlined the importance of intercultural exchange.  
The Committee chairman Fuad Muradov expressed his gratitude to the minister for the warm and welcoming reception. He has added that the friendship and partnership between our countries is a good example for everyone and the mutual support and cooperation between the Azerbaijani and Uzbek diasporas abroad will further contribute to the unity and friendship of our peoples. Supporting joint projects in future was debated at the meeting. The meeting ended with the presentation of souvenirs.