Canadian parliamentarian visited Azerbaijan
12 September, 2023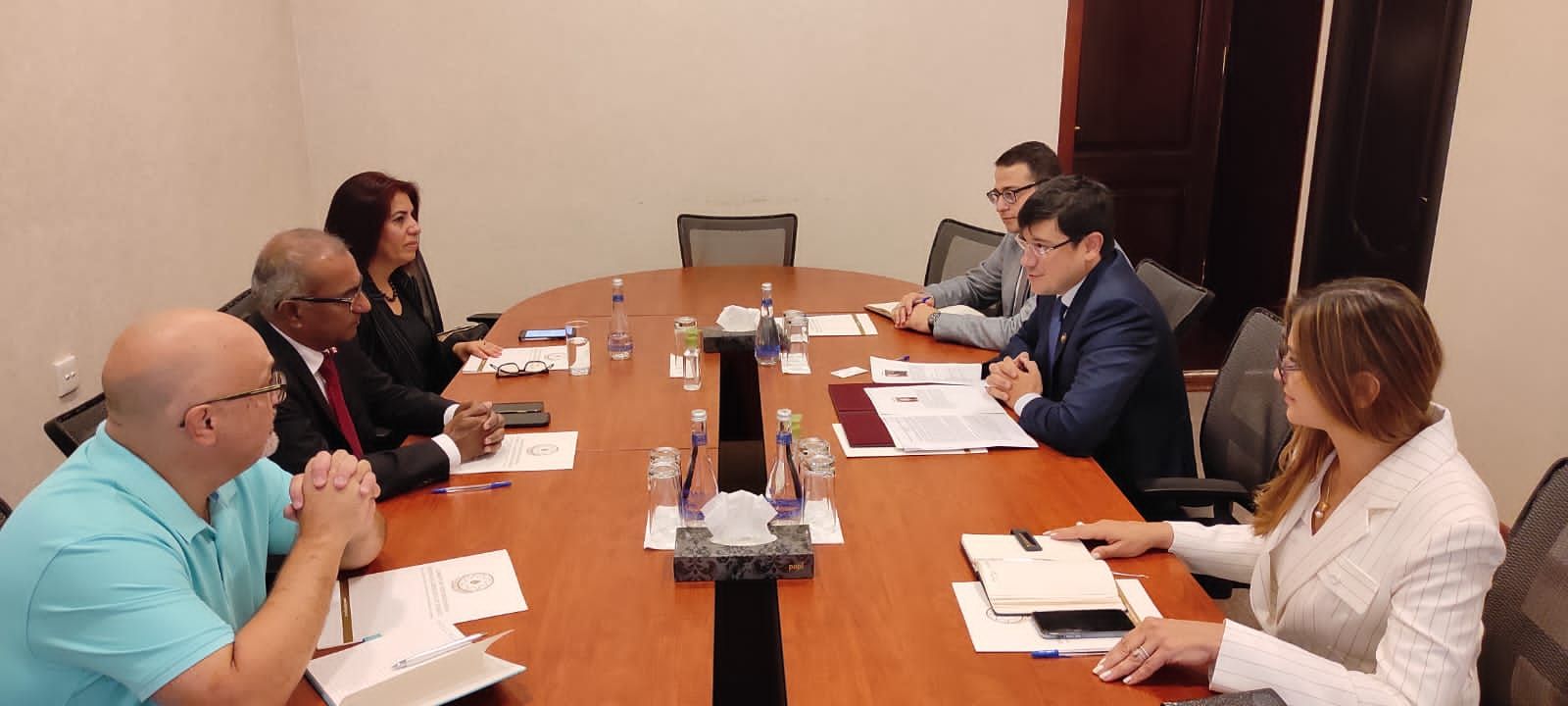 Mr. Fuad Muradov, Chairman of the State Committee on Work with Diaspora met the Canadian delegation during their visit to Azerbaijan which was organized by the initiative of the "Vatan" Azerbaijan Art and Culture Center operating in Canada.
Mr. Arya Chandra, MP, Member of the House of Commons of Canada, Ron East, publishing director of the prestigious Canadian Jewish media platform "Thej.ca", and Nigar Aliyeva, co-founder of the "Karabakh" Azerbaijani weekend school based in Ottawa, attended the meeting.
Emphasizing his pleasure to welcome guests in Azerbaijan, the chairman informed the guests about the state diaspora policy and the main operational directions of the Committee. He highly appreciated the close integration of Azerbaijanis living in Canada into socio-economic and cultural life of this country. Chairman expressed his gratitude to Mr. Chandra for the attention and support he has given to the initiatives of the Azerbaijani community.
Expressing gratitude for the warm welcome, the guests highly appreciated the activities of the Committee.
During the visit to the State Committee, the guests got acquainted with the activities of the Diaspora TV and Diaspora FM.
At the end, a commemorative photo was taken.
The honourable Canadian MP Chandra Arya, who represents Nepean, Ontario, played a pivotal role in facilitating several historic events showcasing Azerbaijani culture and heritage in Canada's capital. In May 2023, Mr. Arya spearheaded the organization of the very first Azerbaijani flag-raising ceremony at the Canadian Parliament in Ottawa. Furthermore, he orchestrated the inaugural Azerbaijani Heritage Day on Parliament Hill in June 2023, celebrating the rich cultural tapestry of Azerbaijan. In a remarkable gesture of inclusivity, Mr. Arya also arranged the groundbreaking International Novruz Celebration at Parliament in March 2023, where the Azerbaijani community of Ottawa actively participated, highlighting the importance of this traditional festival.
It should be noted that during the last years, by the initiatives of Azerbaijani community the tricolor flag of Azerbaijan has been hoisted in various cities of Canada, on occasion of the historical days of our country symbolizing the strong bonds between Canada and Azerbaijan. On the occasion of 28 May - Azerbaijan's Independence Day and 9 November - State Flag Day, the flag-raising ceremonies were organized in Ottawa, Toronto, Hamilton, Regina and Calgary, moreover, Niagara Fall was illuminated with colours of Azerbaijani flags. These ceremonies serve as building the friendship bridge and cultural exchange between the two nations.