The II Forum of Azerbaijani Doctors in Germany continued with interesting discussions
19 November, 2023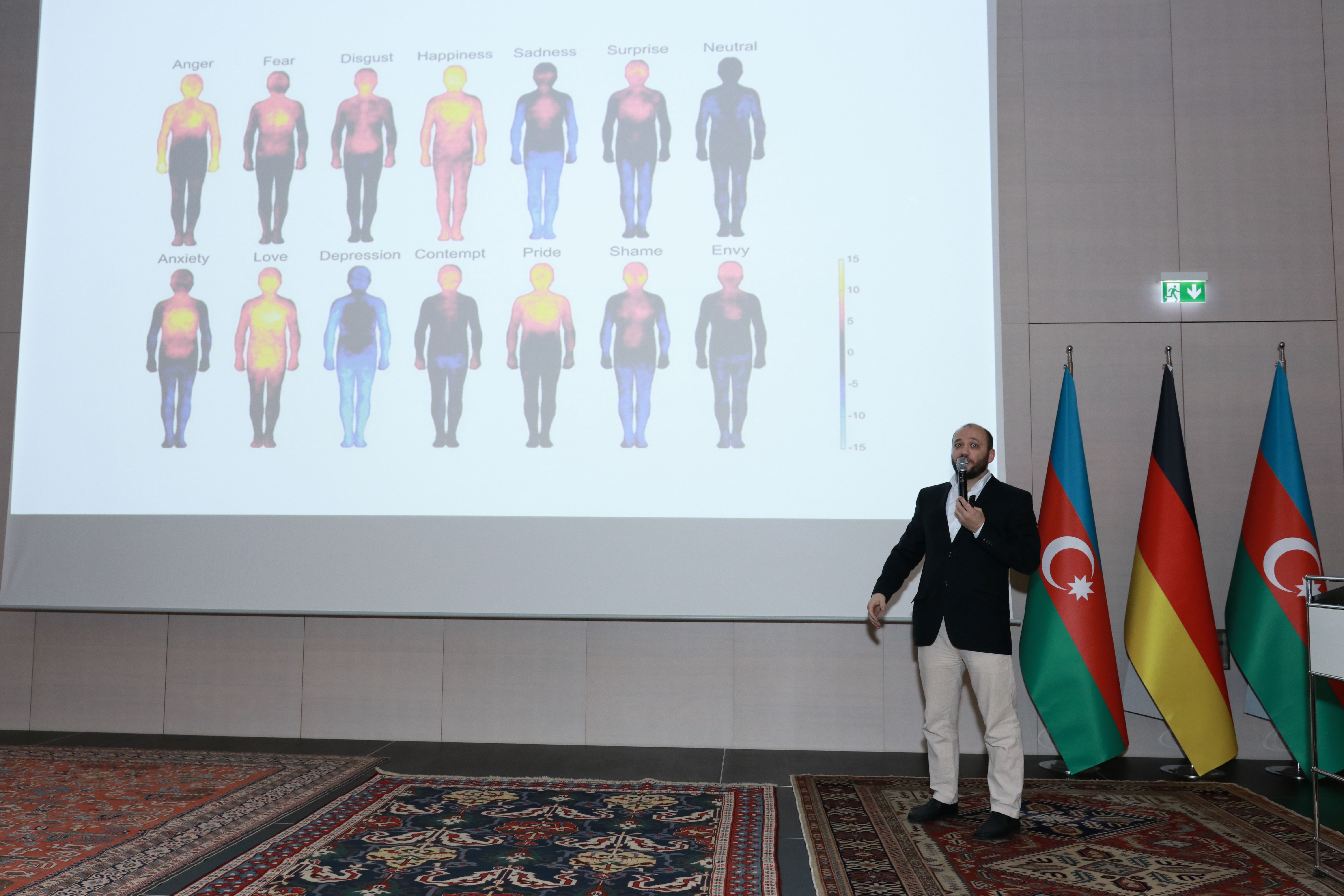 The II Forum of Azerbaijani Doctors in Germany, held as part of the "Year of Heydar Aliyev" at the Azerbaijani Cultural Center in Berlin continued its work with panel discussions.
The panel discussions, moderated by Dr. Nuran Abdullayev, began with a report presented by Bahadur Rzayev, head of the Department of Rehabilitation, Quality Control and Service Organization of the State Medical-Social Expertise and Rehabilitation Agency under the Ministry of Labor and Social Protection of the Population, on the topic "Rehabilitation of persons with disabilities in the Republic.
Following, the medical specialists working in Germany delivered their reports, including the leading specialist in internal diseases of the Helios Hospital Siegburg Elvin Huseynov, on the topic "The last of us"; ambassador of the European School of Oncology (ESO), doctor-oncologist of Ulm University Hospital Dr. Narmin Talibova, on the topic "Career woman? A happy woman"; clinic director of "GFO Kliniken Troisdorf" Dr. Nuran Abdullayev on the topic "A star is born"; a leading specialist in neurosurgery of Essen University Hospital Dr. Ramazan Jabbarli on the topic "Innovations in Spinal Surgery: Navigation and Robotics"; a leading specialist of "AEGI" plastic surgery clinic in Hannover, Dr. Gulshan Ahmadli on the topic "Hand surgery in the example of Germany. Development potential in Azerbaijan"; a leading specialist in radiology in Wiesbaden Dr. Orkhan Safarov on the topic "Breast cancer and screening in Germany", cardiac surgeon of Giesen University Hospital Dr. Zulfugar Taghiyev on the topic "MBA - Cardiac surgery and scientific activity in Germany: challanges and potentials?"; radiologist of the Westphalian clinic, Dr. Nijat Nasirov, "Red or blue pill"; cardiac surgeon of the "Helios Krefeld" clinic, Dr. Javid Fatullayev on the topic "Production of electricity from the human body. A new opportunity?"; a leading specialist in ear, nose and throat diseases of the Bad Salzungen clinic Javid Huseynzade on the topic "Plastic surgery of skin derivatives on the face. Principles and perspectives"; a specialist in dentistry at the "Denterra" clinic in Mannheim Dr. Nariman Jabbarli on the topic "Opening a private clinic in Germany. All subtleties and tips"; leading specialist in ophthalmology of the "Nordstadt" clinic in Hanover Agil Huseynzade on the topic "Practice system: implementation of the ambulatory medical care system in Azerbaijan. What can be changed?".
At the end of the panel discussions, Prof. Gurbankhan Muslimov department head of M.A.Topchubashov Scientific and Surgical Center in Baku made a report on the topic "Development of visceral surgery in Azerbaijan".
During the discussions, the Azerbaijani doctors gave information about their inventions and discoveries and put forward their proposals. The success stories of the Azerbaijani doctors and their role in the German medical system were emphasized.    
It should be noted that the First Forum of Azerbaijani Doctors in Germany was organized on May 5, 2022 in Cologne with the support of the State Committee on Work with Diaspora.