The concert of the Azerbaijani pianist at the Kennedy Center was sold out
16 January, 2023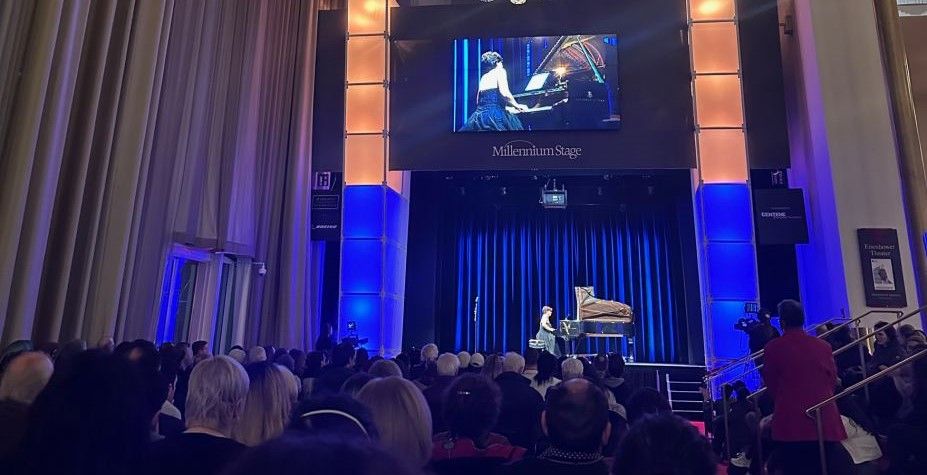 Honored Artist Nargiz Aliyarova, founder of National Music & Global Culture Society has performed a solo concert in the United States. The Millennium stage of the world-famous Kennedy Center for the Arts hosted concert titled "The music of the Silk Road".
The music program included the music pieces of the composers from three countries on the historic Silk Road: Azerbaijan, Türkiye, and Iran.
Talking about the ancient history and rich culture of Azerbaijan, the musician has pointed out that Azerbaijani language belongs to the group of Turkic languages, and our culture has many similarities with Turk, especially with the South Azerbaijanis from Iran.
The concert also featured works of famous Azerbaijani composers Gara Garayev, Fikrat Amirov, Lala Jafarova, Frangiz Alizada, Faig Sujaddinov, and Lala Jafarova,  Turkish composers Ulvi Jamal Erkin and Fazil Say, first Iranian female composer Golnush Khalagyn, composer from Southern Azerbaijan Aria Torkanborin. The audience met Nargiz Aliyarova's performance with applause.
Pianist also gave a brief information about the composers.
The sold-out concert was broadcasted live by Kennedy Center for the Arts.  
 https://www.kennedy-center.org/whats-on/millennium-stage/2023/january/music-of-the-silk-road-nargiz-aliyarova/
 https://www.youtube.com/watch?v=XWkT787DXOo&t=39s