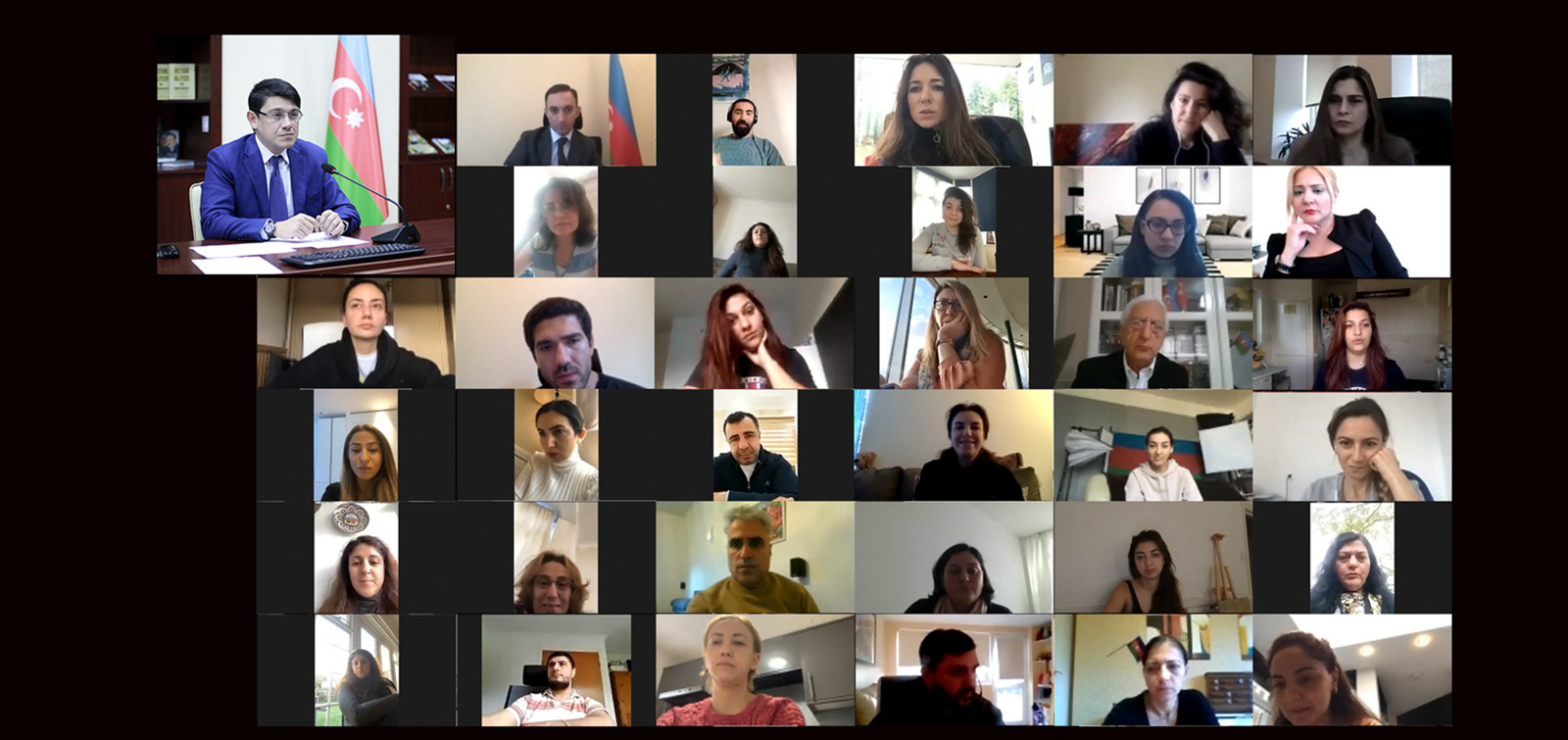 Our compatriots living in Britain and Iceland discussed future activities
Our compatriots living in the United Kingdom and Iceland organized a virtual meeting with the organization of Britain-Azerbaijan Society on our historic victory in Karabakh and the tasks ahead the diaspora after this. The meeting was attended by representatives of the Britain Azerbaijanis Association, the Azerbaijan-Scotland Association, "Buta" Azerbaijan-Scotland Public Union, "Azeri" Iceland-Azerbaijan Society and the London Azerbaijani House, as well as our compatriots living in the United Kingdom and Iceland.
Chairman of the State Committee on Work with the Diaspora Fuad Muradov congratulated the participants on the victory of Azerbaijan in the 30-year-old Armenia-Azerbaijan Nagorno-Karabakh conflict. "This great victory, achieved as a result of the courage of our glorious army, the determination of the President of Azerbaijan, Supreme Commander-in-Chief Ilham Aliyev, adds a new tone to the activities of World Azerbaijanis. After that, the activities of our diaspora will be more focused on the protection of the national interests of Azerbaijan, the promotion of the rich cultural heritage of Karabakh. Representatives of the diaspora should make efforts to establish broader relations with the public, especially the media in the countries where they live in, and support our state," the Chairman of the Committee said.
Speaking at the meeting, the head of the Britain-Azerbaijan Society Farida Panahova congratulated everyone on the historic victory of Azerbaijan. She said that the "International Web Portal of Azerbaijanis" has been established and is currently being improved.
Sabina Rakchiyeva, Elvira Aslanova, Ali Tekin Atalar, Zakir John Hasanov, Aysel Askerova, Hafiz Bakhshaliyev, Sabina Hasanli, Murad Nabiyev, Javid Aslanov, Laman Aghasi, Ulvi Pepinova, Nargiz Morrison, Parvana Aghazade, Fuad Alakbarov, Shafiqa Roberts and others delivered speech and stressed that they would do their best to increase the efficiency of the activity of Azerbaijani diaspora and unite more closely in this way.
At the meeting attended by 40 of our compatriots, opinions and proposals were voiced on the new tasks set by the historic victory for the Azerbaijani diaspora.