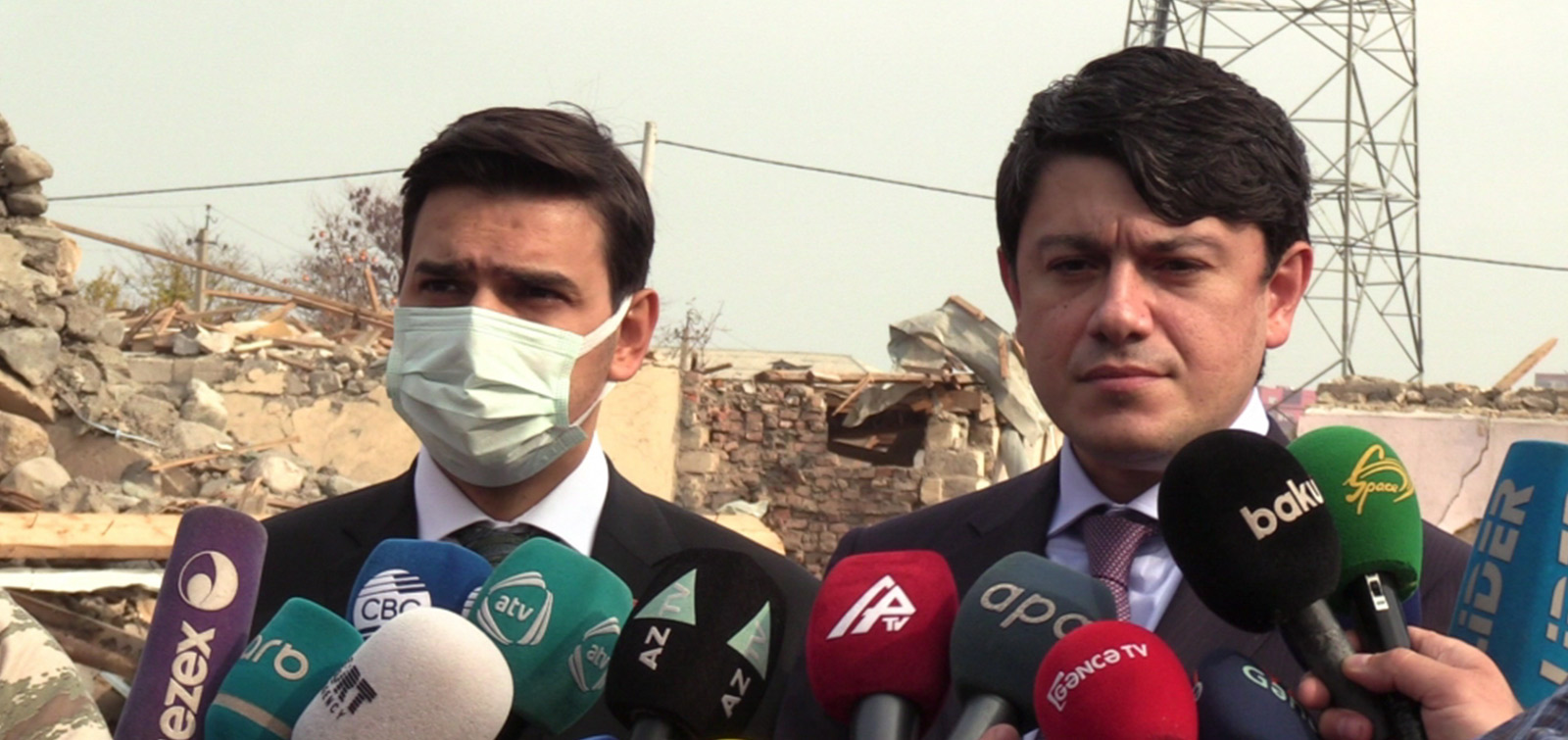 The delegation visiting Ganja made a statement to the press
We are here due to the Armenian terror in Ganja. Turkey has always stood by Azerbaijan. As well as, in our righteous case, the Turkish communities living abroad has also supported the Azerbaijani communities.
This statement came from Fuad Muradov, chairman of the State Committee on Work with Diaspora.
The chairman of the committee noted that the Azerbaijani and Turkish communities work together in more than 50 countries around the world: "Today, Armenians are especially active in providing false information against our just struggle. We are fighting together in this regard. We have a joint road map and we are working in this direction. Today, there is no one in Turkey who does not condemn the bombing of Ganja, Barda, Naftalan, and in general the cities without military facilities".
Emphasizing that the Azerbaijani Army under the leadership of President Ilham Aliyev liberate our lands from occupation, the chairman of the Committee said that the guests from Turkey also visited the families of Major General Polad Hashimov and National Hero of Azerbaijan Colonel Shukur Hamidov.
Fuad Muradov wished mercy to those who lost their lives in the earthquake in Izmir and said that Azerbaijan stood by Izmir from the first day.
Since the beginning of the war, as Turkey, we have been trying to support brotherly Azerbaijan and its people in all spheres. This statement was made by Abdullah Eren, head of the Presidency for Turks Abroad and Relatives Communities. The head of the Presidency noted: Ganja is a very important city with its historical past and personalities. The people who live here are heroic people.
Armenia has repeatedly fired rockets at Ganja, as a result, many civilians were killed. I wish mercy for all of them. Children and the elderly were killed. The children were left without mothers and fathers. Massacres against civilians are unacceptable. Since the beginning of the war, the Azerbaijani state has fought courageously on the battlefield, in accordance with the rules of war, and liberated its occupied territories. However, Armenia is carrying out terrorist activities and killing civilians in front of the eyes of the whole world.
Abdullah Eren expressed his confidence: "We think that the great victory of Azerbaijan is approaching. Everyone is praying for Azerbaijan. I hope, friendly and brotherly Azerbaijan will win this war. Turkey will always stand by Azerbaijan.
It should be noted that, a delegation led by Abdullah Eren, head of the Presidency for Turks Abroad and Relative Communities, accompanied by Fuad Muradov, chairman of the State Committee on Work with Diaspora, and MPs visited the territories destroyed by the Armenian terror in Ganja and commemorated the victims.