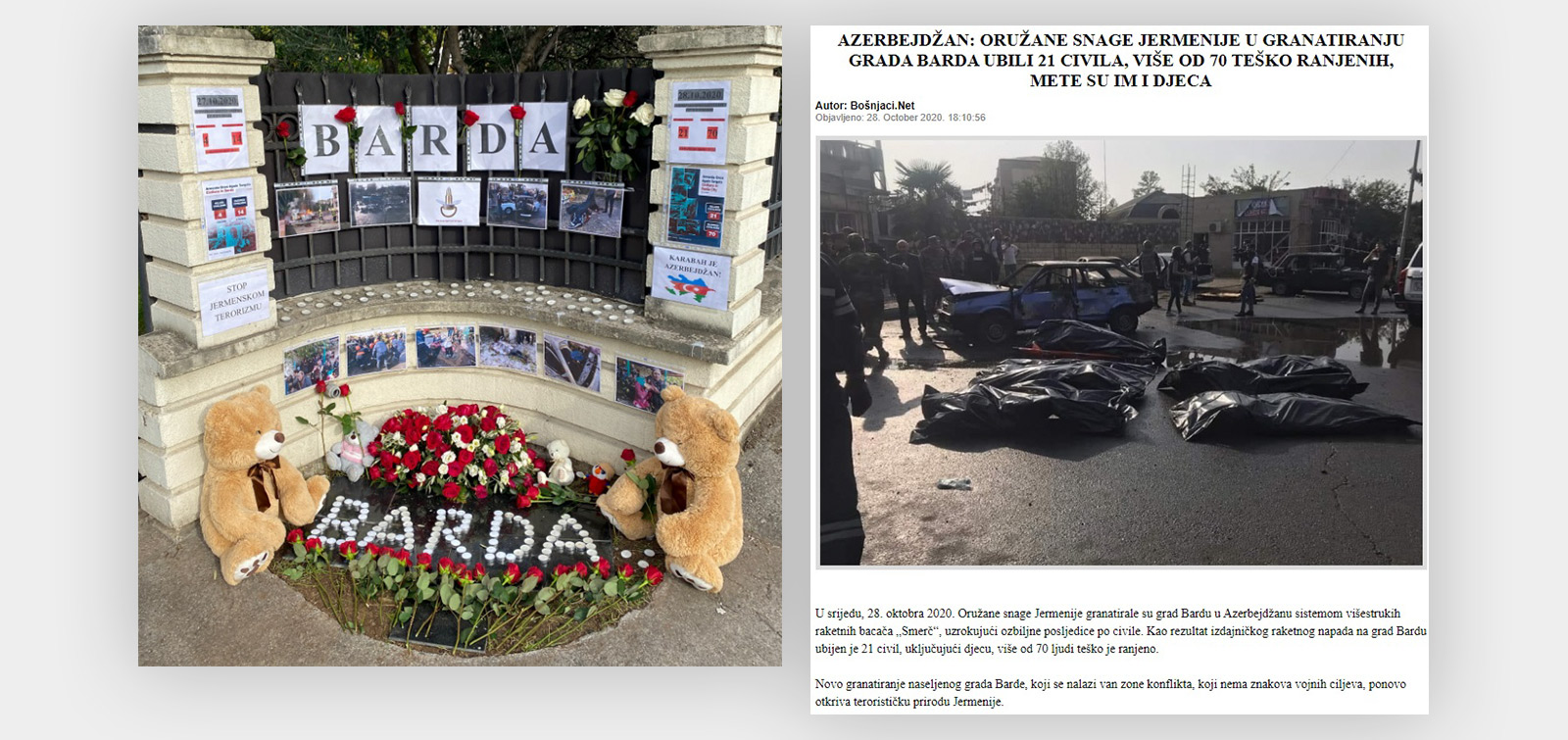 The media of the Balkans strongly condemned the terror in Barda
Various media agencies around the world have drawn attention to the terrorist attacks that took place as a result of the rocket fire by Armenian armed forces to Barda, Azerbaijan.
According to the articles published in media of Montenegro, Serbia, Bosnia and Herzegovina, the Armenian side's violation of the humanitarian ceasefire in Washington, hitting Barda city of Azerbaijan with the "Smerch" missile system, caused serious casualties among civilians.
"The shelling of Barda, which is located outside the conflict zone and has no military facilities, as well as other settlements, once again reveals the terrorist nature of Armenia. "The deliberate killing of civilians by the Armenian armed forces in the city of Barda is an act of genocide, a war crime and a crime against humanity," – it was stressed.
You can read more about this at the following links:
- http://www.tanjug.rs/full-view.aspx?izb=600746&fbclid=IwAR1h4oh0_OySjGv8aM-YHIsDWNfx5BNwujjCfC7xJwP-dPS14TyNYB7WpPE
- https://www.pobjeda.me/clanak/mvp-azerbejdzana-u-jermenskom-granatiranju-bardua-poginuo-21-civil?fbclid=IwAR0RjBMoCIwBBb0y3r68_1XXKhvO-VyHpVTxE3YnUF7EDjk-e2bNoVh-qHA
- https://www.pobjeda.me/clanak/mvp-azerbejdzana-u-jermenskom-granatiranju-bardua-poginuo-21-civil?fbclid=IwAR2hYiDASV2P1MH4frjgcH6DwDEnZf5qfuMtOqx1_XZ6vgT32f7JCtUjjsg
- http://crnogorskiportal.me/sadrzaj/2648?fbclid=IwAR2HGSPdMcyR821ZVBT0-DnUN0zmd38kGTfRlpXb-C6ISvQXKzXcnk_LoiE
- https://m.cdm.me/svijet/planeta/jermenija-granatirala-grad-bardu-ubijeni-civili-ukljucujuci-i-djecu/?fbclid=IwAR2DlrNZ-e_xZyKtfuLGmfhQHaDzyiBPCoD4Et-zrxnp5U78PgGyJ2FodFw
- https://m.cdm.me/svijet/planeta/jermenija-granatirala-grad-bardu-ubijeni-civili-ukljucujuci-i-djecu/?fbclid=IwAR2DlrNZ-e_xZyKtfuLGmfhQHaDzyiBPCoD4Et-zrxnp5U78PgGyJ2FodFw
- http://www.bosnjaci.net/prilog.php?rid=1&pid=71300&fbclid=IwAR2jb9v9BxpFWe2CEkhWS-iW3_oxcL5faqR1mYP4Vzhi0fNFVOvnWMNqUkY