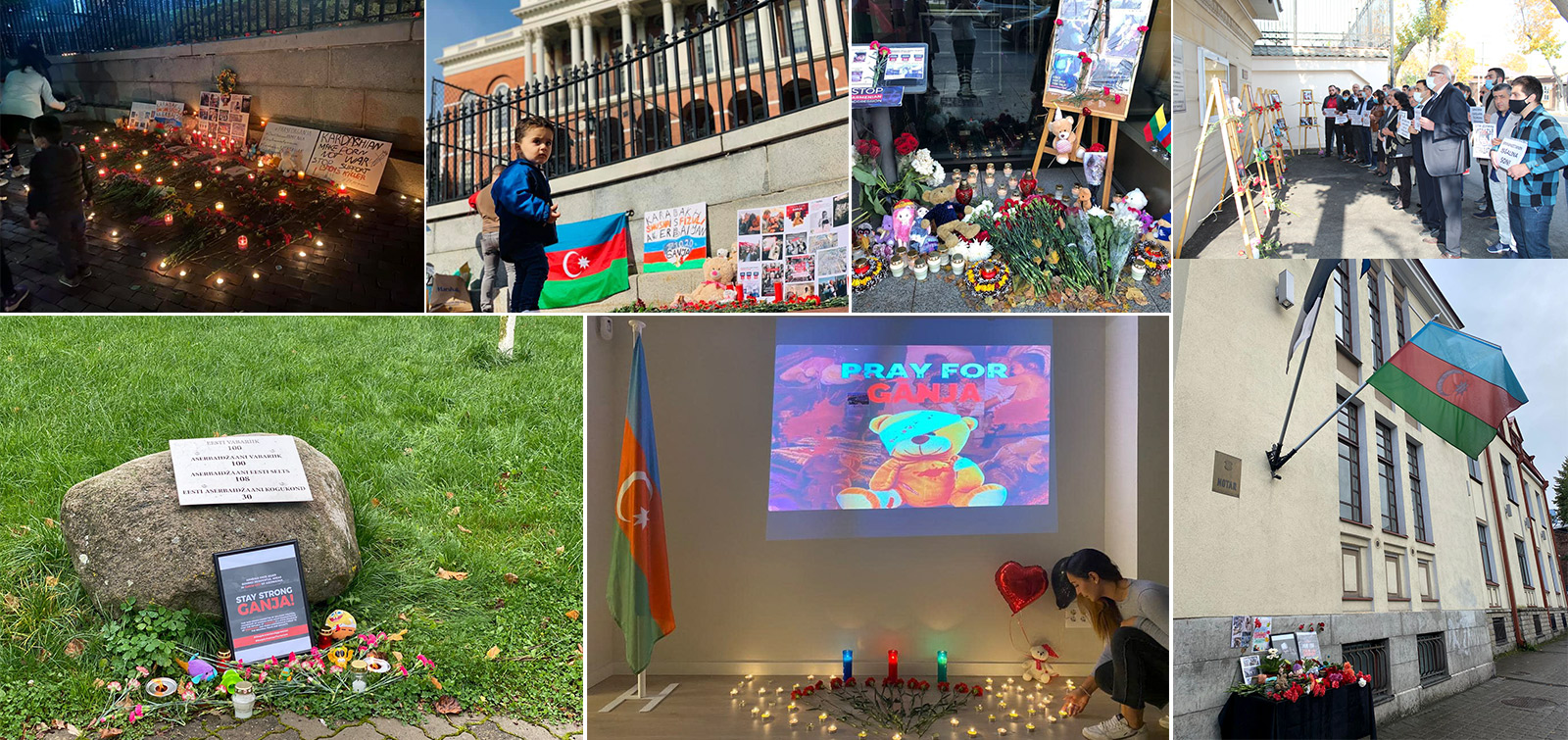 Azerbaijani communities organize memorial ceremonies for the victims of Ganja terror
Azerbaijani communities in different cities of the United States, Spain, Estonia, Latvia, Lithuania, the Czech Republic, Greece, Russia and Uzbekistan commemorate the victims of Ganja terror.
Memorial corners were organized in front of the buildings of Azerbaijani houses in Barcelona and Tallinn, the State House in Boston, the Thessaloniki office of the Greek-Azerbaijani Friendship Society "GALA", Azerbaijan Cultural Center named after Heydar Aliyev in Tashkent, the diplomatic missions in Riga, Vulnus, Prague and Athens, the Friendship Park in Tallinn, the central square in Khabarovsk.
Our compatriots, as well as, representatives of Turkish, Georgian, Albanian, Estonian, Uzbek and other communities also took part in the commemoration ceremonies. They protested against the shelling of Ganja by the occupying Armenian army, placed Azerbaijani flags, flowers and toys and lit candles in front of the pictures of the victims of the vandalism acts. Pictures of children killed and injured in Ganja were accompanied by slogans such as "Stop the Armenian aggression", "I am peace, but they killed me!", "Armenia is killing children!", "Pray for Ganja!", "Stop Armenian occupation!", "We condemn the killing of civilians!" "We condemn the death of children in Ganja!" written in English, Estonian, Greek and Uzbek languages on monitors.
It should be noted that, the Armenian army, violating humanitarian ceasefire, fired rockets at Ganja, Azerbaijan's second largest city, outside the frontline zone of Azerbaijan on October 11 and on October 17, 2020. As a result of both rocket attacks by the occupying Armenian army, apartment buildings in the central part of Ganja were destroyed, civilian facilities were severely damaged, 24 people were killed,90 civilians were seriously injured and the city was severely damaged.