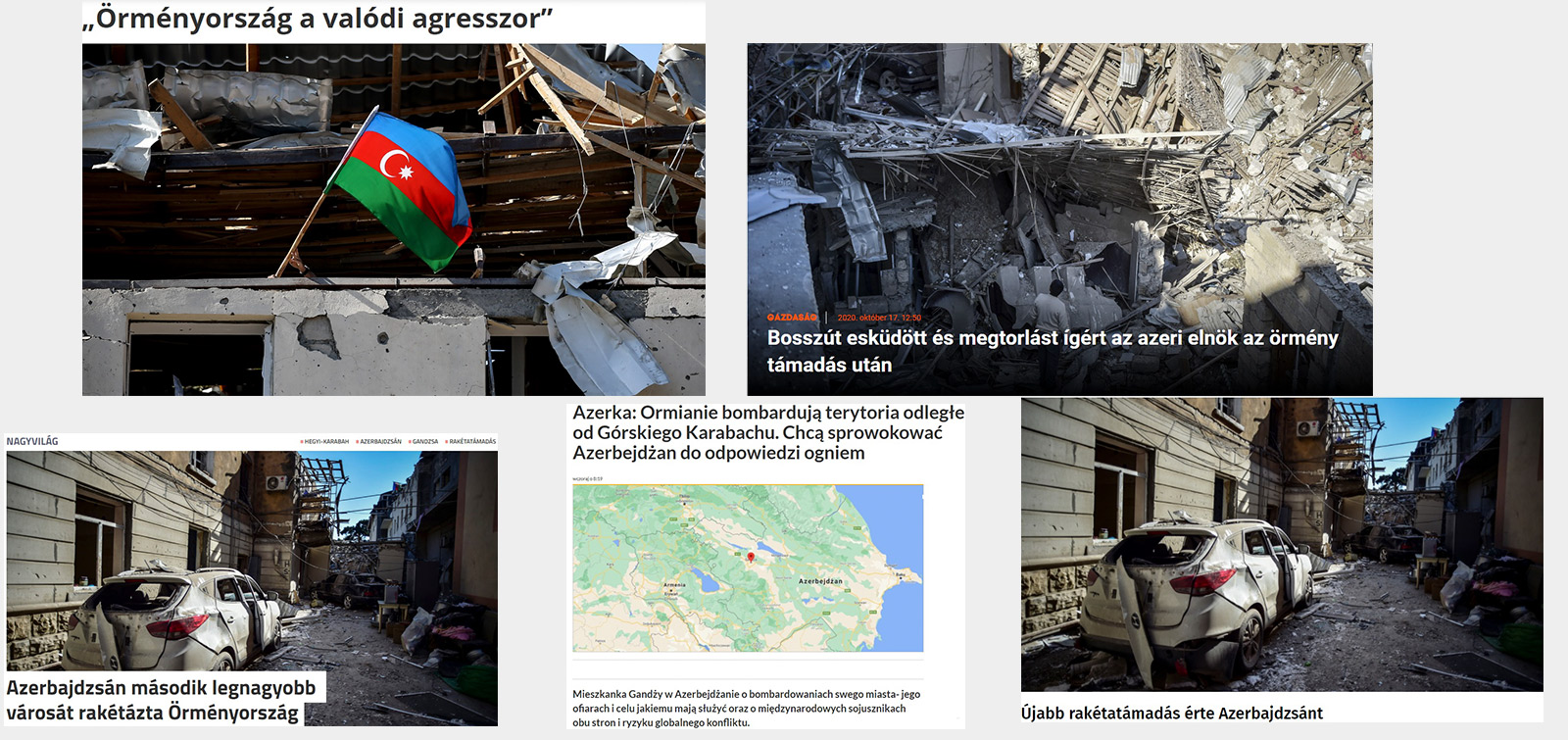 The events in Ganja were widely covered in the media of Eastern European countries
Media of Hungary, Poland and Bulgaria are publishing articles about the October 11 and October 17 terrorist attacks in the ancient Azerbaijani city of Ganja.
As a result of cooperation of diaspora organizations included in the Coordination Council with the local media, the articles were presented under the headlines "Armenia is a real aggressor", "Azerbaijan is under another rocket fire" and others.
It was reported that civilians were killed and wounded as a result of rocket fire by the occupying Armenian army on apartment buildings in the center of Ganja, the second city of Azerbaijan far from the frontline. Among the dead were children, women and the elderly.
It was stressed that unlike Armenia, Azerbaijan did not bomb the territory of the hostile country, Azerbaijan wants to return its lands, there is an optimistic mood in our country, people expect good news from the front every day and Azerbaijanis have a brave and fighting spirit.
The articles can be read at the following links:
https://index.hu/kulfold/2020/10/13/ahol_a_gyerekek_is_egyenruhaban_jatszanak/
https://24.hu/kulfold/2020/10/17/hegyi-karabah-ormenyorszag-azerbajdzsan-raketatamadas
https://www.portfolio.hu/gazdasag/20201017/bosszut-eskudott-es-megtorlast-igert-az-azeri-elnok-az-ormeny-tamadas-utan-453334
https://mandiner.hu/cikk/20201017_ujabb_raketatamadas_erte_azerbajdzsant
https://168ora.hu/kulfold/azerbajdzsan-hegyi-karabah-bosszu-gandzsa-193543
https://168ora.hu/kulfold/ballisztikus-raketaval-lottek-egy-azerbajdzsani-varosra-lakonegyedbe-csapodott-193522
https://www.origo.hu/nagyvilag/20201017-az-ormeny-tamadas-utan-megtorlast-iger-az-azeri-elnok.html
https://wnet.fm/2020/10/19/azerka-ormianie-bombarduja-terytoria-odlegle-od-gorskiego-karabachu-chca-sprowokowac-azerbejdzan-do-odpowiedzi-ogniem/
https://eurocom.bg/new/azerbaydzhan-sobshchi-za-devetima-zaginali-pri-raketna-ataka-na-armeniya-sreshchu-grad-gyandzha