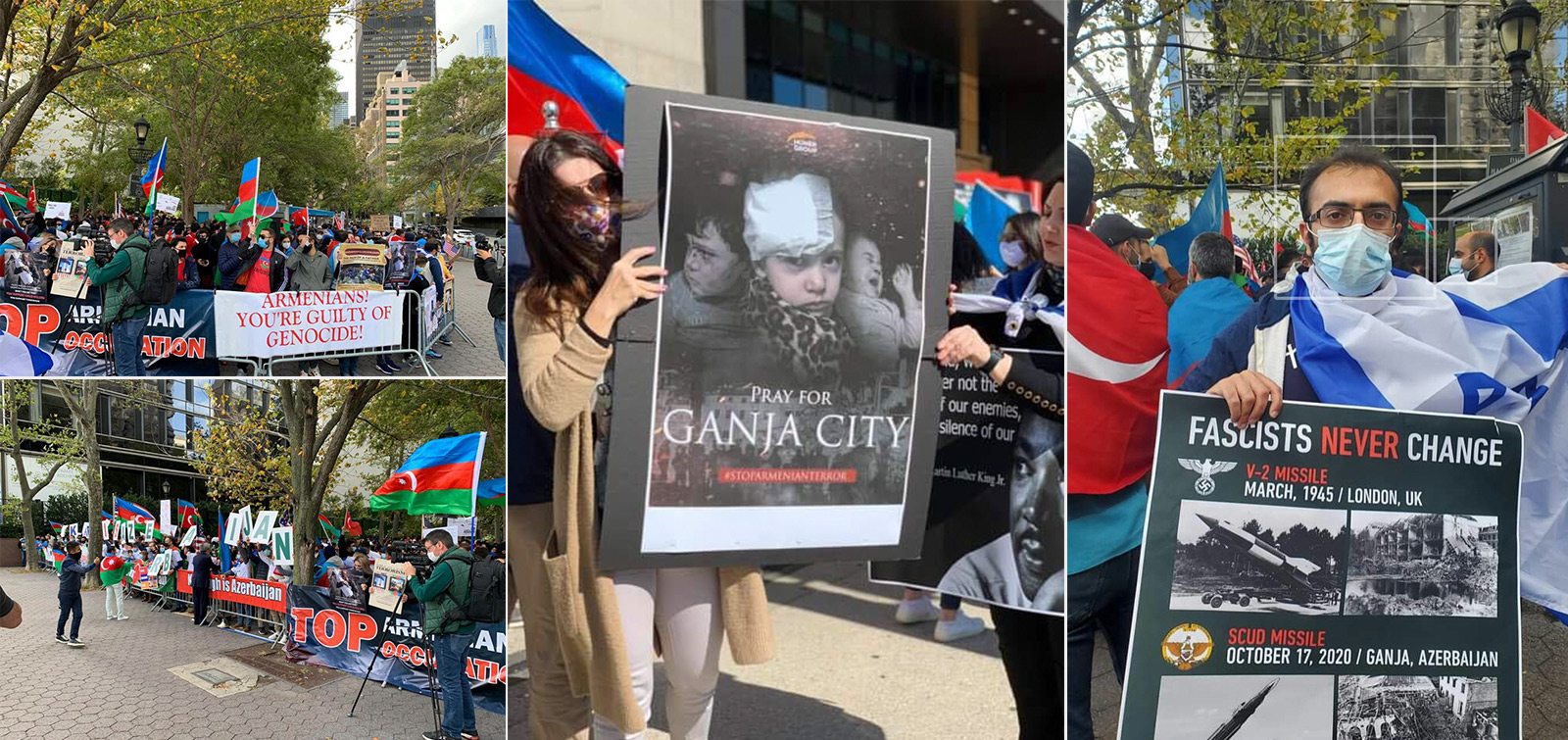 A protest rally against the Ganja terror was held in front of the UN Headquarters
The Azerbaijani New York Association organized a rally in New York, USA.
The protest was held in front of the UN Headquarters with the participation of hundreds of Azerbaijanis.
The rally was attended by a large number of our compatriots from Philadelphia, New Jersey, Maine, Washington, Virginia, Carolina and other surrounding states. The National Anthem of the Republic of Azerbaijan was performed and slogans such as "Stop Armenian lies!", "Karabakh is Azerbaijan!", "Ganja is not a frontline zone!", "Armenia, comply with UN resolutions!", "Do not kill children!", "Civilians are inviolable!", "We want justice!", "Occupation is a threat to international peace!" were chanted in English languages.
The speakers called on the UN to establish a commission to investigate the provocations and attacks of Armenia, and the world community to take measures against the occupying Armenia. During the action, where the state flags of Azerbaijan and Turkey were waved and posters protesting against the aggressive policy of Armenia were raised heavy artillery shelling of the Azerbaijani cities of Ganja and Mingachevir, as well as other settlements far from the frontline was brought to attention.
Condemning the terrorist crimes committed against the civilian population, the protesters called on the UN and the international community to condemn the Armenian vandalism and support Azerbaijan in its fair war to restore its territorial integrity.
It should be noted that, the Armenian army, violating humanitarian ceasefire, fired rockets at Ganja, Azerbaijan's second largest city, outside the frontline zone of Azerbaijan on October 11 and on October 17, 2020. As a result of both rocket attacks by the occupying Armenian army, apartment buildings in the central part of Ganja were destroyed, civilian facilities were severely damaged, 23 people were killed, 83 civilians were seriously injured and the city was severely damaged.