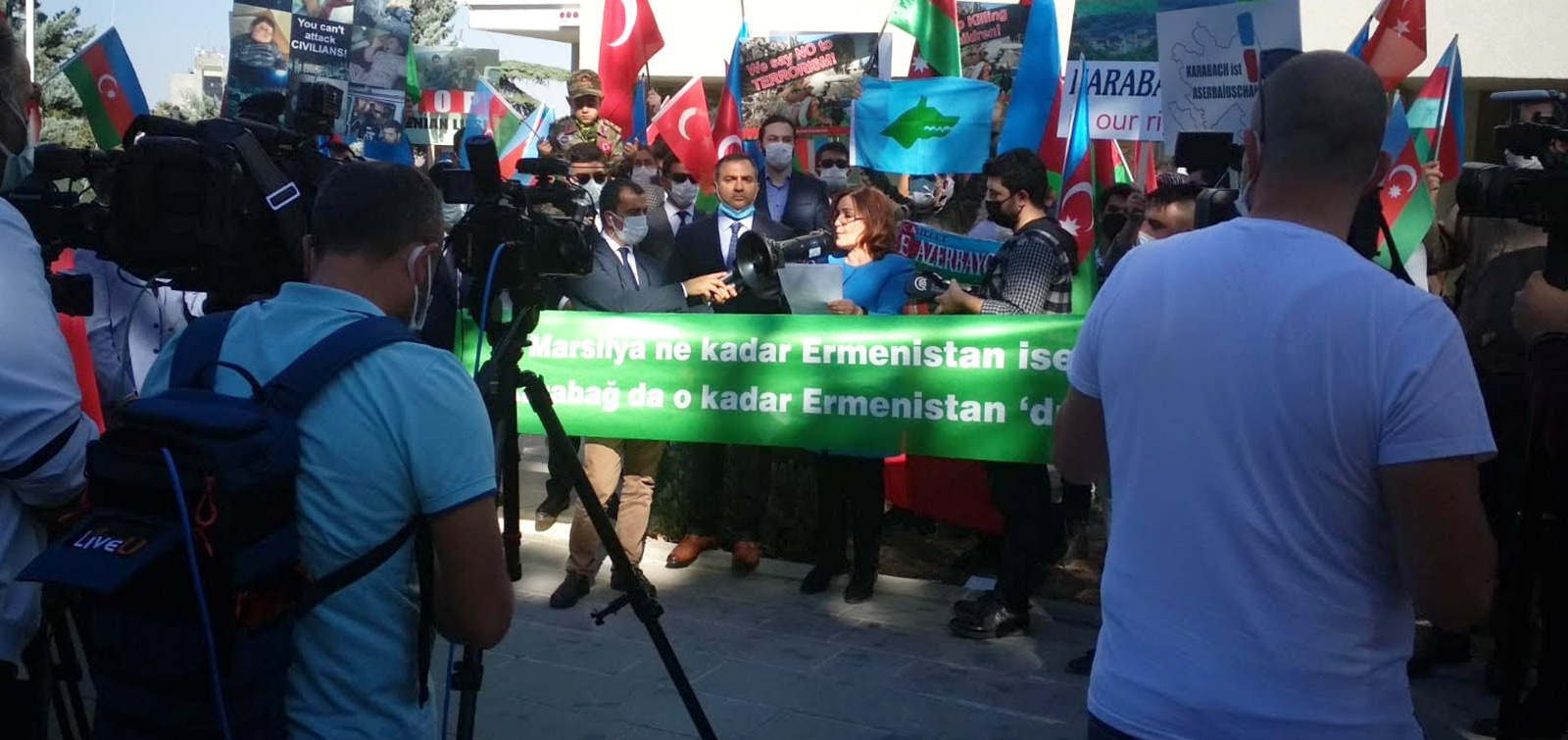 Our compatriots held a rally in front of the building of Embassy of France to Ankara
Our compatriots living in Turkey held a protest action against the terror of Armenia against our country. The action in front of the French Embassy in Turkey in Ankara was organized under the slogan " Armenia, leave Karabakh, France, leave OSCE!".
The event, organized at the initiative of the Turkey-Azerbaijan Friendship, Cooperation and Solidarity Foundation was attended by Azerbaijanis living in Ankara and representatives of the local community.
Participants chanted slogans such as "Karabakh is Azerbaijan!", "Azerbaijan wants peace!", "Azerbaijan demands justice!", "Civilians are inviolable!" "Stop Armenian terrorism!", "Stop child death!" in French, English, Turkish and Azerbaijani languages and drew attention to the facts of ethnic cleansing and occupation policy pursued by Armenians against our country, and called on France, as the co-chair of the Minsk Group, to demonstrate a fair position in the settlement of the conflict.
The rally strongly protested against the killing of civilians, children and women and the destruction of civilian objects as a result of rocket fire by the Armenian armed forces on the city of Ganja and other settlements outside the frontline.
In the end, a statement was adopted addressed to the Embassy of France to Ankara.
It should be noted that, the Armenian army, violating humanitarian ceasefire, fired rockets at Ganja, Azerbaijan's second largest city, outside the frontline zone of Azerbaijan on October 11, 2020 at around 2.00 pm. As a result of missile strikes by the occupying Armenian army, apartment buildings in the central part of Ganja collapsed, 10 people, including 4 women were killed, 35 people, including 16 women and 6 children were injured.