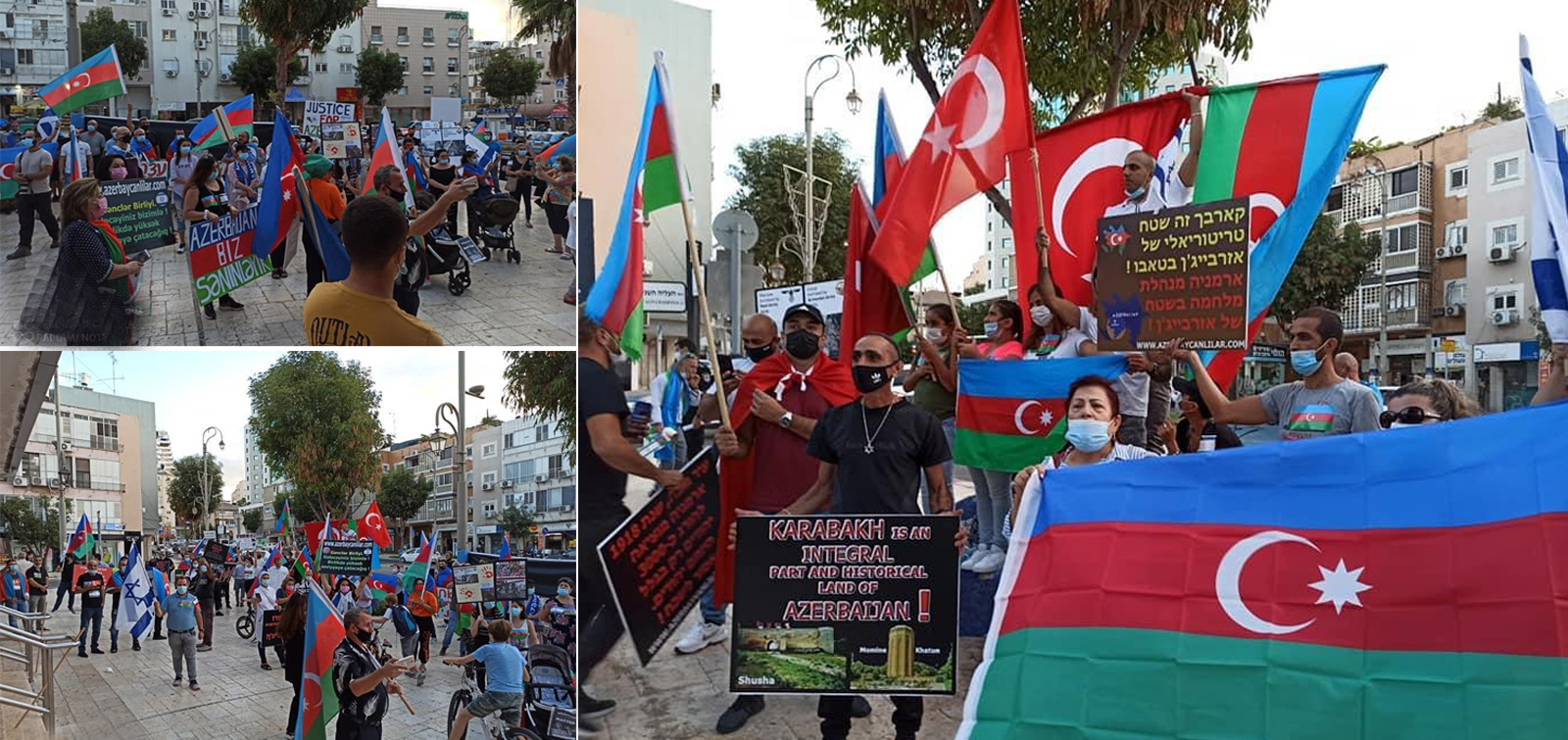 The Azerbaijani diaspora in Israel held a protest rally against the Ganja terror
The Azerbaijani diaspora in the Petah Tigwa, İsrael held a rally in protest of the aggressive and terrorist policy of the Armenian armed forces against our country.
Protesters drew the attention of local residents to the death of civilians, including children and women, and the destruction of civilian objects as a result of rocket fire on the city of Ganja and other settlements far from the frontline of Azerbaijan by Armenia and strongly condemned these barbaric, ruthless acts of terrorism that contradict to all human values.
It was noted that Armenia and Armenian separatists violated the requirements of the Geneva Convention, fundamental human rights, the right to life of Azerbaijanis, and pursued a fascist policy with military provocations.
The protesters called on the world and international community not to remain indifferent and silent to the acts of barbarism and vandalism by Armenians.
The event featured quotes from the address of the President of the Republic of Azerbaijan, Supreme Commander-in-Chief Ilham Aliyev to our people, interviews with leading and influential TV channels of different countries.
Slogans such as "Karabakh is Azerbaijan!", "Ganja is not a frontline region!", "Azerbaijan wants justice!", "Azerbaijan wants peace!", "We say no to terrorism!", "Karabakh is our right!", "We are with you, Azerbaijan!" were chanted at the rally, waving the flags of Azerbaijan, Turkey and Israel.
The rally ended with the national anthem of Azerbaijan.
It should be noted that, the Armenian army, violating humanitarian ceasefire, fired rockets at Ganja, Azerbaijan's second largest city, outside the frontline zone of Azerbaijan on October 11, 2020 at around 2.00 pm. As a result of missile strikes by the occupying Armenian army, apartment buildings in the central part of Ganja collapsed, 10 people, including 4 women were killed, 35 people, including 16 women and 6 children were injured.