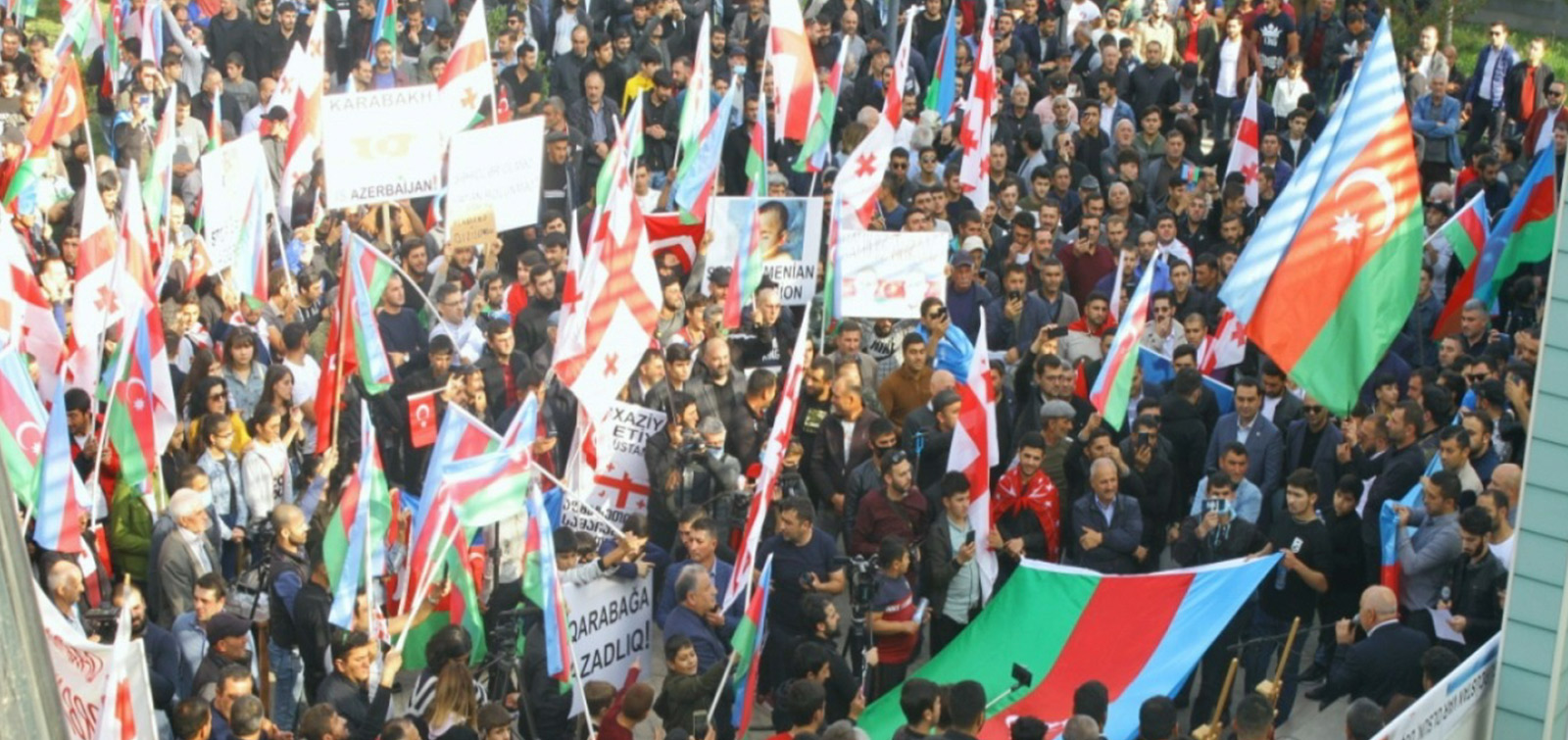 A rally for support to Azerbaijan was organized in Marneuli
A crowded rally in support of the independent Azerbaijani state was held in Marneuli region of Georgia.
The rally attended by about 2,000 people living in Tbilisi, Marneuli, Caspi, Kareli, Gori, Telavi, Sagarejo, Lagodekhi, Dmanisi, Bolnisi, Gardabani and Rustavi, began with a minute of silence in memory of the martyrs who died for the territorial integrity of Azerbaijan.
Akhund of Imam Juma Mosque of Marneuli Haji Hajiyev, Executive Director of the Integration Center of Georgian Azerbaijanis (ICGA) Rafig Hummat, Professor of Sukhumi University, Doctor of Historical Sciences Guram Markhulia, Chairman of the People's Movement "Geyrat" Alibala Asgarov, Representative of the Muslim Office of Georgia Haji Aziz Nabiyev, head of the Supreme Religious Board of Muslims of Georgia Mirtaghi Asadov, chairman of the National Congress of Azerbaijanis of Georgia Ali Babayev, lecturer of the Tbilisi State Academy of Arts Simon Kopadze, teacher of ICGA Fatma Aliyeva and others spoke at the event.
The speakers said that Nagorno-Karabakh and 7 adjacent regions occupied by Armenia for 27 years are the ancient lands of Azerbaijan and this conflict must be resolved within the internationally recognized borders of Azerbaijan. It was noted that our compatriots in Georgia strongly condemned the aggressive policy of Armenia, supported the fair position of Azerbaijan, the Azerbaijani army's counter-offensive operations to ensure the country's rights to self-defense, liberation and territorial integrity.
The intellectuals chanted slogans "Karabakh ıs Azerbaijan!" in Azerbaijani and Georgian languages from the rostrum and expressed confidence that all the occupied territories would soon be liberated.
Slogans such as "Long live the President of Azerbaijan!", "Long live the Azerbaijani soldier!", "Karabakh is Azerbaijan!", "Stop Armenian occupation!", "Justice for Khojaly!", "Karabakh is ours and it will be ours!", "Long live Azerbaijan-Georgia friendship! " were chanted at the rally, where the flags of Azerbaijan, Turkey and Georgia were waved.