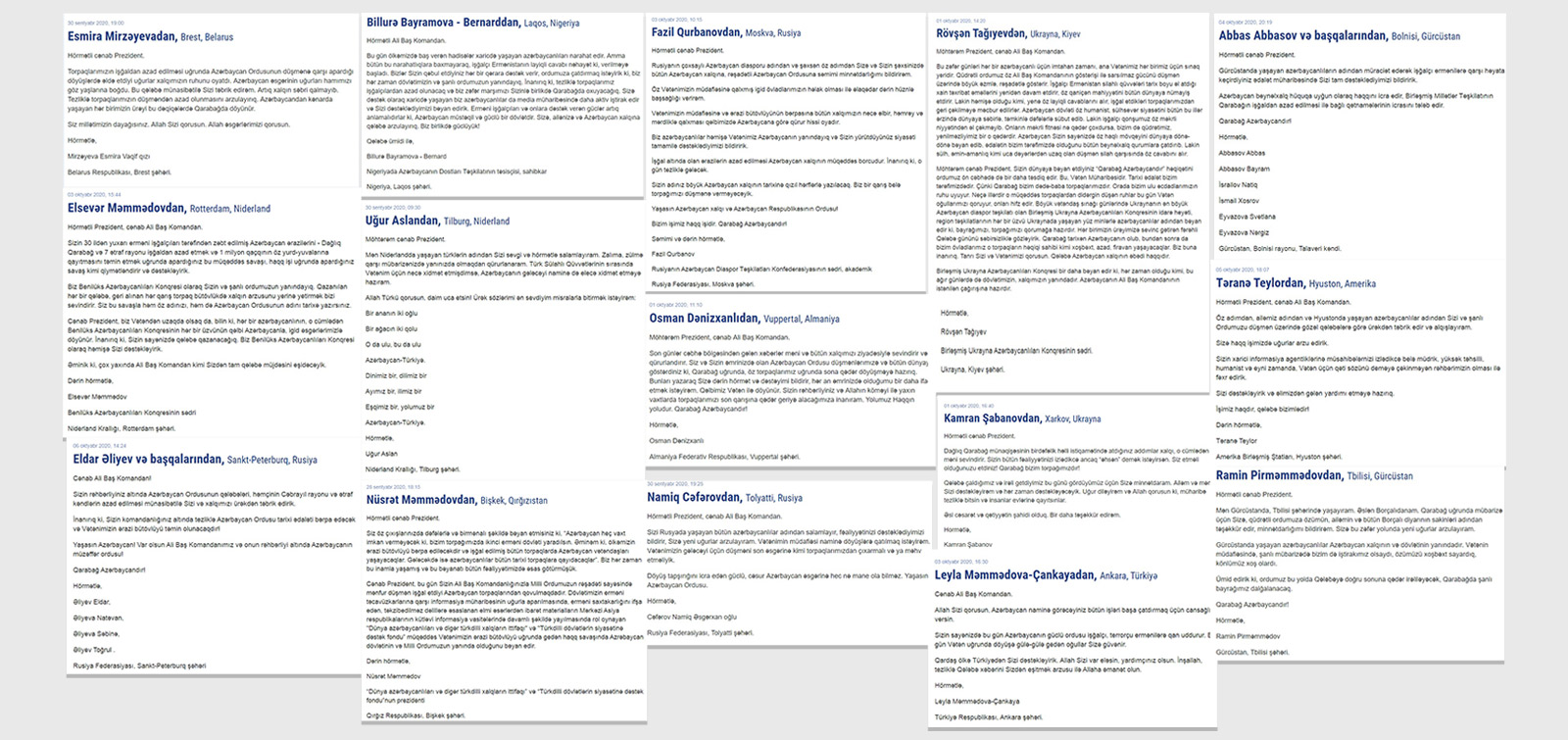 From Azerbaijanis living abroad: Mr. President, we support you and are ready to do our best to help
Our compatriots living in different countries of the world have recently sent letters of congratulations and gratitude to President of the Republic of Azerbaijan, Supreme Commander-in-Chief of the Armed Forces Ilham Aliyev on the victories of the Azerbaijani army and the liberation of part of our occupied lands. The letters published on the President's website express support for the state, people and President of Azerbaijan. It was noted that every Azerbaijani, regardless of where he or she lives, stands by our country in the struggle against the Armenian army and is proud of the victories of our army. Our compatriots said they are ready to defend the Motherland, both on the front and in the rear front, if necessary.
The authors of the letter are Fazil Gurbanov, Eldar Aliyev, Natavan Aliyeva and Namig Jafarov from the Russian Federation, Abbas Abbasov, Bayram Abbasov, Natig Israilov, Khosrov Ismail, Svetlana Eyvazova, Nargiz Eyvazova and Ramin Pirmammadov from Georgia, Osman Denizkhanli from the Federal Republic of Germany, Tarana Taylor from the USA , Billura Bayramova from Nigeria, Elsevar Mammadov and Ughur Aslan from the Kingdom of the Netherlands, Kamran Shabanov and Rovshan Taghiyev from Ukraine, Esmira Mirzayeva from the Republic of Belarus, Leyla Mammadova from the Republic of Turkey and other compatriots.