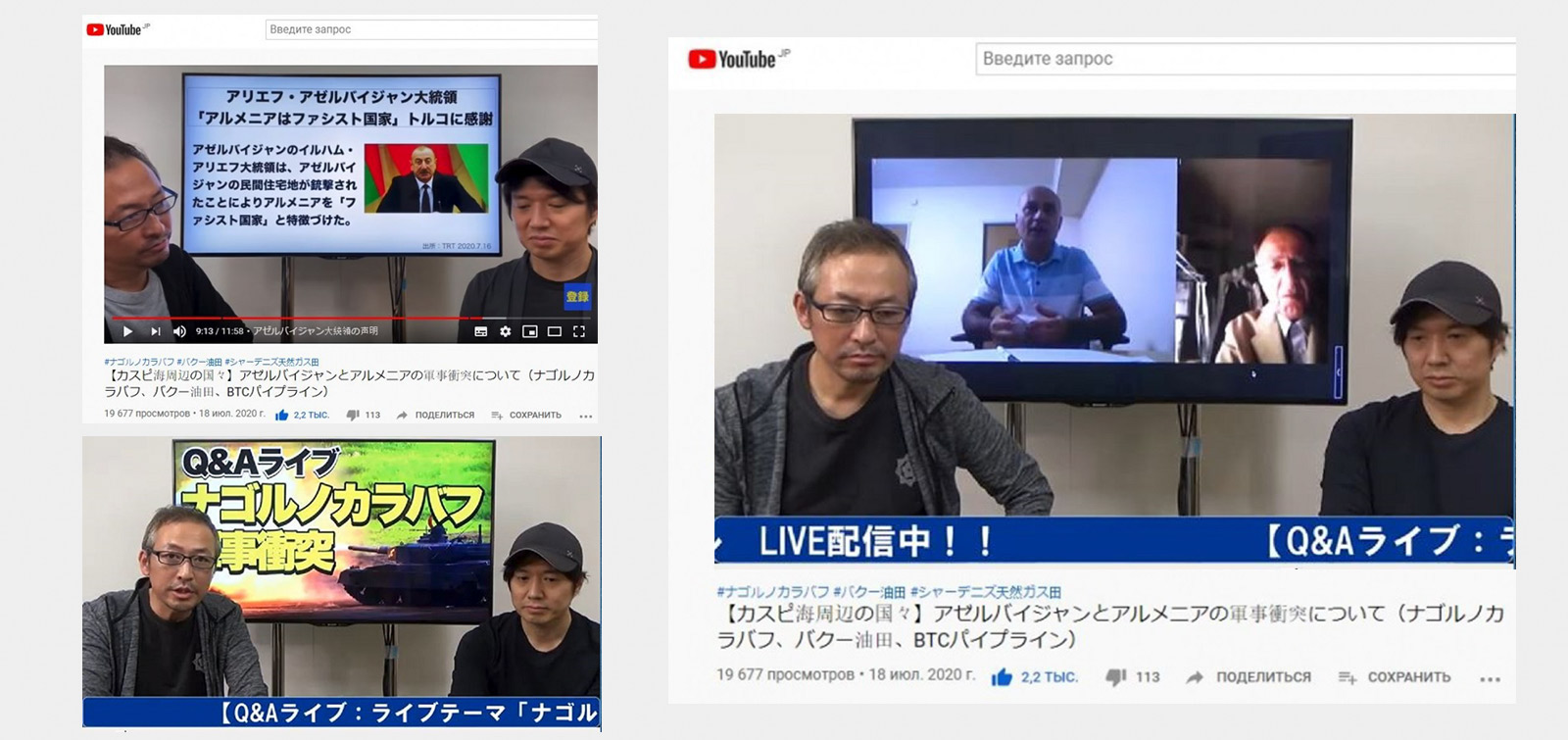 Our compatriots conveyed the right position of Azerbaijan to the Japanese audience
Japan's "Crossing the Border 3.0" YouTube channel broadcasted a special program dedicated to Armenia's recent provocations against Azerbaijan.
The online program, hosted by Kazuyasu Ishida and Yasuhiro Ishibashi, was attended by Khalil Kalantar, chairman of the Azerbaijan-Japan Friendship Center, member of the Coordinating Council of World Azerbaijanis, and Vugar Aghayev, AzerTAg's special correspondent in Japan.
Our compatriots gave detailed information about the history and causes of the conflict.
It was said that Armenians committed genocides against local Azerbaijanis and other peoples living in these territories, and using the chaos created by the collapse of the USSR at the end of the last century, Armenians occupied the Nagorno-Karabakh region and seven surrounding regions with the support of foreign patrons, they either expelled or killed Azerbaijanis and representatives of other nations living in their ancestral lands and committed a genocide against the civilians of Khojaly in violation of human values after resettlement to Azerbaijan. It was emphasized that the counter-attack of the Azerbaijani army was carried out in the occupied territories - in the territories of Azerbaijan within the internationally recognized state borders.
Our compatriots said that after the 4-day Tovuz provocation on July 12, 2020, the Armenian army launched a large-scale attack along the line of contact on September 27, inflicting heavy artillery shelling on military and civilian objects, causing heavy casualties among the military and civilians. All these overflowed the patience of our people.
By order of the President of Azerbaijan, Supreme Commander-in-Chief Ilham Aliyev, the Azerbaijani armed forces launched a counterattack in accordance with international law to ensure the right of our people to self-defense and the liberation of our lands from occupation.
The main cause of such escalation of the conflict is the Armenian government, and it is the military-political leadership of this country that is responsible for what happened.
During the program, videos, photos and maps with objective coverage of the events were demonstrated.