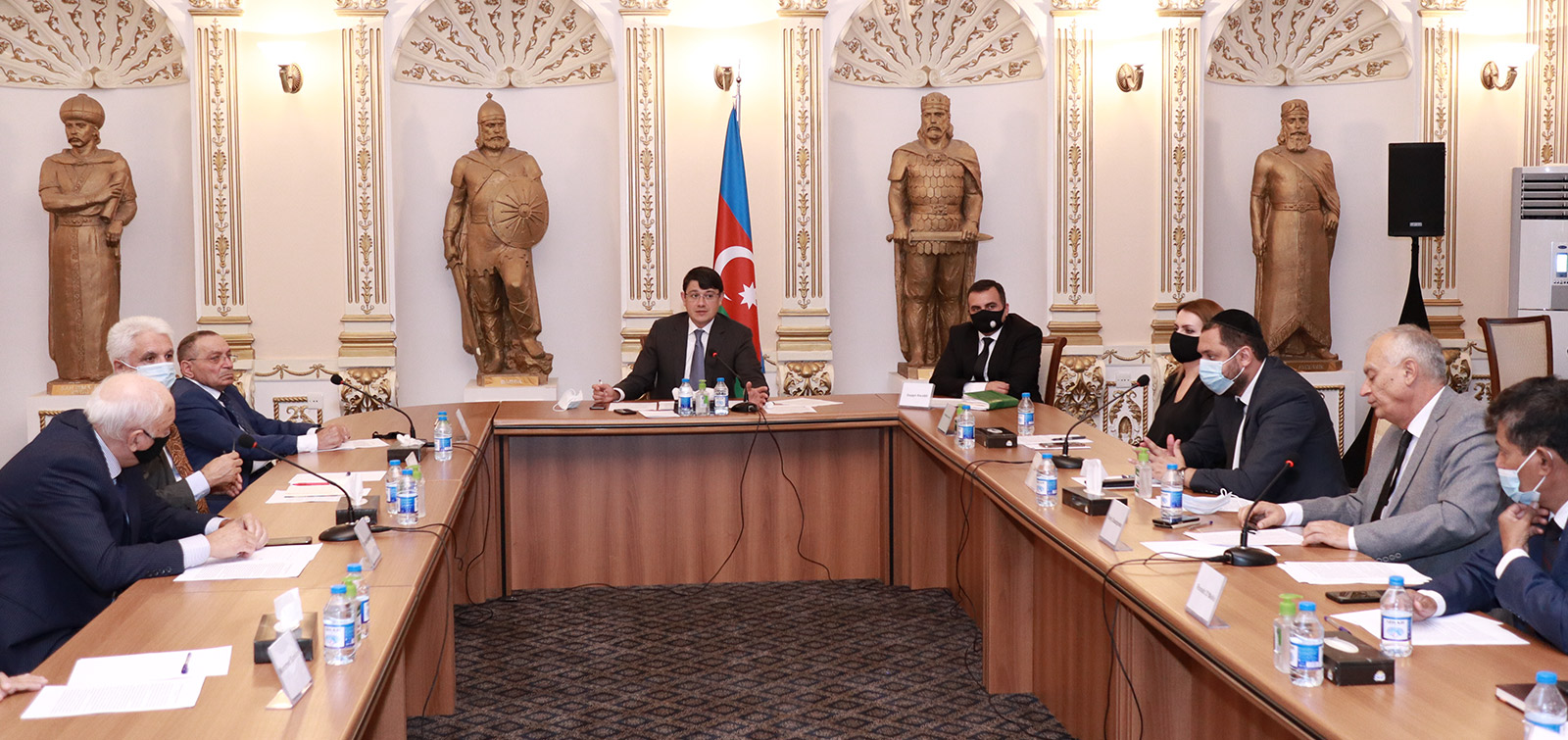 Communities living in Azerbaijan support the fair position of our country
The State Committee on Work with Diaspora held a meeting with the leaders and representatives of communities living in Azerbaijan. The meeting was attended by the representatives of Indian Association Azerbaijan Public Union, Georgian Community of Azerbaijan, Ukrainian Congress of Azerbaijan, Russian Community of Azerbaijan, "Poland-Azerbaijan Polish Community" Public Union, Pakistan Diaspora, Akhiska Turks living in Azerbaijan, World Akhiska Turks Union, German-Azerbaijani Society, Representatives of "Vaa L'hatzolas Nichei Yisroel" Jewish humanitarian organization, and the Azerbaijan-Bulgaria Friendship Development Public Union.
The event began with the National Anthem and a minute of silence was observed in memory of those killed in the defense of our lands.
Chairman of the Committee Fuad Muradov noted that Azerbaijan is a country with peace-loving, tolerant and multicultural values, and people of different nationalities live here comfortably and prosperously. He spoke about the provocation committed by Armenia in the frontline zone, noting that not only our diaspora, but also local communities have a special role in conveying these facts to the world community.
Ronald D'Mello, co-founder of the Indian Association Azerbaijan, said that, President of the Republic of Azerbaijan Ilham Aliyev fully expressed the truth about the Nagorno-Karabakh conflict and the latest provocations of Armenia in an interview with Russia-1 TV channel. We convey these truths both to the world community and to the people of the country where we live. I have been living in Azerbaijan for 25 years, I love the people of this country and I know the real truth about Karabakh. I think that it is my duty to convey these truths. "
Chairman of the Georgian Community of Azerbaijan Rafael Gvaladze praised the meeting with the communities and noted that they will do their best to inform the international community, as well as the representatives of their nations, through social networks and the media about the deliberate targeting of civilians, minors, and gross violations of international humanitarian law, including the 1949 Geneva Conventions.
Chairman of the German-Azerbaijani Society Chingiz Abdullayev, Deputy Chairwoman of the Russian Community of Azerbaijan Anastasia Lavrina and other members of the community said they would be closely involved in delivering accurate information about Karabakh.
At the end of the discussion, leaders and representatives of the communities signed a joint statement addressed to the UN, the Council of Europe and other international organizations, all states that respect international law and norms. The statement called on international organizations to influence Armenia to end provocations and immediately liberate the occupied Azerbaijani territories, and to ensure that the Armenian government respects international law and norms.