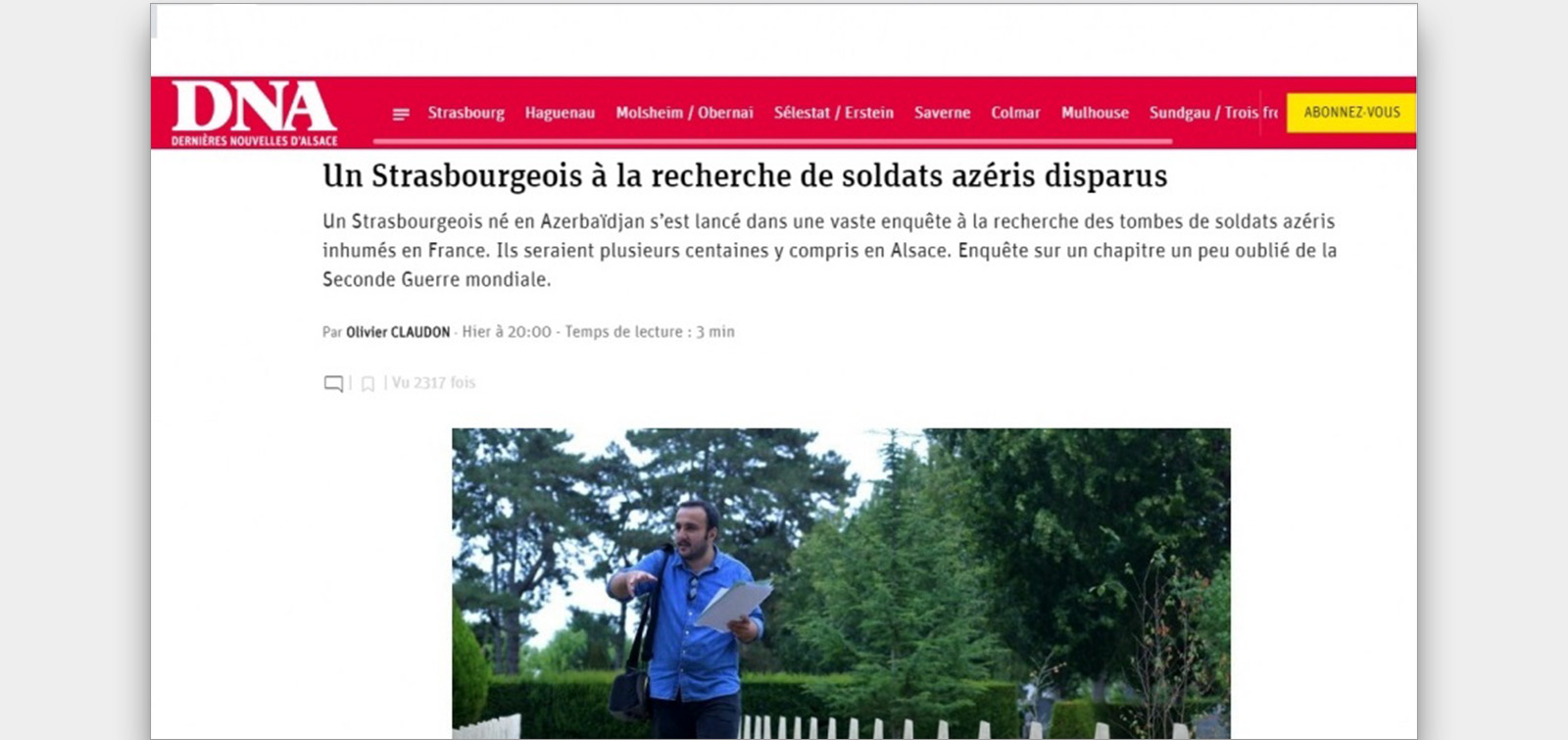 France media wrote on the looking for missing Azerbaijani soldiers
An article entitled "Strasbourg is looking for missing Azerbaijani soldiers!" was published in the "DNA" (Alsace's latest news) newspaper of the Alsace region of France.
It is noted in the article that the head of the "Kapaz" publishing house in Strasbourg, Nijat Kazimov, has launched an extensive search to find the graves of Azerbaijani soldiers killed in the region during World War II. In August of this year, a researcher who received information that 10 Azerbaijani soldiers were registered in the commune of Sultz-le-Ben, determined that they were people who died in 1942-1944. These soldiers were among 394 Soviet soldiers held captive in the fortress of Mutzig. Although the Germans wanted to bring Azerbaijani soldiers to the Caucasian Legion, they were sentenced to death for refusing to do so.
As a result of the search, the graves of Molla Huseynov and Mukhlis Mammadzade were found in the southern cemetery in Strasbourg. Nijat Kazimov is currently searching for the graves of other Azerbaijani soldiers buried in France. 9661 Soviet soldiers were buried in 518 cemeteries in France. As well as, it is said that during the war there were more than 200 camps for Soviet prisoners in France.
Continuing his research, Nijat Kazimov intends to publish a book or make a documentary based on the facts he has collected.
It should be noted that, Nijat Kazimov, 27, lives in Strasbourg. Our compatriot, who went to France to study in 2013, is the founder and head of the "Kapaz" publishing house, which specializes in Caucasian literature.