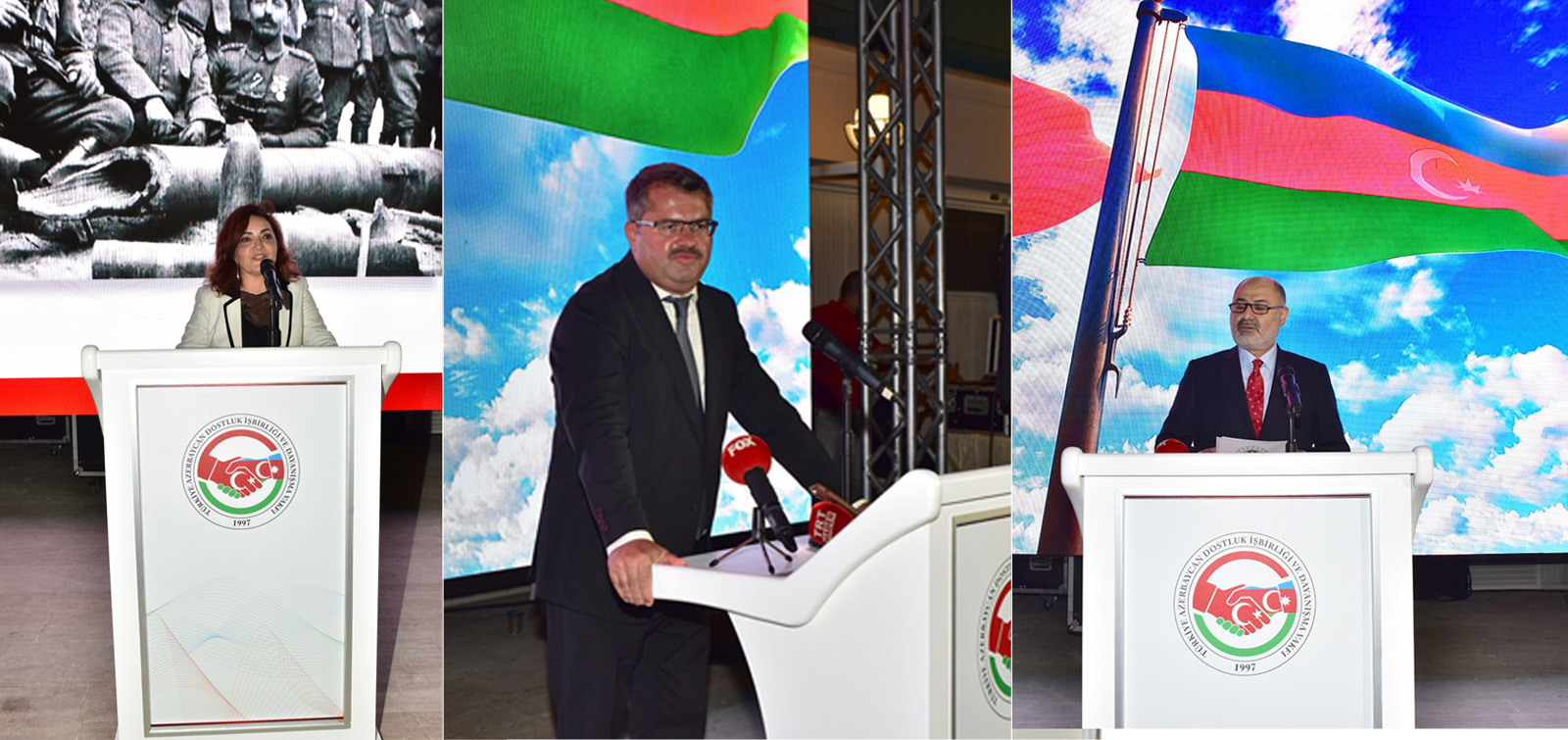 The salvation day of Baku was solemnly celebrated in Istanbul
A solemn event dedicated to the 102nd anniversary of the liberation of Baku from the occupation of Armenian-Dashnak and Bolshevik units was held in Istanbul, Turkey.
The event entitled "Brotherhood's signature for eternal cooperation 102 years ago: the story of one nation, two states" was organized with the support of the State Committee on Work with Diaspora, the Turkey-Azerbaijan Friendship, Cooperation and Solidarity Foundation (TAFCSF) and the Azerbaijan House in Ankara.
The ceremony, which took place in Jamila Sultan Reserve in Istanbul, was held in accordance with the rules of protection of social distance in connection with the pandemic. Deputy Defense Minister of Turkey Alpaslan Kavaklioglu, Azerbaijani Ambassador to Turkey Khazar Ibrahim, Consul General to Istanbul Narmina Mustafayeva, Turkey MP, head of the Turkey-Azerbaijan interparliamentary friendship group Shamil Ayrim, Secretary General of the Black Sea Economic Cooperation Arif Hajiyev, Head of Bakirkoy municipality Bulent Kerimoglu, Head of Sariyer municipality Shukru Genj, Head of Shishli Municipality Muammer Keskin, TAFCSF Chairwoman, Head of the Azerbaijani House in Ankara Aygun Attar, former MPs Huseyn Kogabiyik, Metin Ishik, Chairman of the Marmara Group Strategic and Social Research Foundation Professor Akkan Suver, representatives of public associations operating in Turkey, cultural and artistic figures, intellectuals and media representatives from both countries attended the event.
A.Attar, H.Ibrahim, A.Kavaklioglu and Sh.Ayrim spoke at the event, which began with the national anthems of Azerbaijan and Turkey.
Calling the liberation of Baku one of the greatest victories in history, the speakers noted that our brotherhood, which has ancient roots, is developing at a higher level today, Ankara and the Turkish people supported Azerbaijan during the July 12 provocations, and such relations between our countries are unique in the world. They stressed that the fraternal help of the Caucasus Islamic Army will never be forgotten.
The documentary "From Tovuz to TurAz" was shown at the solemn evening, and an art part of the national music of the two countries was presented.
The event was widely covered by the influential Turkey media. Detailed information is available at the following links:
https://www.sozcu.com.tr/2020/gundem/bakunun-kurtulusunun-102nci-yil-donumu-istanbulda-kutlandi-6040265/
https://www.yurtgazetesi.com.tr/yasam/tadiv-den-gorkemli-gece-h161795.html