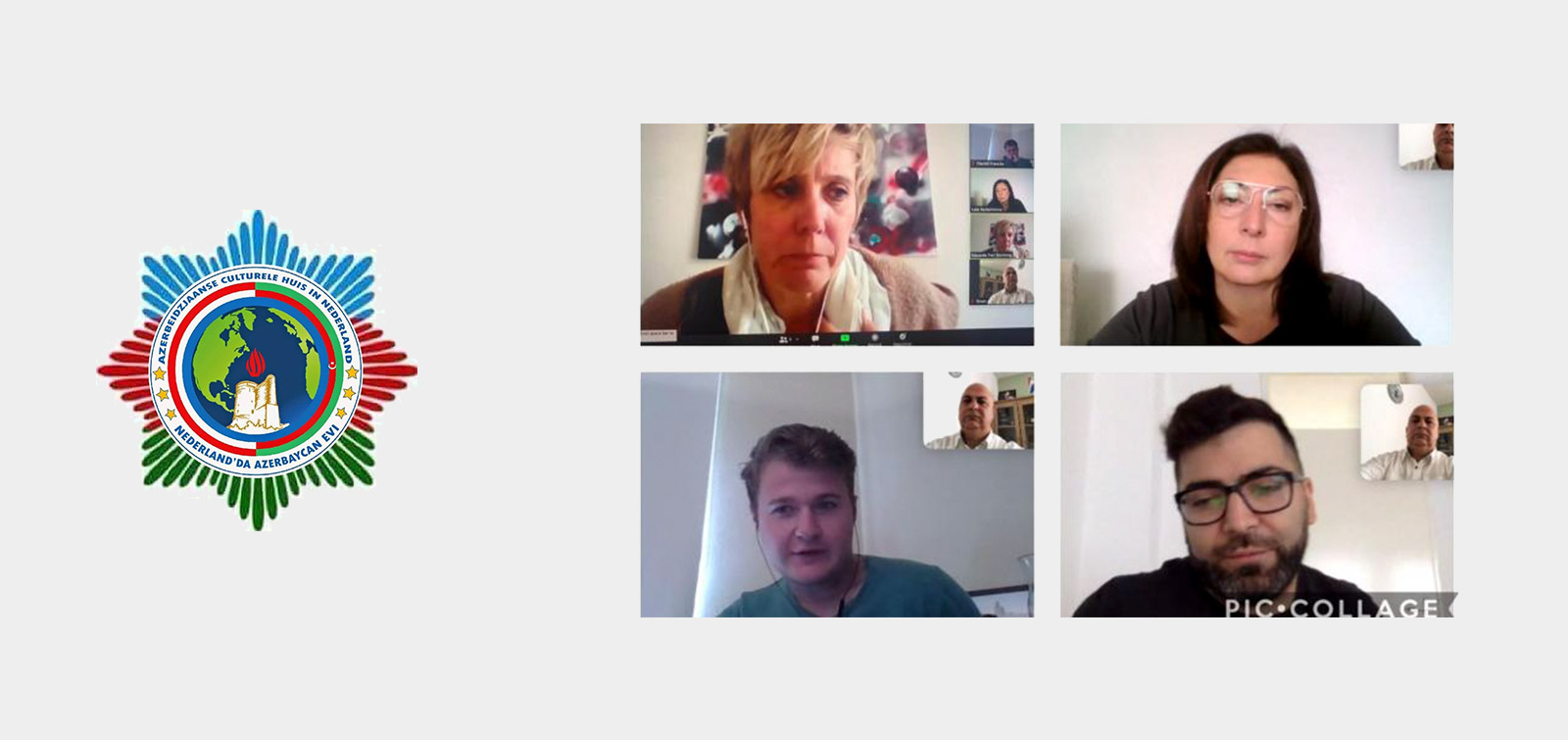 Armenia's policy of aggression has once again been brought to the attention of the Netherlands public
A video conference of Azerbaijan House organization in the Netherlands was held with Anton Weichuys, Astrid Frey, Hege Knaven and Daniel Franken, employees of the Christian Democratic Party Party and the Electronic Borders Foundation's (EBF) International Relations Department in The Hague.
The head of the Azerbaijani House in the Netherlands Elkhan Mirhashimli made an introductory speech at the event opened by Anton Veykhuys. Elkhan Mirhashimli spoke about Armenia's policy of aggression against Azerbaijan since 1988, the Khojaly genocide, the Russian factor in the Nagorno-Karabakh conflict, the free walking of Armenians in European countries in clothes with the name of the terrorist organization "Asala", the publication of one-sided and biased articles about Nagorno-Karabakh and stressed that the independent Azerbaijani state demands an end to the occupation in accordance with international law.
Recalling the July 12 provocation of the Armenian armed forces, the speaker said that the treacherous attack on the state border of Azerbaijan in the direction of Tovuz was aimed at seizing gas, oil and railway lines that transit from our country to Europe.
"As a result, 12 soldiers and high-ranking servicemen of the Azerbaijani army, one civilian were killed. Armenia is not a peace-loving country, but pursues an aggressive policy. We demand an end to Armenia's occupation policy, the unconditional liberation of the occupied territories of Azerbaijan, the internationally recognized territorial integrity of our country, and the return of refugees and internally displaced persons to their native lands. "We want the resolutions and decisions of the United Nations, the Parliamentary Assembly of the Council of Europe and the European Parliament on this conflict to be implemented," our compatriot said.
Astrid Frey' question "Why is Karabakh so important for you and for Armenians? Does Karabakh have natural resources?" was answered by our compatriot so: "Karabakh does not have natural resources like oil and gas. We do not love the land we live in just because of its natural resources. These lands are our ancestral lands. If Armenians do not want to live with us on our lands, they can go and live in Armenia. They have one state and we cannot allow the establishment of a second Armenian state in our lands. If Armenians live in a community in any state, it does not mean that they must establish a new Armenian state there.
In conclusion, the importance of studying the views of the Azerbaijani community by local political, public and media representatives in order to convey the realities of Karabakh to the Netherlands public was stressed.