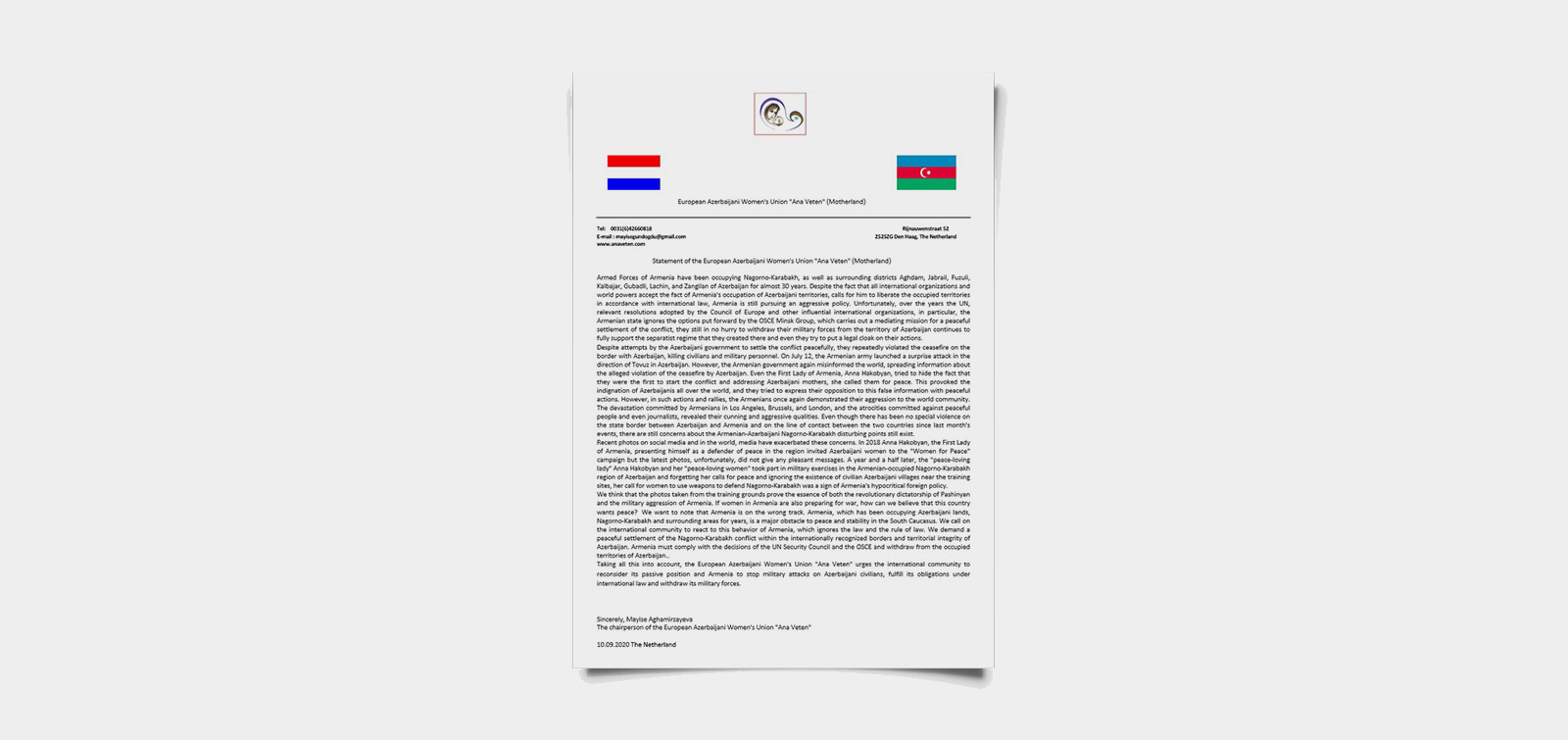 Azerbaijani women living in Europe protest against Anna Hakobyan's photo with a weapon
The European Azerbaijani Women's Union "Ana Vatan" has strongly protested against the participation of the Armenian Prime Minister's wife Anna Hakobyan in illegal military exercises in the ancient Azerbaijani land of Nagorno-Karabakh and the sharing of her photos lying in a trench targeting Azerbaijani positions.
A statement signed by Mayisa Aghamirzayeva, chairwoman of the European Azerbaijani Women's Union "Ana Vatan", addressed to the international community stresses that, fascist Armenia has been occupying Nagorno-Karabakh, the territory of Azerbaijan, for 30 years, international organizations and the world's leading states know this fact, but official Yerevan is provoking the line of intercourse and the state border of Azerbaijan trying to resolve the conflict peacefully and during the July war, the whole world once again witnessed the insidious nature of Armenia.
According to the statement, Anna Hakobyan addressed to Azerbaijani mothers in a "peaceful clothes" to forget that the Tovuz provocation was started by the government led by her husband. "Recent images of Anna Hakobyan, who introduced herself as a peace activist in the region in 2018 and invited Azerbaijani women to the" Women for Peace" campaign, call for women to defend the land of Nagorno-Karabakh, the territory of neighboring country at gunpoint is a sign of Armenia's hypocritical foreign policy.
"If women in Armenia are also want war, how can we believe that this country wants peace?"
The Union considers that although there are no specific cases of violence on the Azerbaijani-Armenian border and the line of contact, there are still concerns, and recent images on social media and in the world media exacerbate this concern.
Demanding a solution to the Nagorno-Karabakh conflict within the framework of Azerbaijan's territorial integrity and internationally recognized borders, the union stated that Armenia must stop military attacks on Azerbaijani civilians and immediately leave the occupied territories of Azerbaijan in accordance with UN Security Council and OSCE resolutions.