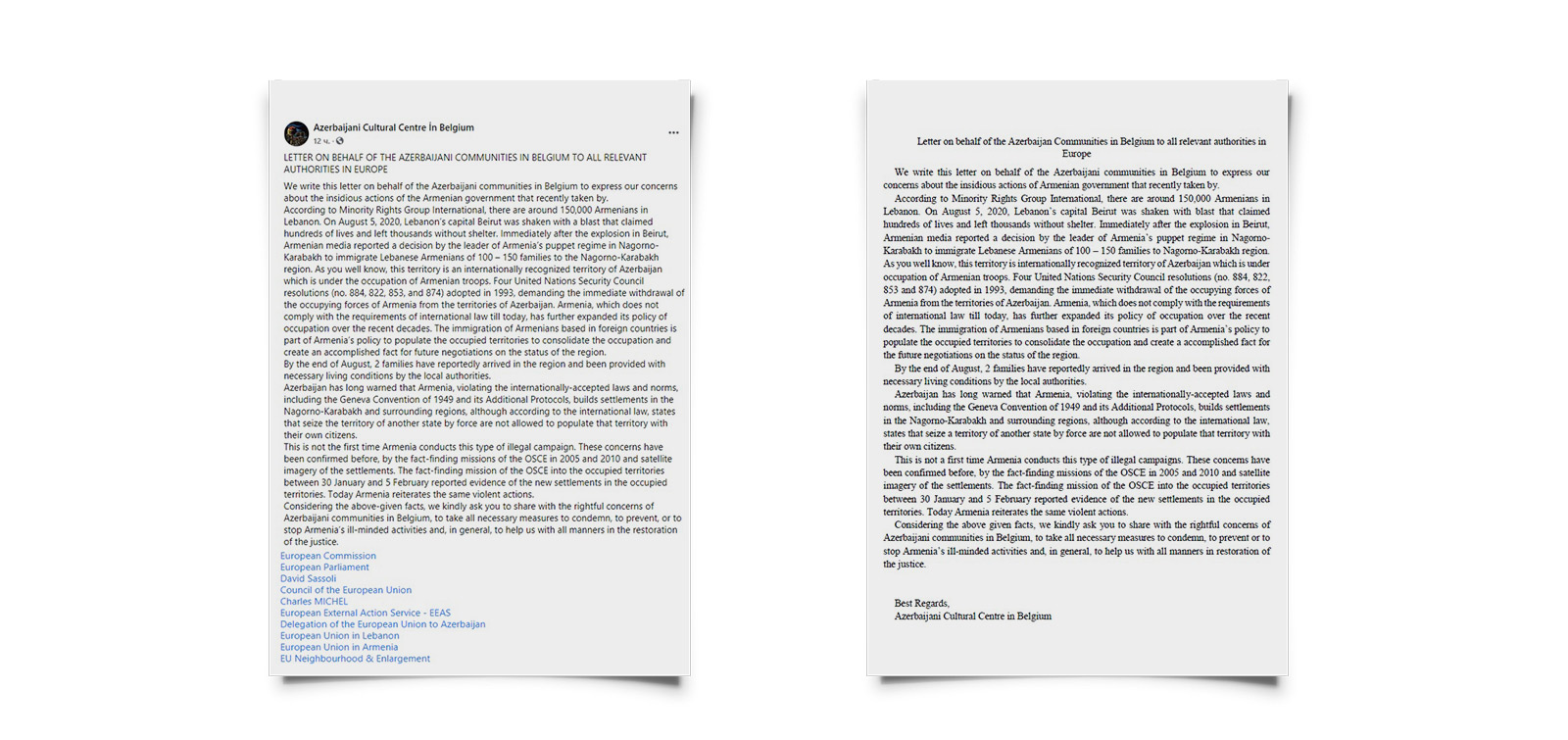 Our compatriots called on the European Union to prevent the illegal settlement policy of the occupying Armenia
The insidious actions of the occupying and aggressor Armenia, such as the settlement of Lebanese Armenians in the Nagorno-Karabakh region, which is the ancient lands of Azerbaijan have infuriated our compatriots living abroad.
The statement issued by the Belgium Azerbaijani Cultural Center to the European Union and the Parliament on behalf of the representatives of the Azerbaijani community living in Belgium expressed deep concern in this regard. It was noted that Nagorno-Karabakh is an internationally recognized territory of Azerbaijan, but occupied by Armenians and according to four UN resolutions adopted in 1993, the occupying forces of Armenia must immediately leave the Azerbaijani lands. "Armenia, which has not yet complied with the requirements of international law, has expanded its policy of aggression in recent decades. "Immigration of Armenians living abroad is part of the settlement policy in the Azerbaijani lands occupied by Armenia," the document stresses.
Our compatriots stressed that this insidious plan is aimed at strengthening the occupation and using it as a fact in future negotiations on the status of the region and drew attention to the news about the creation of necessary living conditions for two families who arrived in the Nagorno-Karabakh region from Lebanon in late August.
It was noted that Azerbaijan has long warned the world community about Armenia's construction of settlements in Nagorno-Karabakh and adjacent regions in violation of international law, including the Geneva Convention and its additional protocols. However, according to international law, it is prohibited for occuping state to conduct settlement policy in the territories of another state.
The document says that this is not the first time Armenia has carried out such illegal campaigns. These concerns were confirmed by OSCE missions in 2005 and 2010, as well as by satellite imagery of settlements.
The authors of the statement called on the European Union and the Parliament to take all necessary measures to strongly condemn the occupying Armenia, to prevent this insidious and illegal act, and to support the restoration of justice by all means.
The statement was addressed to the UN, the European Commission's Neighborhood Policy and Enlargement Negotiations, European Commission President Ursula Von der Leyen, EU High Representative for Foreign Affairs and Security Policy Joseph Borel, members of the European Parliament and Euronest PA.