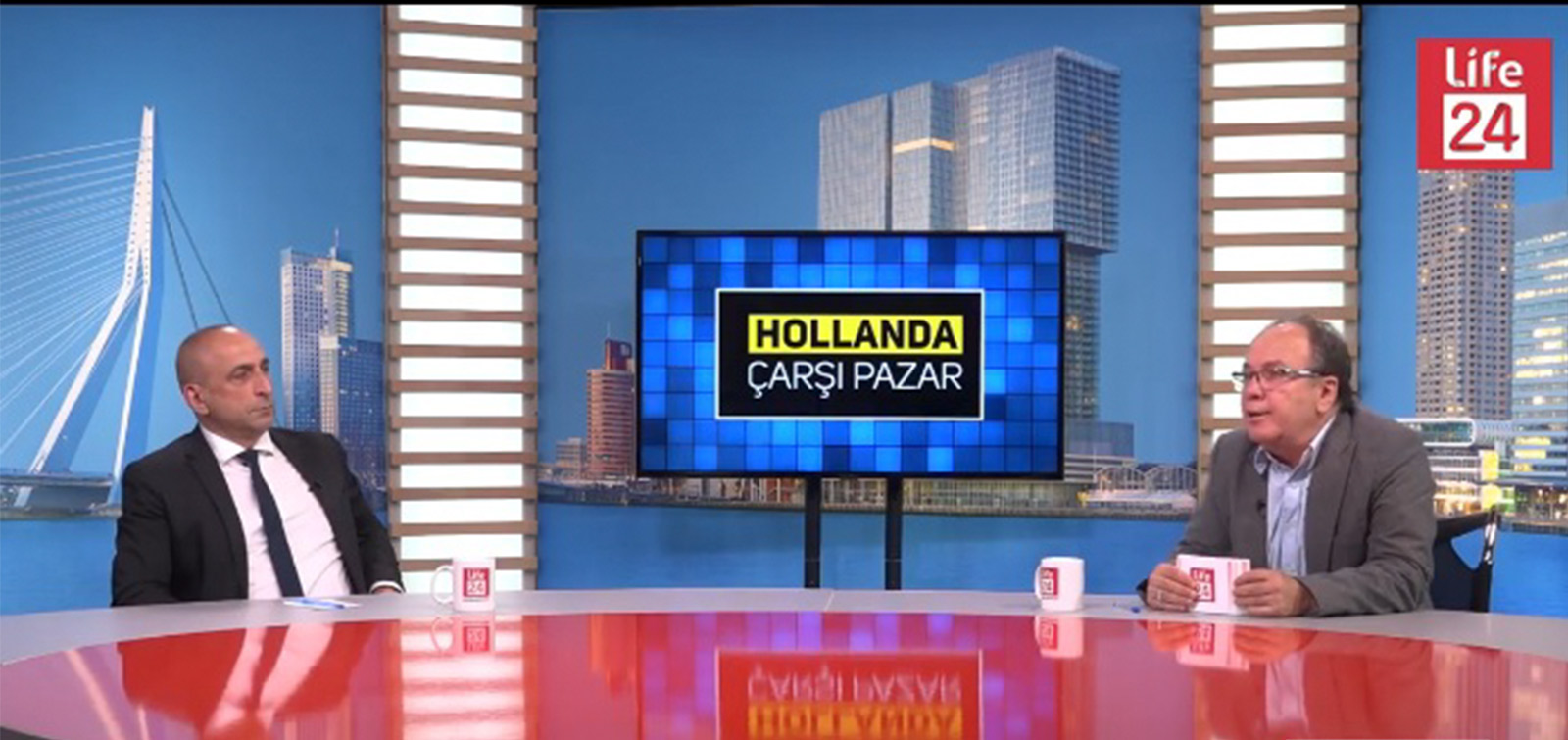 Netherlands television spoke about Azerbaijan
The activities of the Azerbaijani diaspora were discussed on the Live 24 TV channel operating in the Kingdom of the Netherlands.
In an interview with the TV channel, President of the European Azerbaijanis Congress Sahil Gasimov spoke about Azerbaijani heroes who took part in the resistance movement to liberate European countries from fascism during World War II, Armenia's military provocations against our country, the work done by diaspora organizations to promote the Khojaly genocide in the world, the importance of joint activities of the Azerbaijani and Turkish communities.
He said that while Armenian executioners such as Garegin Njdeh served for Nazi Germany, Mammad Mammadov (Medo) in the Netherlands, Ahmadiyya Jabrailov in France and Mehdi Huseynzade in Slovenia joined the resistance and fought bravely to save Europe and the world from this evil. Reminding that 22 Azerbaijani soldiers were among the heroes who were buried in the Leusden Brotherhood Cemetery in Amersfoort, the head of the EAC said that monuments to Azerbaijani heroes are being erected and immortalized in Europe today, but a statue is erected in Garegin Njdeh, who once served for the Nazis in Armenia and called on Armenians to serve Hitler's Germany.
It was noted that European Azerbaijanis closely cooperate with the State Committee on Work with Diaspora, and the EAC holds various meetings at influential international institutions and organizations to convey the truth about the Armenian aggression, the Nagorno-Karabakh conflict and the Khojaly genocide to the European community and the rally of the Azerbaijani diaspora in Berlin on February 22, 2020 in connection with the Khojaly genocide caused a great resonance.
It was stressed that the diaspora should not be satisfied with the work done in this direction, but do more.
Noting that diaspora organizations have risen around the world during Armenia's recent military provocations, and that Armenians have acted barbarically during rallies in Los Angeles, Brussels, Paris and London, the head of the EAC said that Turkey has always supported Azerbaijan.
He said that the Azerbaijani and Turkish communities are realizing the statement of Azerbaijani President Ilham Aliyev and Turkey President Recep Tayyip Erdogan that "one nation will not have two diasporas." "If we join forces, we will be stronger together," Sahil Gasimov said.
https://www.facebook.com/life24.tv/videos/662647244341117/?v=662647244341117