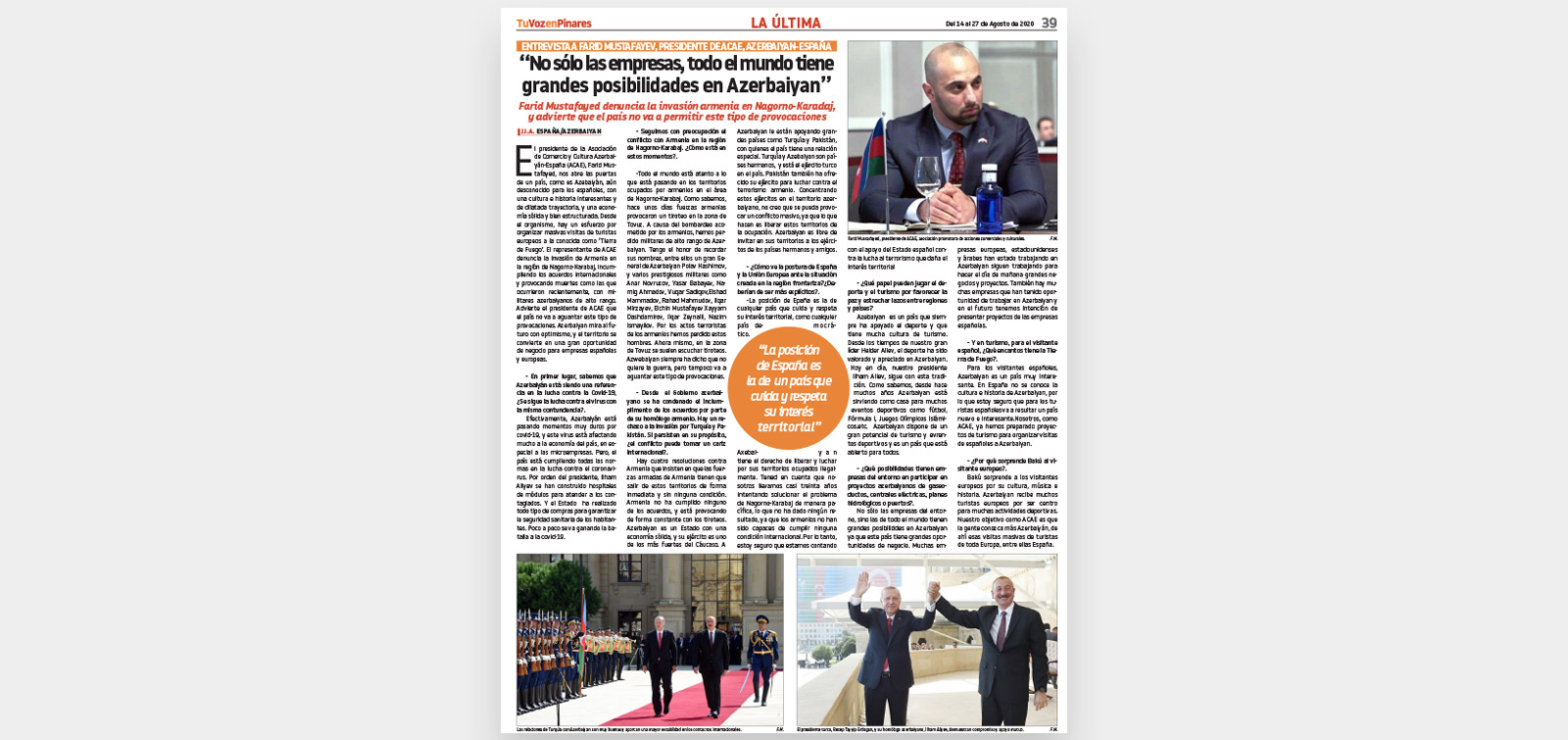 The Spanish media has covered Azerbaijan
The Spanish newspaper "LA ÚLTIMA" published an interview dedicated to our country entitled "Azerbaijan has great opportunities not only for business, but for everyone."
In an interview to the newspaper, Farid Mustafayev, President of the Azerbaijan-Spain Culture and Trade Association (ASCTA), strongly condemned the occupation of Nagorno-Karabakh by Armenia. He said that Azerbaijan will not allow such military aggressions again.
Noting that 20 percent of Azerbaijani lands have been under Armenian occupation for many years, the ASCTA President said that the aggressor country ignores the decisions and resolutions of international organizations on the immediate and unconditional liberation of our lands. "On the contrary, they are firing on Azerbaijan from the occupied and border areas, which kills not only the military, but also civilians."
Recalling the July provocations of Armenia, Farid Mustafayev said that peace-loving Azerbaijan could face military provocations and terror of the occupying country at any time.
He said that the European Union and Spain, a member of this union, respect the principle of protecting the sovereignty and territorial integrity of each country: "All democratic and developed countries are well aware of this and support this principle."
The ASCTA chairman said that in the fight against the pandemic, Azerbaijan has taken all necessary steps to overcome the coronavirus: "... And it continues. The building of new modular hospitals, the purchase of new respiratory apparatus and other measures are carried out under the direct control of President Ilham Aliyev. At present, the number of people infected with the virus in Azerbaijan has significantly decreased."
He noted that Azerbaijan, with its ancient history, traditions, strong economy and great potential in the field of tourism, is a fecund country for foreign investment, and many large companies have been operating here for many years.
"I am convinced that for Spaniards or Europeans, Azerbaijan is an interesting country with historical and architectural monuments, mysterious nature and cuisine. As ASCTA, we are taking consistent measures to develop tourism in Azerbaijan," Farid Mustafayev said.