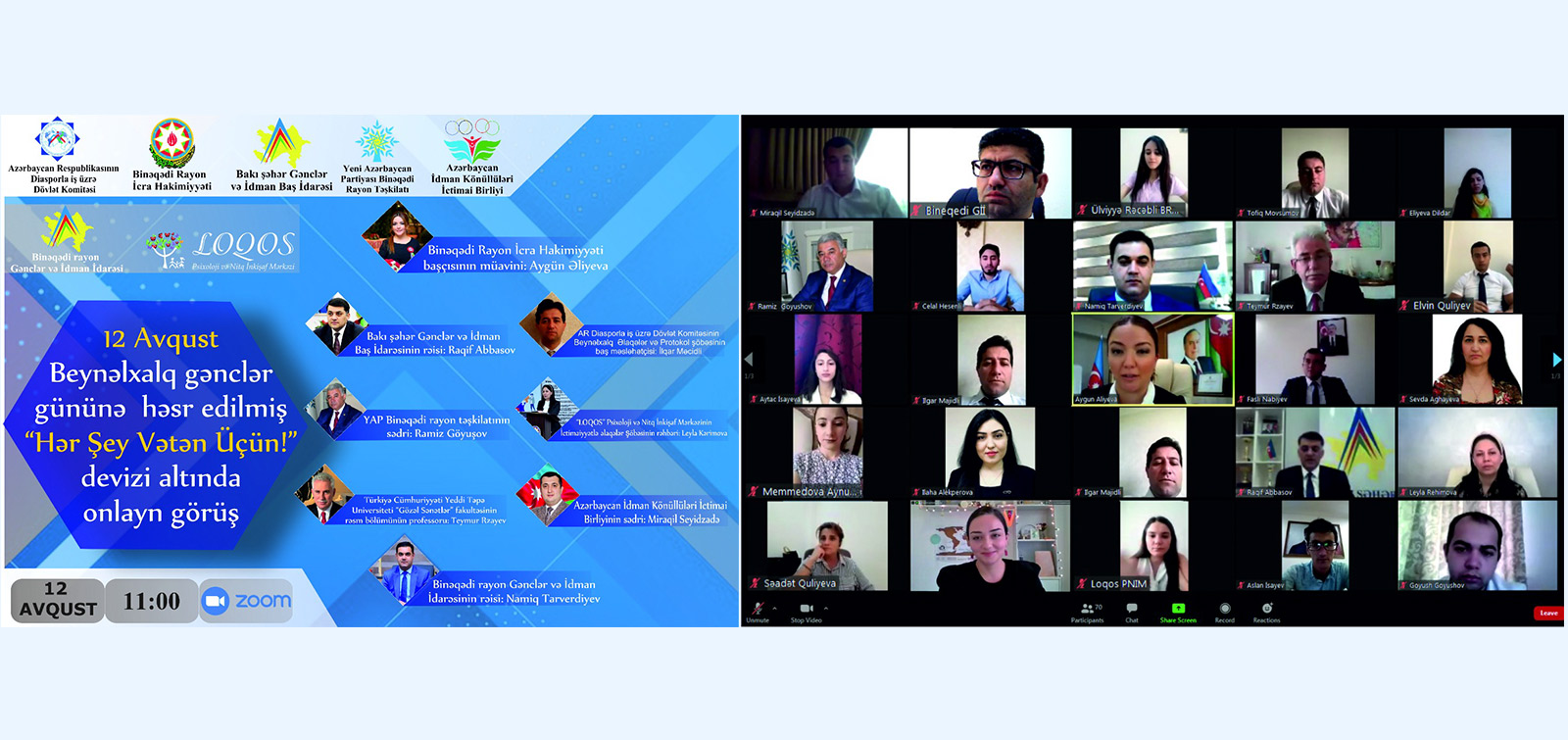 An online meeting titled "Everything is for the Motherland!" was held
State Committee on Work with Diaspora, Baku city Youth and Sports Head Department, Binagadi District Executive Power, Binagadi District Organization of the New Azerbaijan Party (NAP), Azerbaijan Sports Volunteers Public Union, as well as Youth and Sports Department of Binagadi District, "LOGOS" psychological and speech development center jointly organized an online meeting was held titled "Everything for the Motherland!" dedicated to the August 12- International Youth Day
The meeting was attended by Ragif Abbasov, head of the Baku Youth and Sports Head Department, Aygun Aliyeva, Deputy Chief Executive of Binagadi district, Ilgar Majidli, chief adviser of the international relations and protocol department of the State Committee on Work Diaspora, Teymur Rzayev, professor of painting department at Yeditepe University in Turkey, Ramiz Goyushov, chairman of the Binagadi regional organization of NAP, Nigar Ibrahimova, international social worker for refugees and migration, Miragil Seyidzade, chairman of the Azerbaijan Sports Volunteers Public Union, Leyla Rahimova, head of the public relations department of the LOGOS center, students and active youth studied abroad.
The sides exchanged views on the work done to increase youth patriotism, the tasks of young people in the country's socio-political life, the promotion of Azerbaijani ideology, protection of national values, the importance of joint cooperation of educational institutions, government agencies and civil society institutions and appreciated the importance of such projects.
During the online meeting, Ilgar Majidli gave detailed information about the projects implemented by the State Committee on Work with Diaspora in connection with young people living abroad. He spoke about the role of summer camps, winter school, "Leadership Development Program", "Brainstorming Program", "Azerbaijani Diaspora Volunteers", "Let's know the Azerbaijani Diaspora Youth" and other projects in the formation and networking of our young compatriots.
The participants of the event were informed that the implemented projects were met with great sympathy and support by our young compatriots abroad.