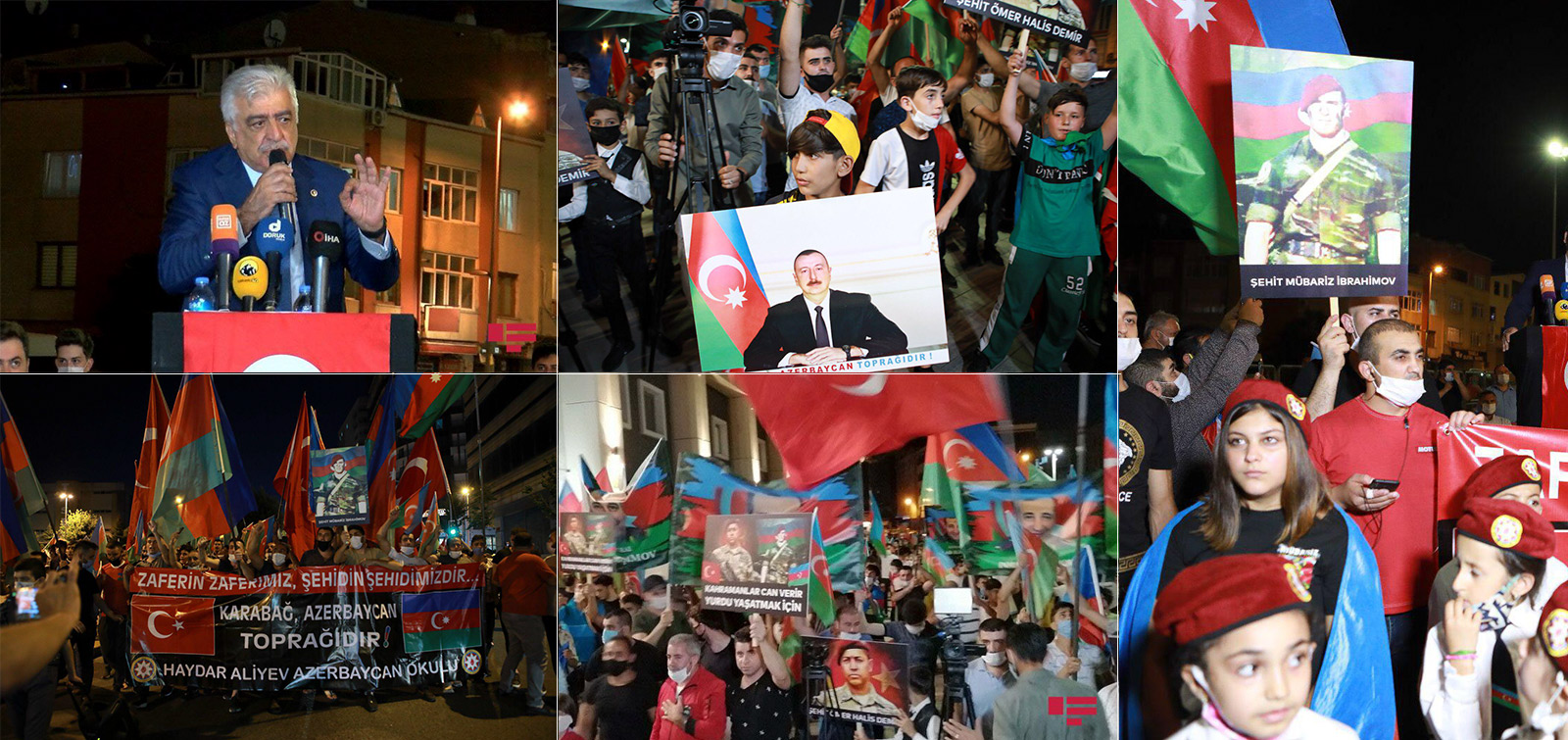 Support for Azerbaijan was once again demonstrated in Istanbul
A rally was held in the Kuchukchekmece district of Istanbul to protest against the military provocations of Armenia against our country and to support the independent Azerbaijani state. The event, organized with the support of the Heydar Aliyev School in the city, was attended by MPs, teachers and members of civil society.
Director of the Heydar Aliyev School Muhammed Karasu gave detailed information in his speech about the treacherous provocations of the Armenian armed forces on the state border of Azerbaijan in the direction of Tovuz region since July 12, the heroic martyrdom of our servicemen in the battles for the territorial integrity of the independent Azerbaijani state and the Azerbaijani army's worthy retaliatory fire to the enemy.
The head of the Turkey-Azerbaijan Interparliamentary Friendship Group, MP Shamil Ayrim, said that brotherly Turkey supports Azerbaijan with all its population and strength.
The protesters strongly condemned the indifference of the world community and international organizations to Armenia's aggressive policy. Noting that the Nagorno-Karabakh region and 7 adjacent regions are the ancient lands of Azerbaijan, the protesters demanded the unconditional liberation of these lands from the occupation of Armenia. They also demanded that world powers and influential international organizations take decisive steps to restore the territorial integrity of our country and ensure the return of about 1 million refugees and internally displaced persons to their native lands.
The state flags of Azerbaijan and Turkey were waved at the rally, and posters with slogans such as "Your victory is our victory, your martyr is our martyr!", "Karabakh is the land of Azerbaijan!", "Heroes give their lives to keep the country alive!", pictures of the heroes of the two countries, Omar Halis Demir, Mubariz Ibrahimov and Polad Hashimov, were displayed at the rally.