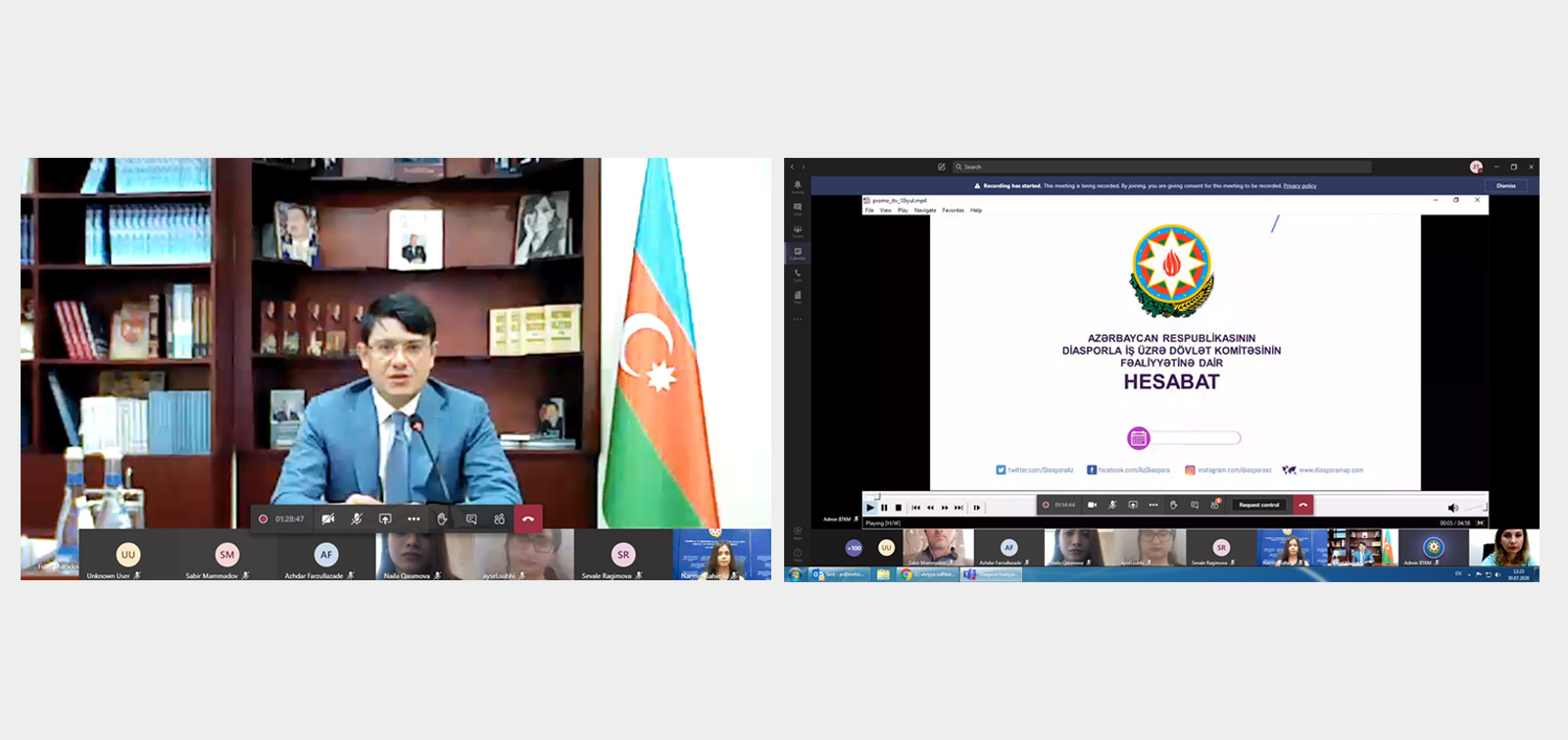 A meeting on "Support of diaspora activity to the state policy of Azerbaijan" was held with the volunteers
At the initiative of the Reform Volunteers Organization under the Center for Economic Reforms Analysis and Communication of the Republic of Azerbaijan, Chairman of the State Committee on Work with Diaspora Fuad Muradov met with volunteers on "Support of diaspora activity to the state policy of Azerbaijan." During the video conference meeting, Chairman Fuad Muradov spoke about Azerbaijan's diaspora policy, the activities of diaspora organizations, as well as diaspora volunteers during the pandemic.He said that the activities of volunteers always are emphasized in the speeches of the President of Azerbaijan Ilham Aliyev and the First Vice-President Mehriban Aliyeva. The chairman of the committee informed the conference participants on the rallies of Azerbaijanis living abroad after the provocation of Armenians in the direction of Tovuz on the Azerbaijani-Armenian border, and the information published in foreign media about these events.
He noted that the Azerbaijani diaspora youth, united on the "Karabakh is Azerbaijan!" platform at the initiative of the Azerbaijani Diaspora Volunteers, have been sharing information on social networks, especially on Twitter, since July 13, reflecting the truth about the provocation committed by Armenia on the state border. As a result of the unity and solidarity of our youth living in our country and abroad, the hashtag mentioned on the social network twitter.com on July 14-15, has become a world trend.
The volunteers, thanked for the meeting, shared their views on the topic and addressed their questions.
About 100 young people from various volunteer organizations including Reform Volunteers under Center for Economic Reforms Analysis and Communication, Diaspora Volunteers, Migration Volunteers, ASAN Volunteers, DOST Volunteers, FOOD Volunteers, Volunteer Customs Officers, agrarian development volunteers and transport volunteers participated in the video conference.