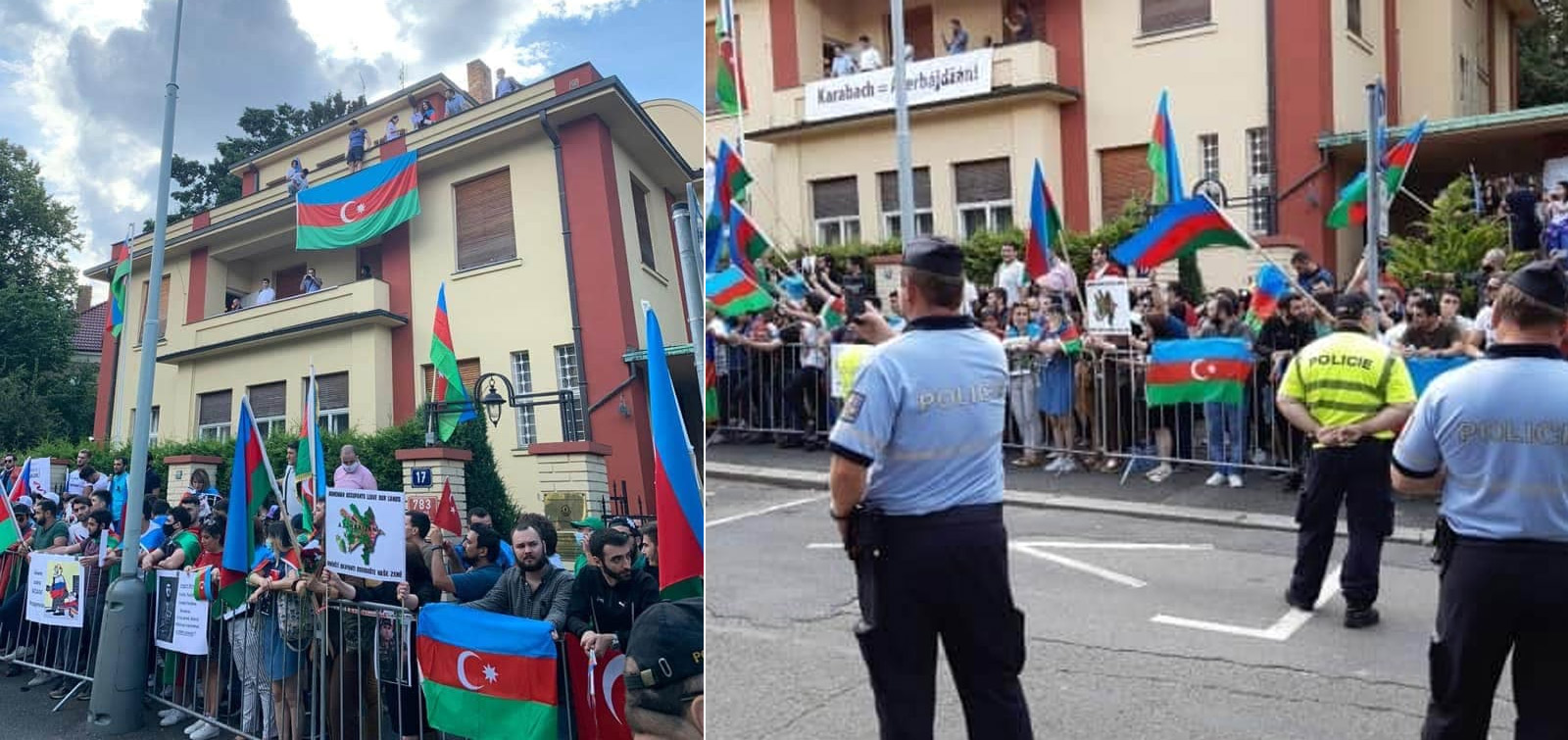 Azerbaijanis hold rally in Prague
A rally was held in the Czech capital, Prague, to protest against the military provocations of the Armenian armed forces on the state border of our country and aggression policy against Azerbaijan.
According to the Chairman of the "Azerbaijani Community in the Czech Republic" Eldar Valiyev, our compatriots had to hold this action in front of the embassy of our country in Prague. The reason was the news that Armenians, who known for their vandalism and barbarism, will gather in front of the building of Azerbaijani embassy in the Czech Republic. About 200 Azerbaijanis living in Prague and Brno gathered in front of the embassy to express their support for our country.
The rally participants waved the national flags of Azerbaijan, Turkey and the Czech Republic, demonstrated pictures of our martyrs who died heroically on the Tovuz front and posters with various slogans. A large poster with the slogan "Karabakh is Azerbaijan!" was hung from the balcony of the embassy by our compatriots.
Turkish Ambassador Extraordinary and Plenipotentiary to the Czech Republic Egemen Bagis also joined the action. Holding the flag of Turkey, the diplomat demonstrated his support for Azerbaijanis and his opposition to Armenians.
Our compatriots, chanting slogans such as "Put an end to Armenia's occupational policy!" "Karabakh is Azerbaijan!", "Karabakh belongs to Azerbaijan!", Martyrs will not die, the Motherland will not be divided! "," Armenia is a terrorist! "," Shame on Armenia! "," Long live, Azerbaijan!"," One nation, two states "," Turkey-Azerbaijan is a brother! loudly and continuously, demonstrated the unity and solidarity of our people, as well as Azerbaijan and Turkey.
The protesters demanded that the world states and international organizations take decisive steps to liberate Azerbaijani lands from occupation, to restore our territorial integrity and put an end to Armenia's occupation policy and provocations.
The action, controlled by local police, ended without incident. Our compatriots marched in the direction of the city and chanted slogans in the central streets of Prague, drawing the attention of the capital's public to the rightful position of Azerbaijan, the aggressive policy of Armenia.