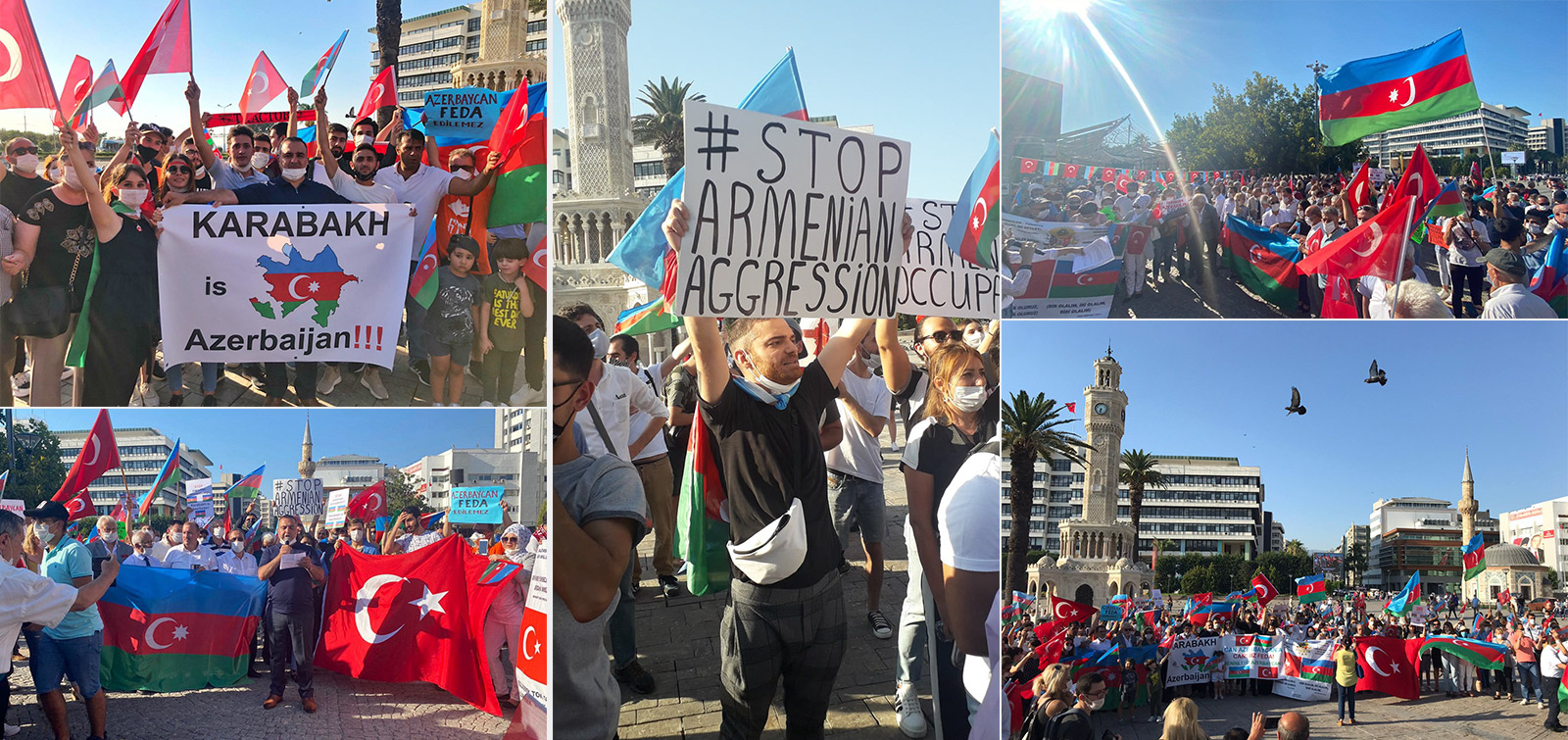 A rally in protest of Armenia's aggressive policy and support for the Azerbaijani state was held in Izmir
A protest rally against military provocations and aggressive policy of the Armenian armed forces on the state border of Azerbaijan has been held in Izmir city of Turkey.
The rally organized by non-governmental organizations united on the "Can Azerbaijan" platform and Azerbaijani students was held Konak square at the center of Izmir. Representatives of social parties, heads of non-governmental organizations, teachers of university, Azerbaijani students, representatives of media and representative of local society attended the rally in which the flags of Azerbaijan and Turkey were waving, slogans as "Stop Armenian aggression!", "Karabakh is Azerbaijan!", "Azerbaijan is not alone!", "Greetings from Izmir to Azerbaijan!", "One nation, two states" were chanted.
Among the protesters was Elnur Huseynov, a well-known singer of Azerbaijan and Turkey, winner of the "O Ses Turkiye" music contest. He protested against the occupiers by raising a poster written "End to Armenia's aggressive policy!".
The event began with the national anthems of Azerbaijan and Turkey and the commemoration of our martyrs who died heroically during the Armenian military provocations. Head of the Federation of Azerbaijani Turks and Friends Associations Isa Ambargi, chairman of the Azerbaijan Society of Brotherhood and Cooperation Dr. Asif Kurban, chairman of the United World Azerbaijanis Organization Gursel Ozdemir, head of the Azerbaijan Culture and Solidarity Association Mulazim Pasha, deputy chairman of the Contemporary Azerbaijani Culture Association Murtaza Karachanta, head of the Protestant Baptist Churches Association Pastor Artan Chevik and head of the Izmir Civil Society Council Yalchin Kojabiyik spoke at the event.
They strongly condemned the military provocations against Azerbaijan, demanded that Armenia give up the aggression ploicy, leave the occupied territories of ancient Azerbaijan. The participants called on the world community not to be indifferent to the aggressor state's gross violation of international law and all human values, to support Azerbaijan's rightful position.