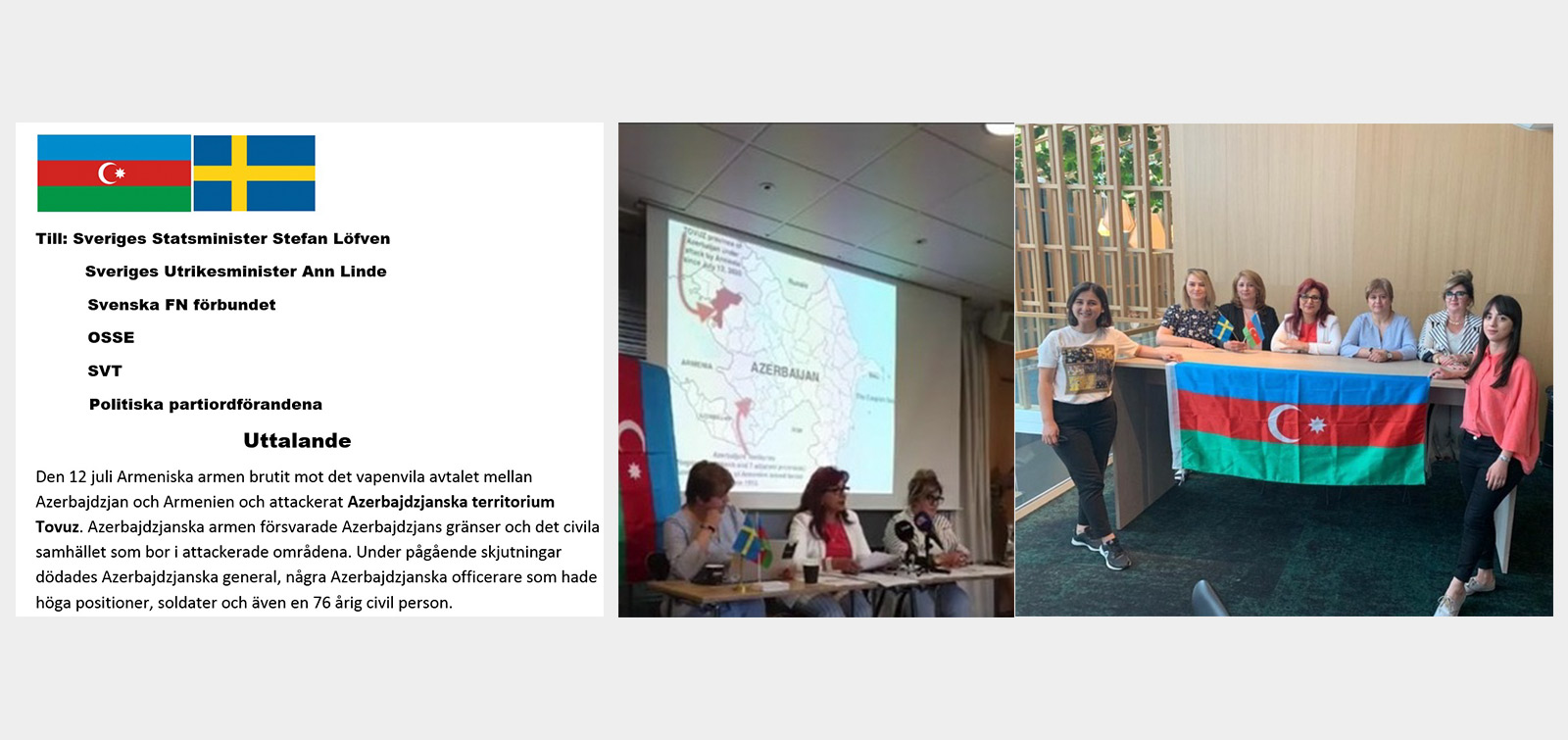 A press conference on Armenian provocations was held in Stockholm
The Coordination Council of Sweden Azerbaijanis (CCSA) held a press conference in Stockholm on the recent military provocations committed by Armenia against our country.
Speaking at a press conference at the Clarion Hotel, Coordinator of Coordination Council Irada Aliyeva Soderberg gave detailed information about the provocations on the state border of Azerbaijan in the direction of Tovuz. She said that Swedish Azerbaijanis strongly condemned these provocations and reminded that the Armenian armed forces have occupied Nagorno-Karabakh and 7 adjacent regions of Azerbaijan, and 4 UN resolutions on the immediate withdrawal of the occupying forces from the Azerbaijani lands have been ignored.
Our compatriots presented the statement of the CCSA and it was noted that our compatriots demanded that the world community and international organizations take decisive steps to put an end to Armenia's occupation policy, liberate Azerbaijani lands and restore their territorial integrity, and return Azerbaijanis to their native lands as IDPs and refugees.
Then Sevinj Nematova, chairwoman of the "Odlar Yurdu" Cultural Association, Rashada Moen, chairwoman of the Fine Arts Association, Ulviya Najafova, chairwoman of the Swedish Karabakh Liberation Center, Inji Murtuzayeva, board member of the "Inter Culture" Association, Teymur Eminbayli, member of the Swedish Federation of Azerbaijan brought to the attention of the media the statements of their organizations condemning the aggressive policy of Armenia.
Texts of statements, detailed information on the Khojaly tragedy, statements of international organizations on the Armenian-Azerbaijani Nagorno-Karabakh conflict were sent to the Swedish Parliament, Foreign Ministry, all political parties in the country, international organizations, media, including "Aftonbladet"", Expressen", "Dagens Nyheter " and SVT TV channel.