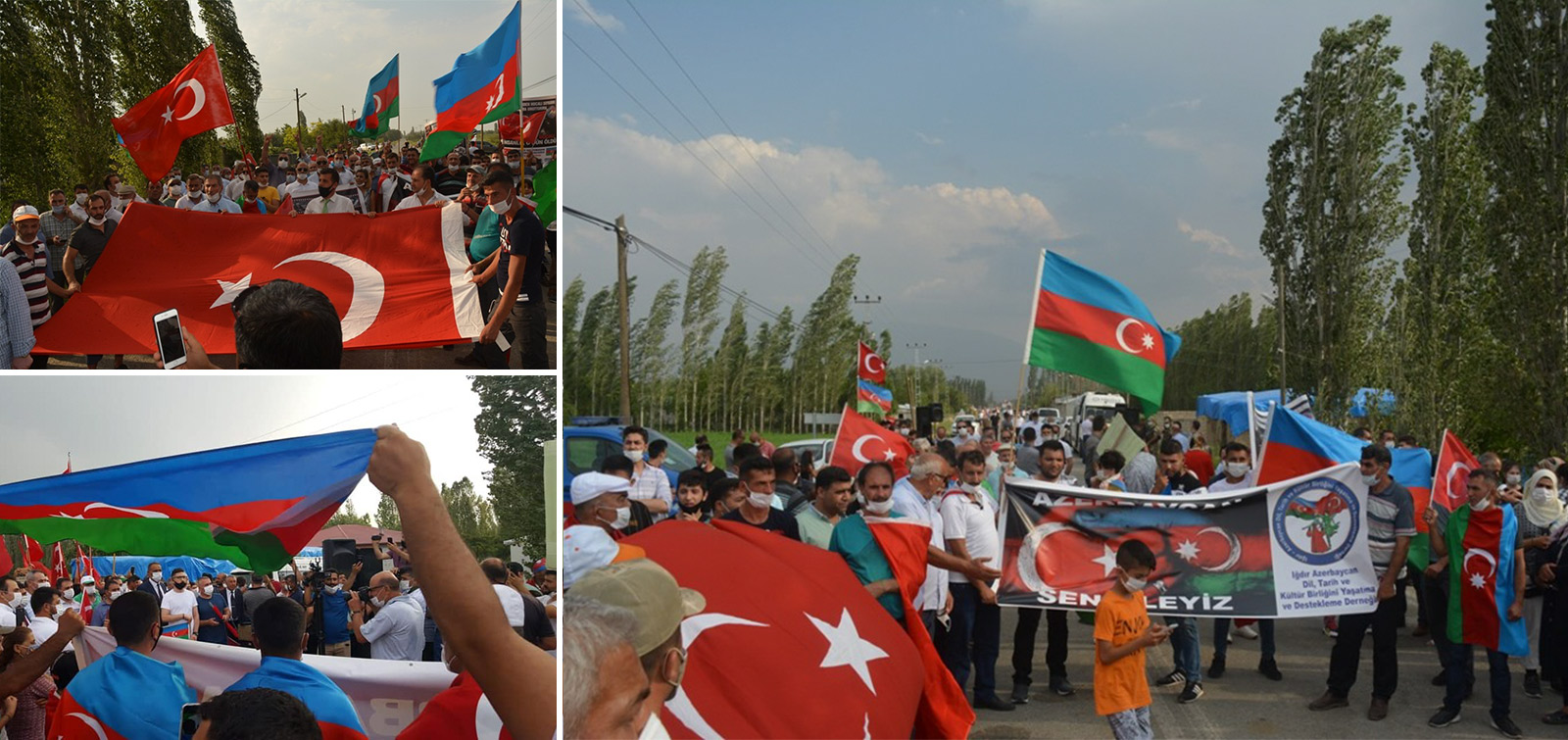 A rally was held in Igdir to protest against the recent military provocations of Armenia
A march was held on the Turkey-Armenia border in protest of the recent military provocations by Armenia.
Representatives of the Justice and Development Party (AKP), the Nationalist Movement Party (MHP), local organizations of the IYI Party, 25 non-governmental organizations and the local community took part in the protest.
The protesters gathered in the center of Igdir firstly marched in a caravan and then on foot to the Alijan border checkpoint on the Turkey-Armenia border. Protesters chanted slogans such as "We are with you, Azerbaijan!", "Karabakh is Azerbaijan!", "Stop Armenian Occupation!" and etc. during the rally, where Turkey and Azerbaijan flags were waved.
The protest rally at the Alijan border checkpoint began with the national anthems of Azerbaijan and Turkey. The memory of those who died for the territorial integrity of Turkey and Azerbaijan was commemorated with a minute of silence.
Speakers of the event condemned the ongoing military provocations of the aggressor Armenia against our country and strongly protested against the killing of servicemen, as well as civilians and the destruction of settlements during these events. They stated again that, as always, they stand by Azerbaijan in these difficult days and will always defend the rightful position of our country. Armenia was demanded to immediately leave the occupied Azerbaijani territories and end the policy of aggression.
At the end of the action, Ziya Zakir Ajar, Chairman of Igdir-Azerbaijan Language, History and Culture Community Survival and Support Association, Serdar Unsal, Chairman of the Igdir Azerbaijan House Association of the Federation of Turkish-Azerbaijani Friendship Association, Ilteris Kagan Taşkinsu, Chairman of the Igdir Branch of the Turkey-Azerbaijan Association (TÜRKAZERDER), Safar Karakoyunlu, Chairman of the ISTAD Turkey-Azerbaijan Solidarity and Culture Association and leaders of other organizations laid a black wreath at the Alijan border checkpoint in protest of Armenia.