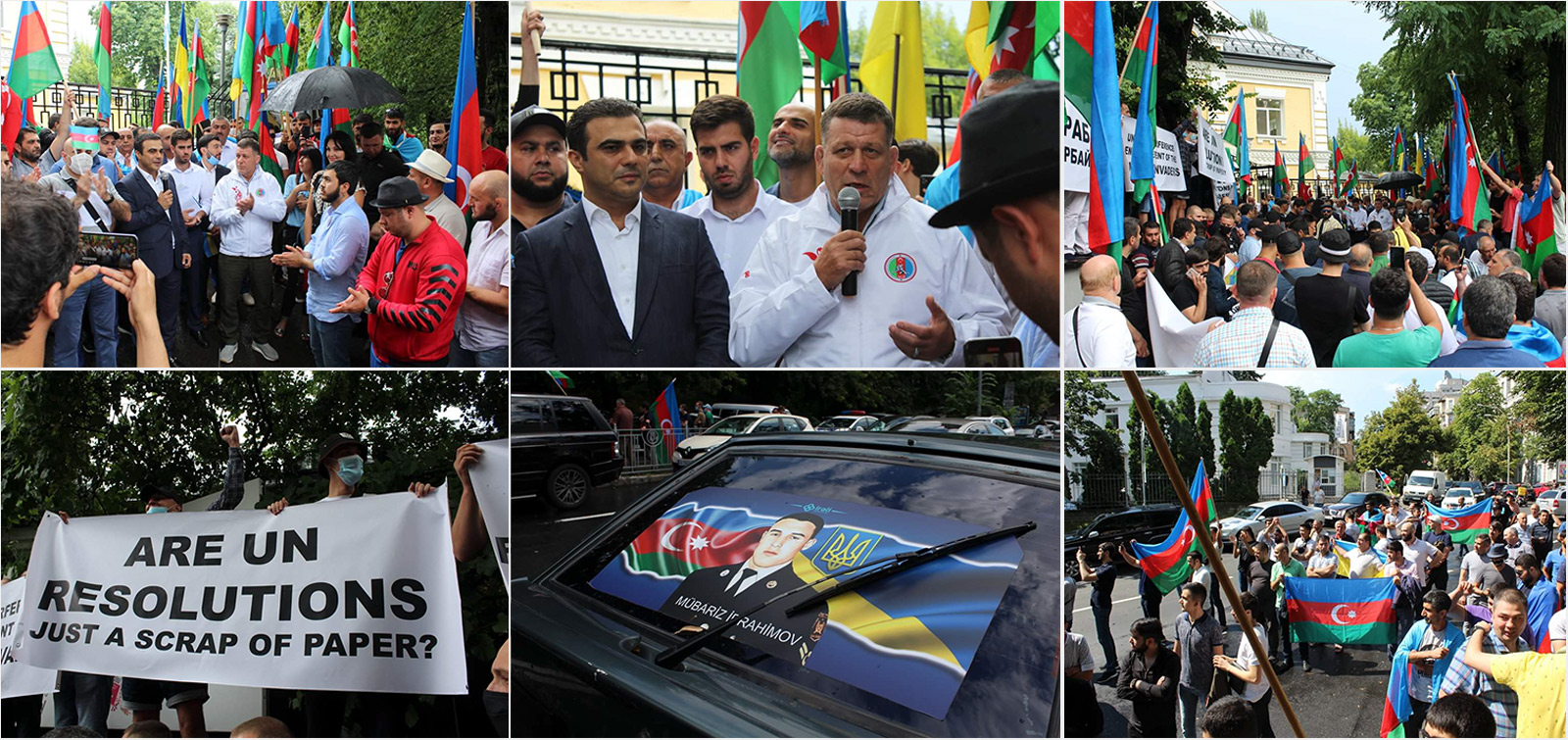 Our compatriots demanded a response from the UN in Kiev
On July 21, members of the Azerbaijani diaspora held a protest rally in front of the UN Office in Ukraine.
The rally, jointly organized by the United Diaspora of Ukraine Azerbaijanis (UDUA) and the Congress of Kiev Azerbaijanis in (CKA), was held to protest against the recent military provocations of the Armenian armed forces and the occupation of Azerbaijani lands, support for our state, people and army.
More than 400 people participated in the protest. Among them were leaders and activists of the Azerbaijani diaspora, political and public figures, members of the Verkhovna Rada of Ukraine and representatives of local media.
UDUA chairman Hikmat Javadov, MP from the "People's Servant" Party Lyudmila Marchenko, CKA chairman Oleg Krapivin and others delivered speech at the action, which began with the national anthems of Azerbaijan and Ukraine.
The speakers strongly condemned Armenia's aggressive policy, said that Ukraine and Azerbaijan mutually supported each other's sovereignty and territorial integrity and stressed that the resolute position of the Ukrainian state during the recent military provocations is an example of friendly and fraternal relations between the two countries, that Azerbaijanis around the world show unity and solidarity in the fight against Armenia, and that the mighty Azerbaijani army is ready to liberate our lands.
Our compatriots called for serious measures to be taken against the aggressor Armenia, which for more than 25 years has ignored the resolutions of such an influential international organization as the UN demanding the immediate and unconditional withdrawal of Armenian forces from the occupied territories of Azerbaijan.
At the end of the event, which ended without incident, four football balls with the text of the statement and the numbers of the resolutions were presented to the UN mission.