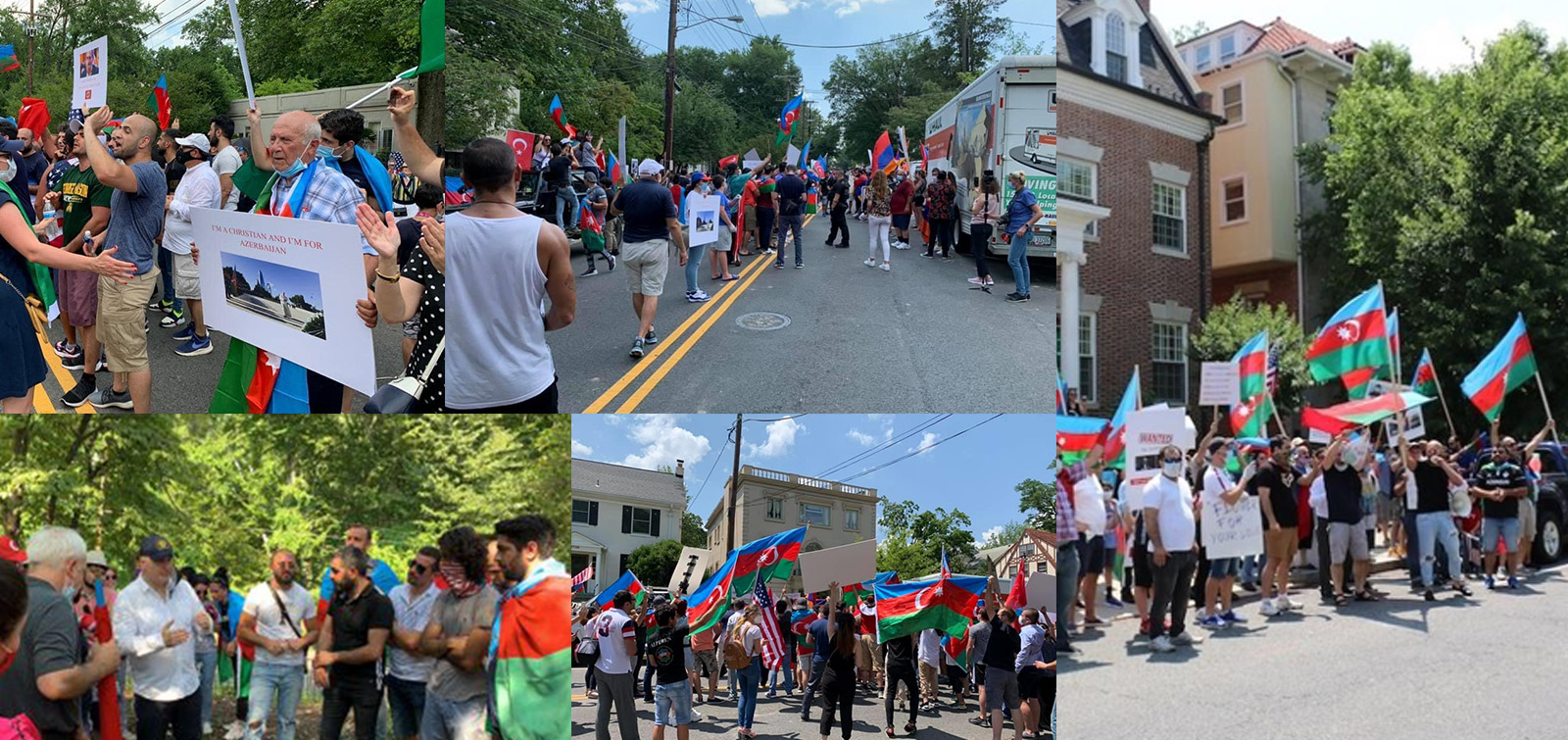 Our compatriots failed Armenians in front of the Azerbaijani embassy in Washington
Azerbaijani communities living in different countries of the world and protesting the recent military provocations of Armenia are demonstrating the unity and solidarity of our people these days. They not only protest against the aggressive and occupying policy of the insidious state, but also prevent the attempts of Armenians to commit provocations in front of the diplomatic missions of Azerbaijan. After Poland and the Netherlands, a similar incident took place in the US capital, Washington.
Upon learning that Armenians will hold a rally in front of the building of embassy of our country in the United States, our compatriots gathered in front of our diplomatic mission ahead of them.
Hundreds of our compatriots who came to Washington from different states and cities of the United States stood in front of our embassy with the national flags of Azerbaijan, Turkey and the United States, posters with historical facts about Armenian aggression and provocations, pictures of murdered Azerbaijani babies. Members of Turkish and other national communities in the United States also attended the event and demonstrated their support for our country.
A small number of Armenians (about 30-35 people) who came to the rally faced with the unity and unanimity demonstrated by our compatriots, the facts they told. During the rally, which lasted more than three hours, the participants demonstrated their support for our state, people and army by marching under the sounds of the "Soldier's March" performing the national Anthem of Azerbaijan, chanting slogans such as "Karabakh, or death!", "Azerbaijan, we are with you!", "I am a Christian, but I support Azerbaijan!", "Leave the Azerbaijani lands!", "Karabakh is Azerbaijan!", "Stop Armenian occupation", " End to Armenian terror! " .
The action, controlled by local police, ended without incident.
Then, Azerbaijani Ambassador to the United States Elin Suleymanov met with our compatriots and thanked them on behalf of our state for their patriotism.