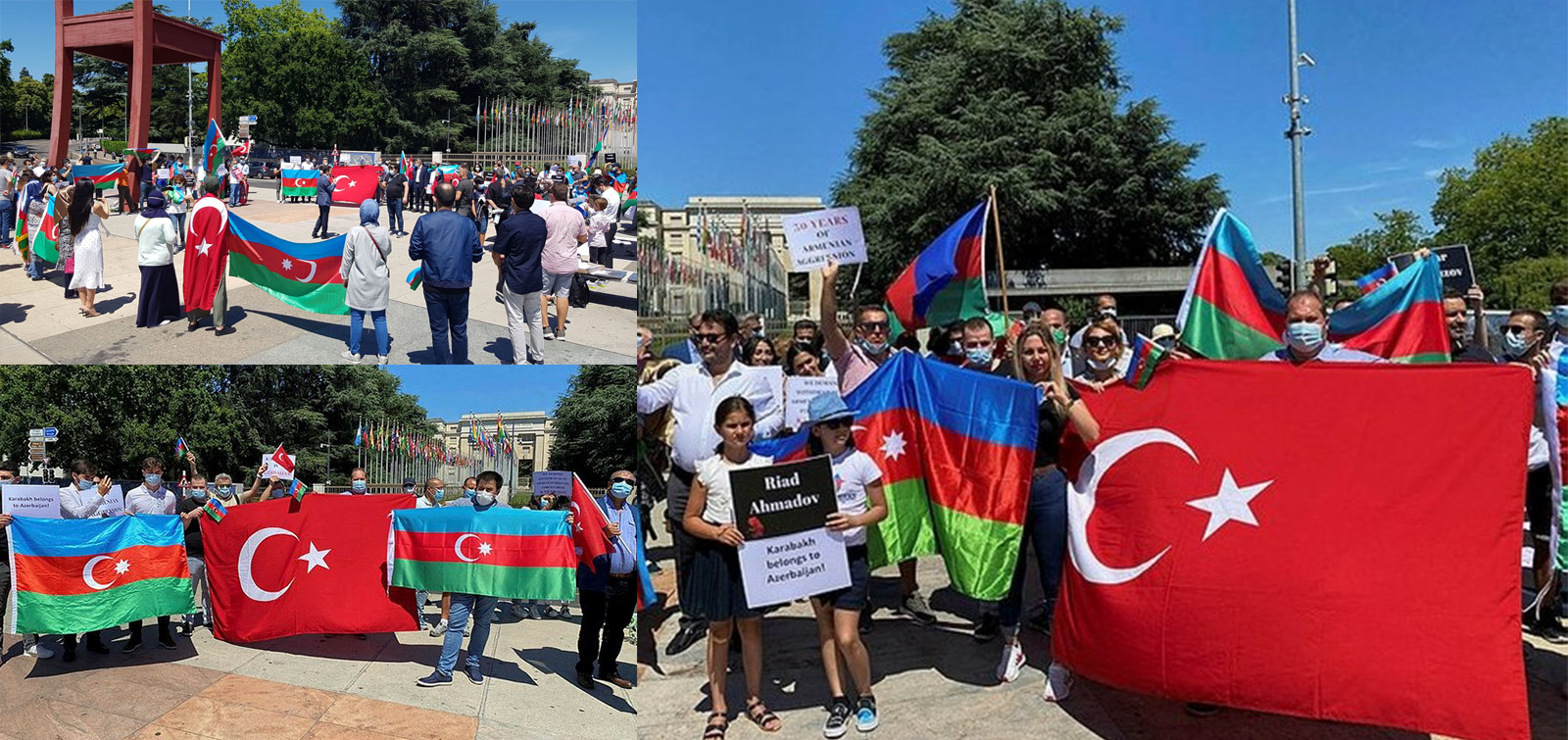 Azerbaijanis hold protest in front of the UN HQ in Switzerland
A protest rally was held in front of the UN headquarters in Geneva against next military provocation of Armenian armed forces on the state border in the direction of the Tovuz region of Azerbaijan. About 200 of our compatriots living in the Swiss cantons of Bern, Zurich and Soloturn, leaders and activists of the Azerbaijani and Turkish diasporas marched to Geneva with the national flags of both countries in their hands.
Representatives of Turkish communities also took part in the rally which was organized by the coordinator of the Coordination Council of Azerbaijanis in Switzerland Akbar Ganja, the head of the Swiss Azerbaijanis Cultural Center Gasim Nasirov and with the moral support of the Azerbaijani Embassy in Switzerland. Coordinator of Coordination Council Akbar Ganja, chairman of the International Union of Democrats in Switzerland, Murat Shahin, President of the International Union for Human Rights and Development Ender Demirtash and others delivered speeches at the event.
The speakers expressed confidence that independent Azerbaijan, which is peaceful, respects the norms of international law and attaches great importance to human values, will stand strong in every test, and Nagorno Karabakh will definitely be liberated from Armenian occupation.
"As Turkish nation, we will continue to stand by our Azerbaijani brothers, as we have done so far. We declare this to the whole world once again in front of the UN building," Murat Shahin said.
Those who delivered speeches called on the UN to organize a mission to investigate the provocations and attacks of Armenia, and the world community to take measures against the occupier Armenia.
Slogans as "Karabakh is Azerbaijan", "Stop Armenian occupation" were chanted in the rally where the state flags of Azerbaijan and Turkey were waved and posters protesting against Armenia's aggressive policy were raised.