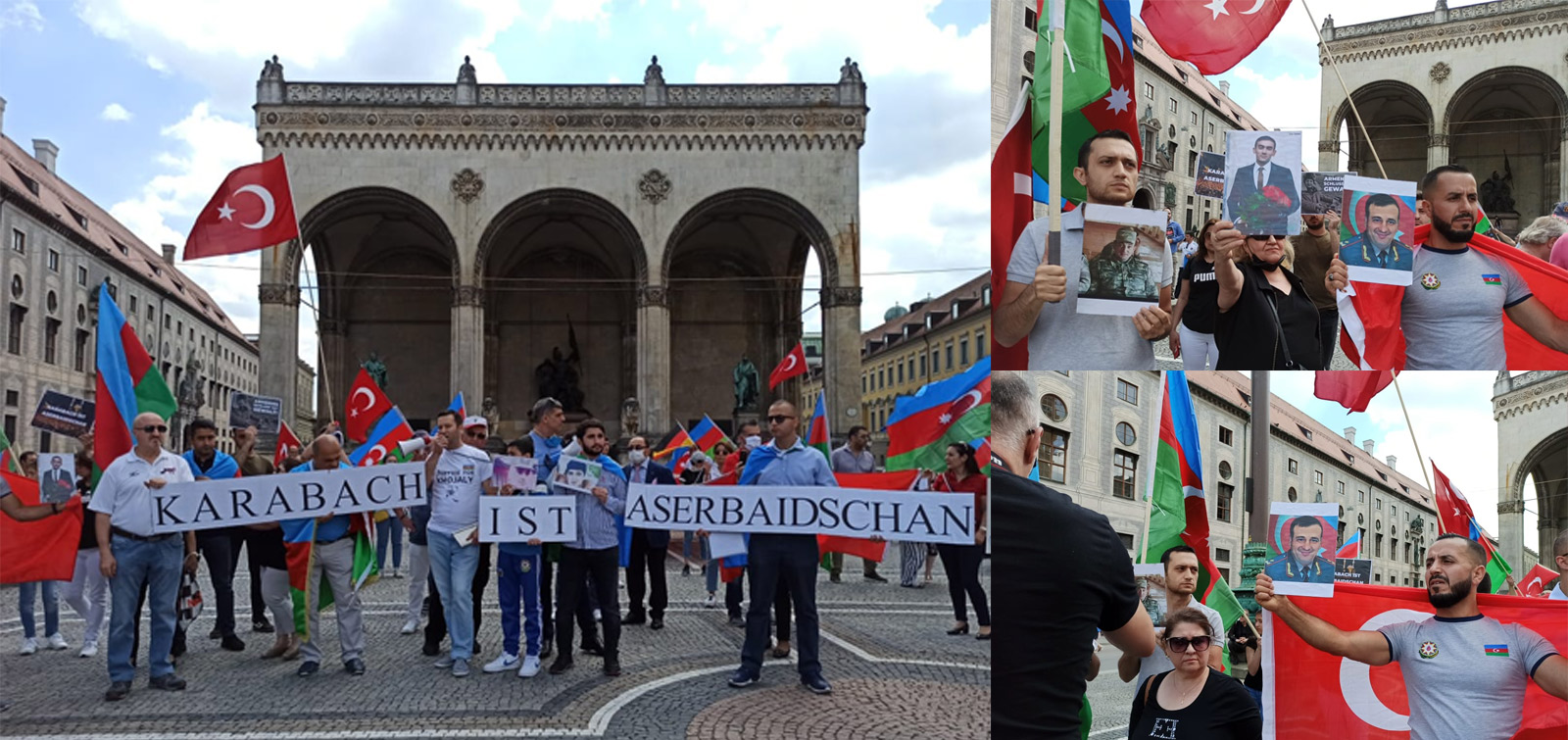 Protests against Armenian military provocations were held in Munich
A rally and march was held in Munich, Germany, on July 19 to protest Armenia's treacherous military provocations and aggressive policy against Azerbaijan on the our state border in the direction of Tovuz.
The protest rally, organized by the Munich Azerbaijanis Cultural Center and the Azerbaijani House in Munich, took place in the city's Marienplatz Square. The action was attended by about 200 members of the Azerbaijani and Turkish communities, as well as representatives of the local community.
A rally where the national flags of Azerbaijan, Turkey and Germany were waved, posters with pictures of our martyrs killed during the July provocations were displayed and slogans expressing the aggressive nature of Armenia were chanted began with the national anthem of Azerbaijan and a minute of silence in memory of our servicemen who died heroically on the Tovuz front.
Chairman of the Munich Azerbaijanis Cultural Center Sattar Karimov, Executive Director of the Azerbaijani House Fuad Rzayev, Chairman of the Salzburg Azerbaijanis Society Farid Mashadiazizli, Chairman of the Ataturkist Thought Association Abbas Aslan Doghan, Mountain Jews Elder Akif Aghayev, student studying in Erlangen Huseyn Kamalzade and chairmen of various Turkish communities spoke at the protest action.
The speakers strongly condemned the July provocations of Armenia and the occupation of Nagorno-Karabakh and 7 adjacent regions of Azerbaijan, as well as the Khojaly genocide that committed with cruelity, have been called a crime incompatible with international law and human values. It was emphasized that brotherly Turkey and the 300 million Turkic world stand by our country and support our people in the fight against the aggressors, as in all matters.
The participants called on the world community to hear the true voice of Azerbaijan, restore justice and severely punish the aggressor Armenia.
Then, the protesters marched from Marienplatz square to Odeonsplatz square. As in the rally, participants chanted slogans such as "Karabakh is Azerbaijan!", "Martyrs will not die, the Homeland will not be divided!", "Armenia is an aggressor!", "Stop Armenia's aggressive policy!".