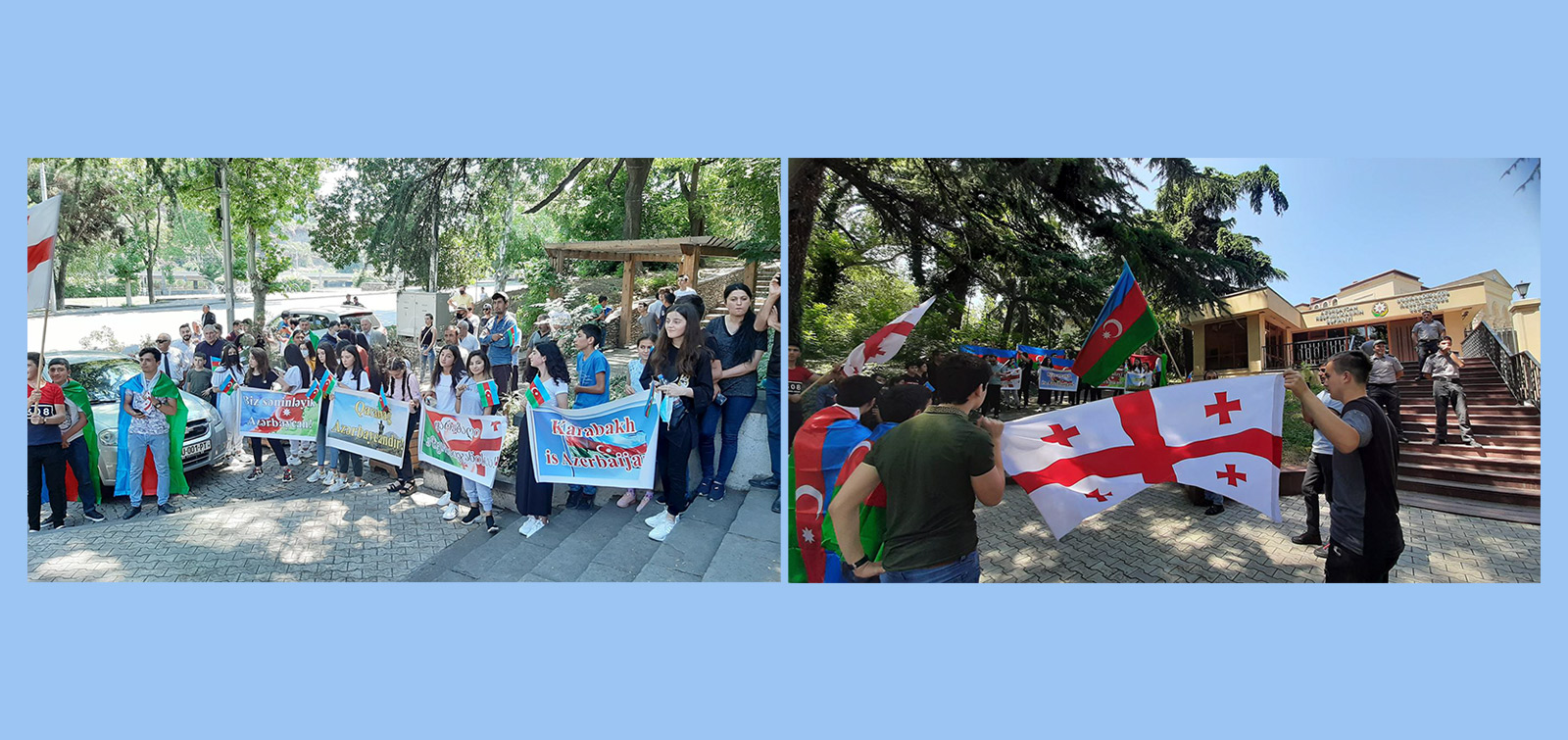 A rally to support Azerbaijani state and army was held in Tbilisi
A rally in support of the Azerbaijani state and army facing Armenian military provocations was held in Tbilisi, Georgia.
Representatives of the Georgian public, well-known Georgian historians and experts, our compatriots living in Marneuli, Gardabani and Bolnisi districts participated in the action organized in front of the building of Azerbaijani Embassy in Georgia.
During the event, a minute of silence was observed in memory of Azerbaijani soldiers and officers killed as a result of Armenian military provocations. Holding the national flags of Azerbaijan and Georgia, posters with slogans such as "We are with you, Azerbaijan!", "Karabakh is Azerbaijan!" in Azerbaijani, Georgian and English, the protesters performed the national anthem of Azerbaijan.
Aygul Isayeva, Executive Director of the Integration Center of Georgian Azerbaijanis, Dursun Hasanov, Ambassador of Azerbaijan to Georgia, members of the Azerbaijani community and Georgian intellectuals Simon Kopadze, Guram Marchulia and Tengiz Tchelava spoke at the event. Speakers condemning Armenia's military provocations described this act as an attack on the region and the entire Turkic world. It was noted that Georgian Azerbaijanis and the public have always supported Azerbaijan, Nagorno-Karabakh and 7 adjacent regions are the ancient lands of Azerbaijan, occupied by Armenian armed forces, and Georgia, which faces a similar problem, supports Azerbaijan.
Ambassador Dursun Hasanov thanked the protesters for their support, noting that on the instructions of President Ilham Aliyev, the Azerbaijani Army reacted to Armenia's military provocations.
Noting that the Georgian government has always supported Azerbaijan and our countries have always supported each other, the diplomat said that Georgian Azerbaijanis have always differed by a high sense of patriotism. "I am sure that many of our compatriots want to serve in the Azerbaijani Army," he said.