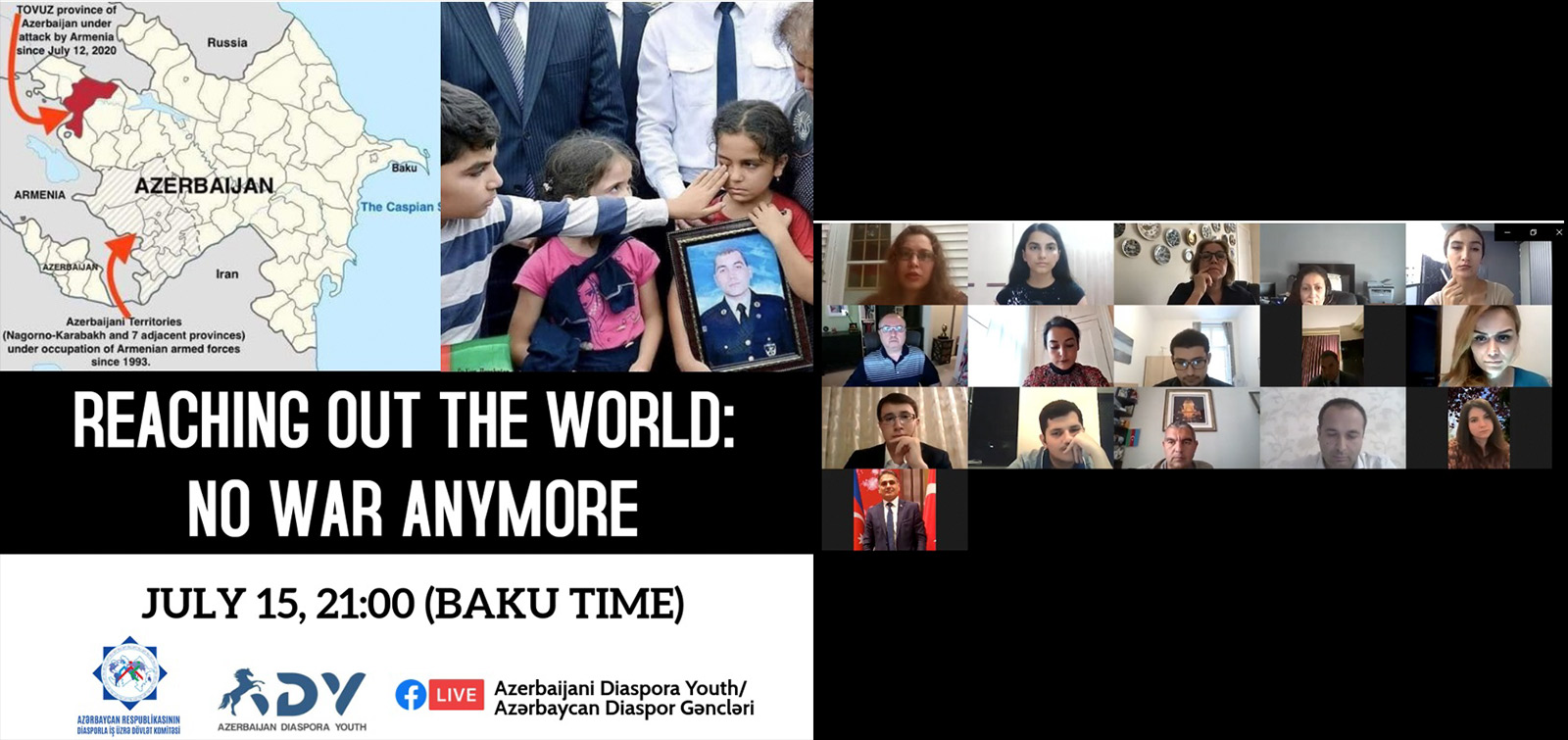 The international community was called "No to war"
At the initiative of the State Committee on Work with Diaspora, a video conference was held in English on "A call to the world community: no to war."
Our compatriots and foreign guests from 9 different countries - Azerbaijan, Turkey, Georgia, USA, France, Great Britain, Poland, Hungary and Bangladesh took part in the virtual event.
The head of the department of the State Committee Vugar Mammadov delivered opening speech and greeted the participants. Then, detailed information about the Armenian provocation on the state border in the direction of Tovuz region of Azerbaijan was brought to the attention of the English-speaking audience.
The online event was moderated by Irina Zuckerman, a US-based human rights lawyer and national security analyst. Sharing her impressions of her visit to Azerbaijan two years ago, the moderator spoke about the peaceful, hospitable, generous nature of the local population and noted that she visited the village of Jojug Marjanli, that the Azerbaijani government was building new houses in the destroyed area to revive life in the village. She also said that she witnessed the movement of Armenian snipers less than a hundred meters away from the area, as she was able to observe some territories occupied by Armenia.
She called on the international community to resolve the Armenian-Azerbaijani Nagorno-Karabakh conflict peacefully and fairly.
Well-known figures of the Azerbaijani diaspora and foreign countries - Abulfaz Bahaduri, Irada Akhundova, Adela Naibova, Ulviyya Taghizade, Murad Aslan, Abbas Babayev, Samuel Kliger, Mukhterem Oz, Marzia Rahman Mumu, Selchuk Inan, Hana Mosavi, Yusuf Seyret Aktan and Ilgar Bozarganli spoke at the event.
The event ended with the highlighting of the 5 demands of our people to the world community. These demands include the implementation of four UN resolutions on the Nagorno-Karabakh conflict, the immediate and unconditional withdrawal of Armenian troops from Azerbaijani territory, the recognition of Armenia as an aggressor by international organizations and the UN Security Council, and the determination of Nagorno-Karabakh's status within Azerbaijan.