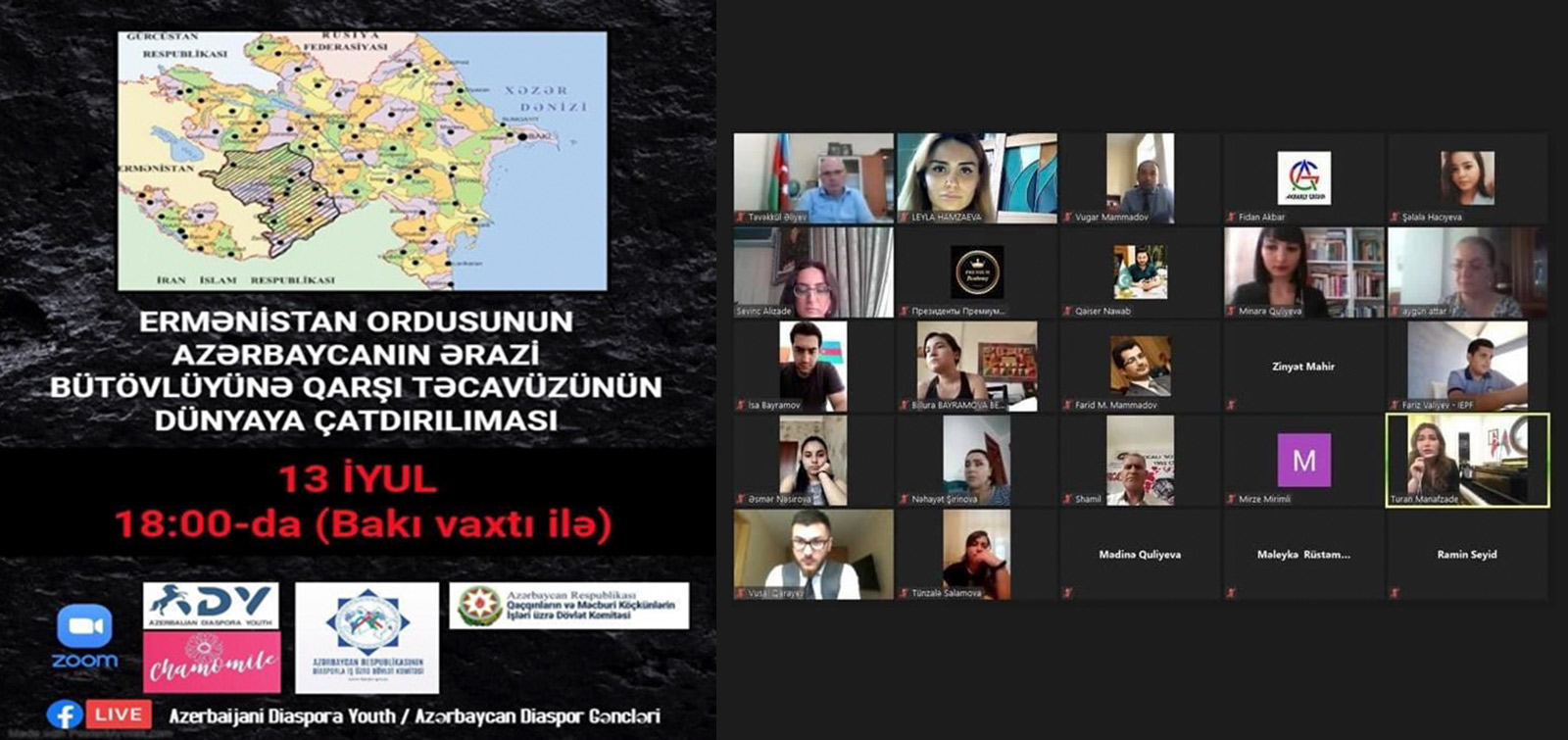 Ways to convey the aggression against the territorial integrity of Azerbaijan to the world community were discussed
At the initiative of the State Committee on Work with Diaspora, a video conference was held on "Conveying the aggression of the Armenian army against the territorial integrity of Azerbaijan to the world."
The virtual event was attended by more than 60 representatives of our diaspora organizations, compatriots, IDPs and foreign guests operating in 12 different countries - Azerbaijan, Turkey, the United States, Italy, the Netherlands, Poland, Israel, Oman, Pakistan, Russia, Belarus and Nigeria.
After the introductory speech of the head of the department of the State Committee Vugar Mammadov, a minute of silence was observed in memory of our martyrs who died as a result of the Armenian provocation on our state border in the direction of Tovuz.
Sevinj Alizade, head of the "Zafar " Martyrs' Families Support Union and moderator of the meeting, said that military provocations by the Armenian armed forces on the Azerbaijani-Armenian border, far from the Nagorno-Karabakh region, are unacceptable.
Well-known figures of the Azerbaijani diaspora - Aygun Attar, Mayisa Aghamirzayeva, Shamil Sabiroglu, Tavakkul Aliyev, Farid Mammadov, Billura Bayramova, Eldar Aliyev, Minara Guliyeva, Turan Manafzade, Vusala Yusif, Gaiser Navab, Tehrim Fatima Gizilbash, Ramin Seyidov, Vusal Garayev, Ayaz Azizov, Emin Rustamov, Fariz Valiyev, Ruslan Mammadli and Asmar Nasirova spoke at the event. The speakers exchanged views on the aggression of the Armenian armed forces against the territorial integrity of Azerbaijan, the peaceful settlement of the Armenian-Azerbaijani Nagorno-Karabakh conflict.
The event ended with the highlighting of the 5 demands of our people to the world community. These demands include the implementation of four UN resolutions on the Nagorno-Karabakh conflict, the immediate and unconditional withdrawal of Armenian troops from Azerbaijani territory, the recognition of Armenia as an aggressor by international organizations and the UN Security Council, and the determination of Nagorno-Karabakh's status within Azerbaijan.