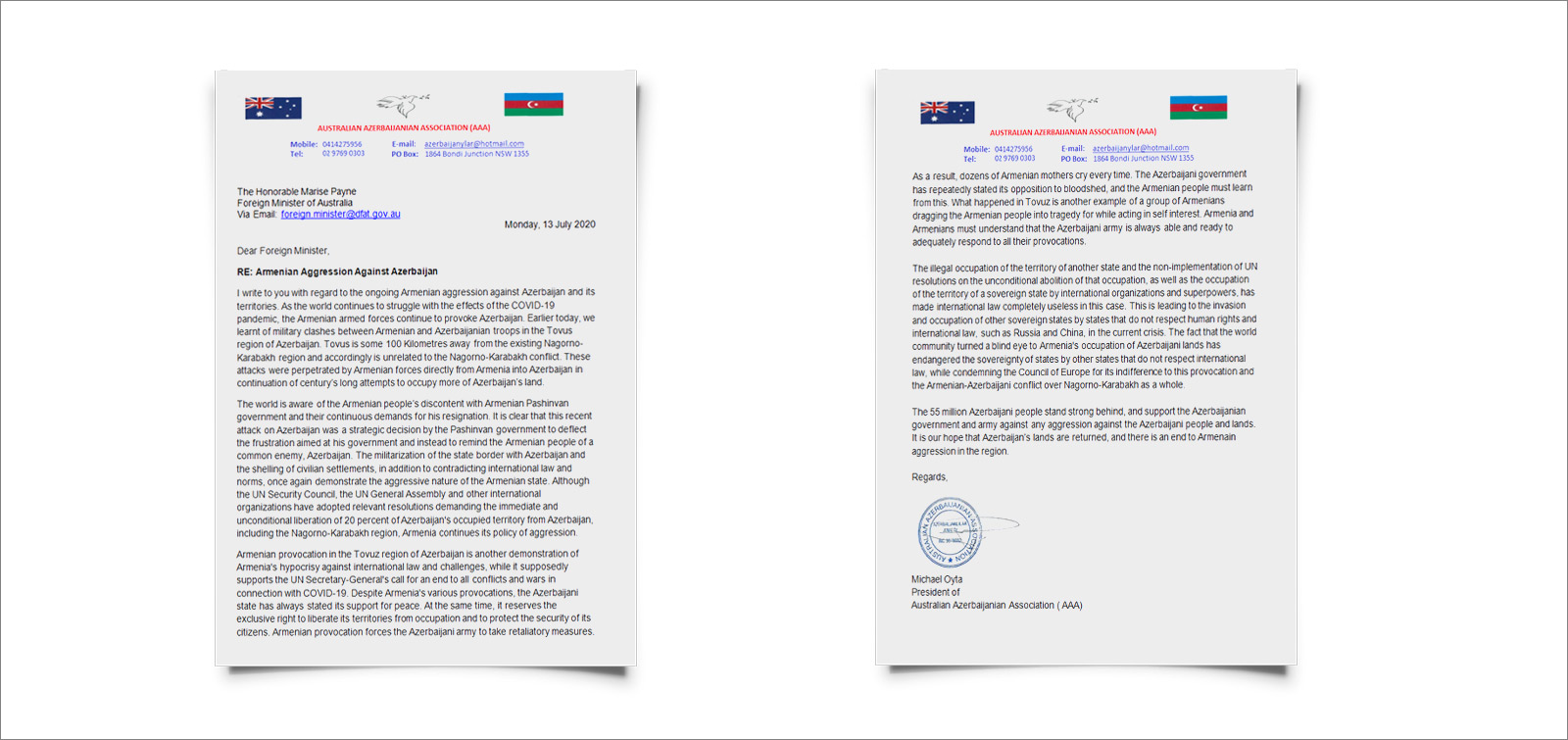 Our compatriots living in Australia strongly protest against the provocation of Armenia
The military provocation of Armenian armed forces on the state border of Azerbaijan in the direction of Tovuz region on July 12 caused strong protests from the Association of Australian Azerbaijanis (AAA), as well as all our compatriots.
AAA President Mikail Oita's appeal to Australian Foreign Minister Marise Payne said that the Armenian armed forces continue provocations against Azerbaijan as the world struggles with the COVID-19 pandemic. Noting that Tovuz region is about 100 kilometers from the Nagorno-Karabakh region and is not directly related to the Nagorno-Karabakh conflict, the head of the diaspora organization said that by committing this provocation, the Pashinyan government aimed to divert the people from internal problems, demands for resignation and to focus on Azerbaijan, which they described as a common enemy.
Oyta noted that the militarization of the state border with Azerbaijan and the shelling of settlements is contradict to international law and this fact once again demonstrates the aggressive nature of the Armenian state. Despite the adoption of relevant resolutions by the UN Security Council, the General Assembly and other international organizations demanding the immediate and unconditional liberation of 20 percent of the occupied territories of Azerbaijan, including Nagorno-Karabakh, Armenia continues its aggressive policy.
The Australian Foreign Minister was informed that despite various provocations by Armenia, the Azerbaijani state has always declared its support for peace, but at the same time possesses the exclusive right to liberate its territories and protect the security of its citizens. Armenia's inexhaustible provocations force the Azerbaijani army to take retaliatory measures.
In conclusion, it was noted that 55 million Azerbaijanis support all the steps taken by the Azerbaijani government and army to liberate our lands from occupation and prevent any aggression against our people: We hope that Azerbaijani territories will be returned and the Armenian aggression in the region will stop. "