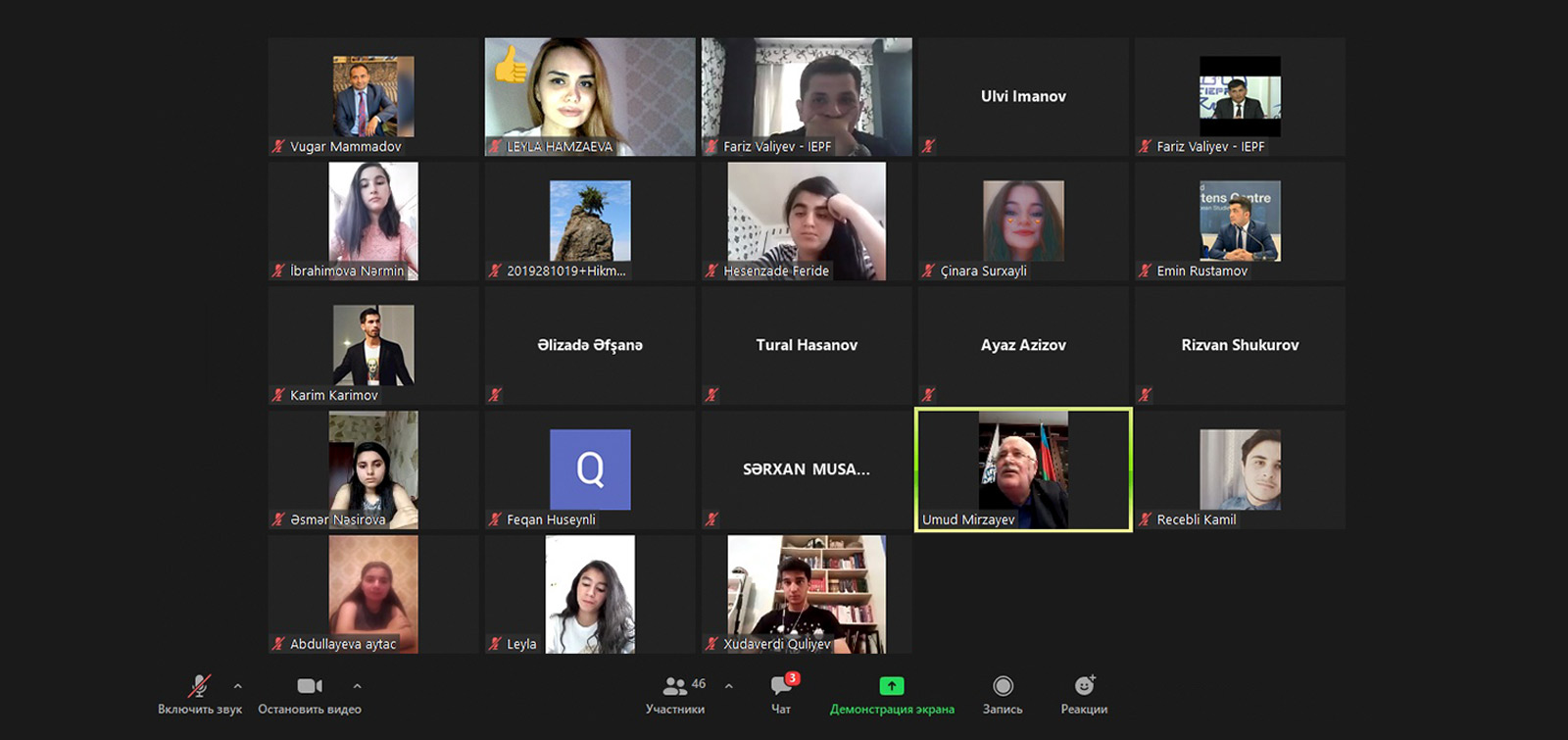 A virtual meeting was held with young people living in the frontline as part of the e-academy project
For the first time, a video conference of Azerbaijani Diaspora Youth (ADY) with their peers living in the frontline was organized within the "E-Academy" project initiated by the State Committee on Work with Diaspora.
Opening the event, coordinator of ADY Emin Rustamov greeted the guests. Then, President of the International Eurasian Press Foundation (IEPF) Umud Mirzayev and Project Coordinator of the Azerbaijani Youth Advocacy Program (AYAP) Fariz Valiyev informed the participants on the program. He said that the AYAP project is implemented by the organization of the International Eurasian Press Foundation, with the financial support of the United Nations Children's Fund (UNICEF) and the European Union. Over the past three years, the IEPF, together with local executive authorities, has taken measures to learn and meet the needs of adolescents and young people living in three frontline regions (Tartar, Goranboy, Barda) under the Azerbaijani Youth Advocacy Program.
Narmin Ibrahimova, Afsana Alizade, Leyla Khuduzade, Asmar Nasirova among young people living in the Tartar region and participating in the project, spoke in detail about the lifestyle, difficulties, differences and needs in the frontline.
Representatives of ADY living in different countries of the world Gunel Nasirova, Tural Hasanov, Ulvi Imanov, Karim Karimov and Ayaz Azizov noted the difficulties of living in the frontline, stressed their readiness to support these young people and shared their recommendations for their successful future.
The head of the department of the State Committee on Work with Diaspora Vugar Mammadov informed about the strategy and activities of the organization he represents. Proposing to hold such meetings and other projects on a regular basis, the head of the department said that the establishment of intensive contacts will allow the world to receive full information about the realities of the situation of people on the frontline and the consequences of the damage caused to our citizens by the Armenian occupation policy.
It should be noted that, the e-academy project of the State Committee on Work with Diaspora has been implemented since April this year. The main purpose is to organize video conferences and relevant discussions with the participation of representatives of the Azerbaijani diaspora and international organizations during the new type of coronavirus pandemic.