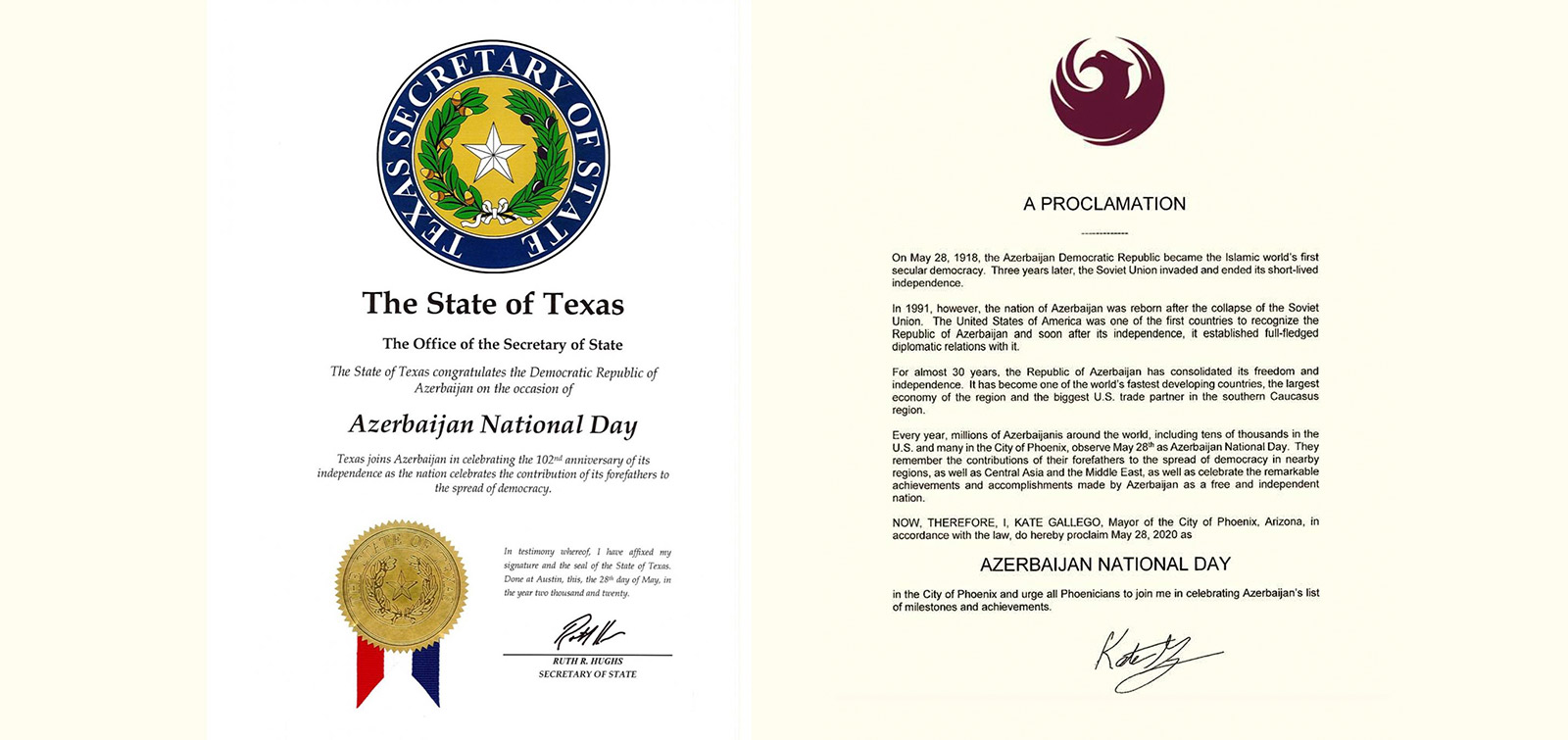 May 28 has been declared Azerbaijan Day in Texas and Arizona
State Secretary of Texas, Ruth R. Hughs and Mayor of Phoenix city of Arizona Kate Gallego made official congratulatory statements on the 102nd anniversary of the Azerbaijan Democratic Republic.
May 28 was declared the National Day of Azerbaijan in both statements.
Ruth Hughs congratulated our compatriots on the holiday and expressed her best wishes to independent Azerbaijan. The Secretary of State said that Texas also joined Azerbaijan to celebrate the holiday and called on spread the contribution of founders of the Republic to the spread of democracy.
Kate Gallego called the Azerbaijan Democratic Republic the first secular democratic republic in the Muslim East in a statement.
It was noted that after the restoration of Azerbaijan's independence in 1991, the United States was one of the first countries that recognized our country and established diplomatic relations with it.
It was noted that the Republic of Azerbaijan has strengthened its freedom and independence over the past 30 years and has become one of the fastest developing modern countries in the world. It was stressed once again that our country, which has a strong economy in the region, is the largest trade partner of the United States in the South Caucasus.
Every year, millions of Azerbaijanis around the world, including tens of thousands of Azerbaijanis living in the United States and residents of Phoenix, celebrate May 28 as Azerbaijan's National Day.
The mayor called on the city residents to celebrate the achievements and historical days of Azerbaijan.