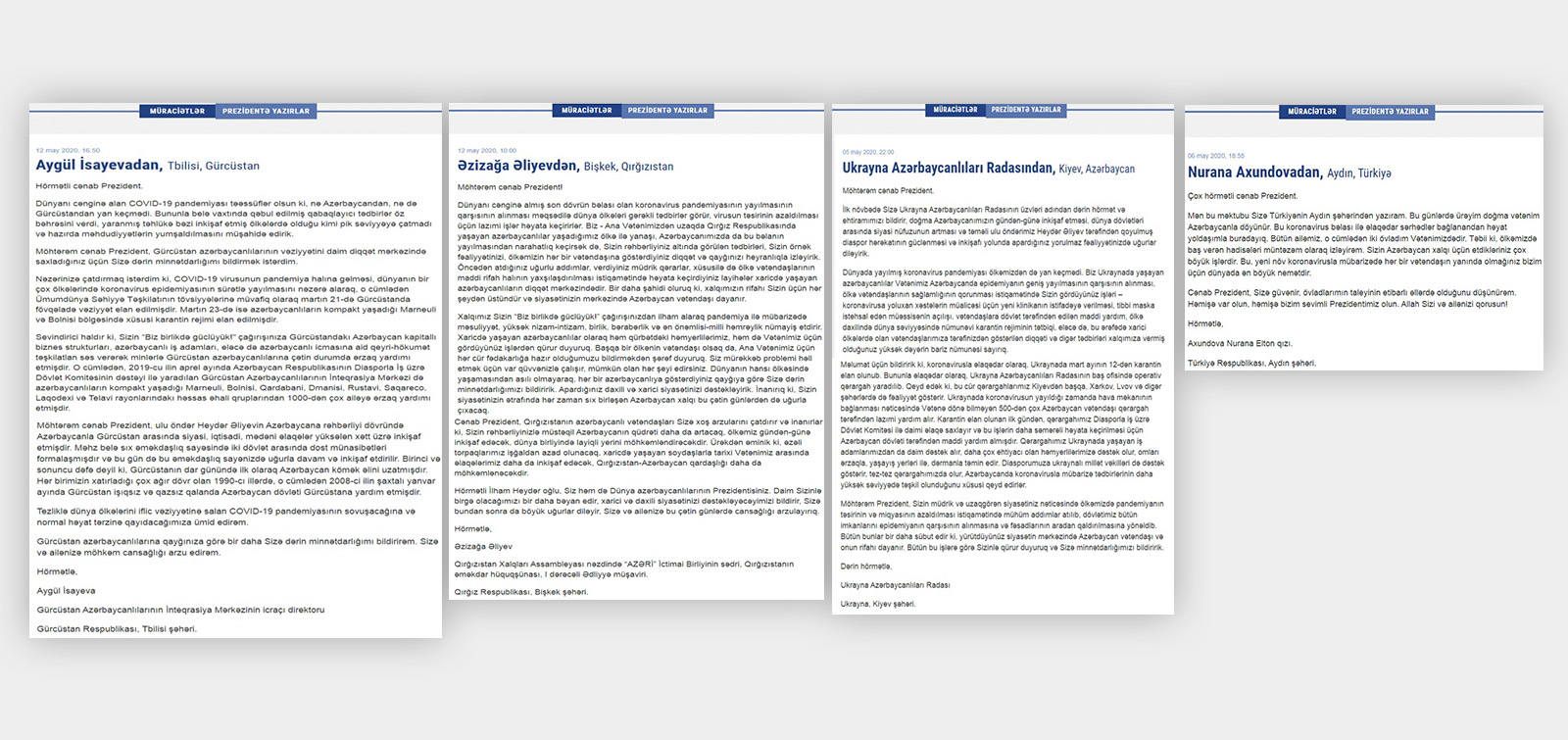 Gratitudes to President Ilham Aliyev by Azerbaijani diaspora continues
The measures and steps taken by the Azerbaijani state and leadership in the fight against the global pandemic COVID-19 are welcomed by the World Health Organization and other influential international organizations, as well as by our compatriots living inside and outside the country. This is confirmed by the letters of thanks addressed to the President of the Republic of Azerbaijan Ilham Aliyev.
In letters of thanks addressed to the President of Azerbaijan by Rada of Ukraine Azerbaijanis(RUA), Executive Director of the Integration Center of Georgian Azerbaijanis Aygul Isayeva, Chairman of the "Azeri" Public Union under the Assembly of Peoples of Kyrgyzstan Azizagha Aliyev and our compatriot Nurana Akhundova living in Turkey, our compatriots say that, they are proud of our President.
Our compatriots living in Georgia, Ukraine and Kyrgyzstan note that, they are joining to President Ilham Aliyev's call "We are strong together" and thanked to the leader of the country for always keeping the situation of Azerbaijanis in these countries in the spotlight. It was stressed that, as a result of financial support provided by the Azerbaijani state, food aid was provided to more than 1,000 families from vulnerable groups in Georgia's Marneuli, Bolnisi, Dmanisi, Gardabani, Sagarejo, Lagodekhi, Telavi districts and the city of Rustavi.
It was noted that the operational headquarters set up at the office of RUA is in constant contact with the State Committee on Work with Diaspora, and more than 500 of our compatriots who could not return to their homeland were provided with financial support by the Azerbaijani state:
"Mr. President, as a result of your wise policy, important steps have been taken to reduce the impact and scale of the pandemic in our country, and our state has focused all its efforts on preventing the epidemic and eliminating its consequences. All these prove once again that the citizen of Azerbaijan and his welfare are at the center of your policy. We are proud of you and thank you for all this work. "